My Long Time Bass.
When my original bass was stolen, my roommate, also a bass player, suggested that I search out an EB-O for the music I was playing at the time. I had been borrowing one if his P-basses. It took awhile but I finally found one in pieces and the finish stripped. Another buddy put it back together and finished it in black rather than the SG red. It has the perfect sound for the proto-punk stuff we were doing in Death (the Milwaukee version) in the early 1970s. Just a flat out loud sound and extremely easy to play! Just getting back into music and this is my go to instrument to get my fingers retrained!
, Warm sound of classic rock
I love this bass, it gives a calm warm and beautiful sound that is very pleasant to the ears and fits perfectly into the mix
Excellent through the test of time
I haven't played around with this bass yet, but so far it has been incredible to use. I managed to find a 1966 (WELL used) and couldn't look at it for long without buying it. I regret absolutely nothing about it, and considering most of it is original and it has large visible damage to the body, playing it is still a dream.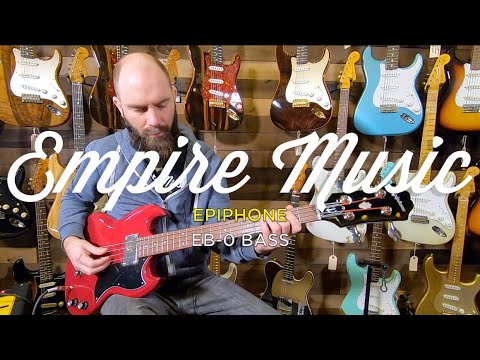 Epiphone EB-0 Bass - EMPIRE MUSIC