The tools to quickly recreate the sound in their head, without sonic compromise.
Helix Rack is a new kind of guitar processor: it's not only a tour-grade rack mounted multi-effect processor that sounds and feels authentic, it's also one of the ... read more
CHECK PRICE ON
Excellent! Does exactly what I need of it
Previous modelling type devices have left me cold but not the Helix. It feels and sounds incredible and does exactly what I ask of it. Even the presets aren't unbearable but delve a bit deeper or create your own patches and you'll be in sonic heaven. This does everything from crystal clear cleans, through some pretty convincing klon type ODs to blistering drives. The ability to load up custom 3rd party IRs is a massive plus too. The effects on release were all of a very high standard, although a little limited but now there's a bunch more and they all do what they say. SOmeo f the vintaged voice effects like optical tremolo or spring reverbs sound very authentic indeed and I can easily replicate my live rig for recording purposes using the helix. Which brings me to the next point. Don't go for power soaks or complex and messy recording setups. The Helix does it all for you and control of things like mic type and placement are all included, including elements such as sag, pre delay and so much more. What with the massive bunch of IOs you have a really versatile machine.
I realise this is sounding like a bit of a fanboy, rave review, paid ad but it isn't. Until now I've had a poor impression of line6 gear, with the exception of a couple of items most have lacked. The Helix though, is leaps and bounds ahead of anything else they've done and I'd choose this over the AxeFX 2. It just 'feels' like an amp and pedal board.
Plus you could output a modelled signal to the desk and a separate signal without the speaker IRs to an amp on stage for monitoring. Endless options.
Perfect Live Production & Recording Resource
Helix is the most integral piece of my live rig. It has replaced my live pedalboard and amp and allows me to play freely while all my effects changes are controlled externally via USB and MIDI from Ableton Live. I just to play and sing without worrying about effects changes, my stage volume, the mic placement, or anything else that comes from playing with a live amp.
This has completely changed my approach to writing, recording, and preforming guitar. 100% would recommend to anyone who is actively involved in live music production, songwriting, or studio production.
AMAZING unit.
This is a must have unit. i switched to this from a Voodoo Lab GCX/Ground Control Pro system and pedals and will never look back so long as it keeps working.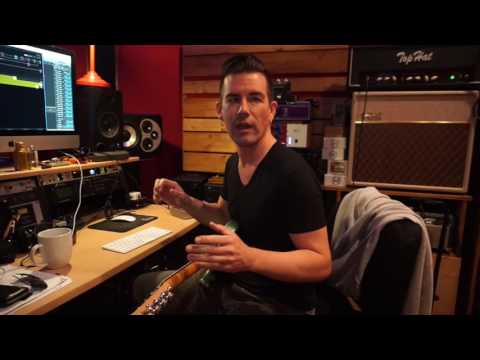 Pete Thorn using Line 6 HELIX RACK with amp
Description
The tools to quickly recreate the sound in their head, without sonic compromise.
Helix Rack is a new kind of guitar processor: it's not only a tour-grade rack mounted multi-effect processor that sounds and feels authentic, it's also one of the most comprehensive master controller for guitar systems ever built. Start by recreating the tones in your head with the new HX modeling engine - the new amps, cabs, mics, and effects will feel familiar to anyone who has ever spent time in the studio getting the best guitar sounds from both vintage and modern gear.
Have a pile of oddball pedals that you rely on for your personal sounds? No problem. Take advantage of the most comprehensive I/O and routing capabilities ever built into a multi-effect and easily integrate them into the Helix Rack environment. Once connected, create custom setups that make your external pedals feel like they're all under the hood. Whether you spend your time in the studio or on the stage, Helix Rack is the next-generation guitar processor you've been waiting for.
Real Tone that feels and sounds like your analog gear.
When it comes down to authentic sound and feel, Helix Rack represents a giant leap forward for guitar technology. The dual-DSP engine provides massive power to accurately recreate the dynamic feel of tube amplifiers, not just their sonic fingerprint. Each stage of an amp's circuit has been measured and matched back to the original, so that each model reacts and interacts just like the real thing. This level of dynamic circuit detail extends into areas like power supply ripple, individual tube sag, and control over B+ voltages. Once these elements are captured, you get classic bloom and gooey compression on some amps, and a powerful gut punch on others. Helix Rack also lets you load custom impulse responses, allowing you to personalize your rig setup.
Smart Interaction - So intuitive you already know how to use it
Massive power traditionally comes with a steep learning curve, but Helix Rack challenges that way of thinking. The large 6.2" 800x480-pixel LCD display all but eliminates menu diving and provides the same level of control you would expect from an external editor. When it comes to creating tones, Helix Rack is as fast as you are.
Speed up your editing with Helix Control
Helix Rack can be controlled by almost any MIDI-capable device, but adding Helix Control gives you the same innovative capabilities found in the floor based Helix, and this means that - for the very first time - you won't have to stop playing to tweak a knob. With Pedal Edit Mode, you can edit any parameter you like using your foot: simply select the block that you want to tweak, and its parameters spill out onto the Helix Control footswitches. Select a parameter, and tweak the value using one of three optional expression pedals.
Helix Rack has four stereo paths per preset, allowing you to design complex routing scenarios for each patch. Creating variations on wet and dry routing schemes is as easy as loading a template or tweaking the joystick, and using the onboard effects models in conjunction with the four freely-assignable effects loops means that the tonal possibilities are truly huge.
Control of your entire rig - Integrate and control internal and external devices
As the most advanced guitar processor ever made, Helix Rack can become the nerve center for your entire guitar rig. Easily integrate traditional effects pedals and other hardware into your environment, creating a seamless hybrid rig that incorporates the best of what software and hardware have to offer.
Helix Rack has extremely flexible audio routing thanks to its dynamically allocated DSP. Use the four effects loops to connect four separate pedal chains, or split them up and use them as freely-assignable inputs and outputs. In combination with four stereo paths, this means that you can process multiple instruments at once, send wet and dry signals to different places, and create large integrated systems that take advantage of both digital and analog I/O at the same time.
When you need to incorporate external devices via MIDI, Helix Rack offers more flexibility than any multi-effect ever. In addition to powerful real time MIDI control, Helix Rack can send up to six separate commands at patch recall that aren't assigned to a connected footswitch, which means you can change a patch on a synth, start a sequencer, and turn up a fader on an external mixer, all with one patch recall. Add AES/EBU digital I/O, Wordclock sync, support for three expression pedals, CV/Expression out, and external amp switching, and Helix Rack can be the command center for any size rig.
Specifications
Dual DSP-powered HX modeling engine with four discrete stereo signal paths, 45 amps, 30 cabs, 16 mics and 70 effects
Imports 3rd party 1024/2048 cab IR' (impulse responses)
Large 6.2" 800x480-pixel LCD display
Extensive I/O for seamless integration with your entire rig - 10 inputs 12 outputs (including four fx loops), plus 8-in/8-out USB audio interface
Up to three expression pedals, expression toe switch input, CV/Expression out, external amp switching and deep MIDI control
AES/EBU and SPDIF digital I/O with Wordclock sync
Industry-leading 123dB of dynamic range on the guitar input, for tremendous depth and ultra-low noise
Tour Grade construction " 3RU rack enclosure with optional foot-based controller