CHECK PRICE ON
AS FEATURED IN
Recommend Related Items & Pairings
This is where you can recommend to readers an alternative - or gear that goes with - Vic Firth American Classic 5A. What gear sounds similar, is less expensive, higher-end or boutique, etc.?
ADD YOUR RECOMMENDATION
* Product prices and availability are updated by Equipboard every 24hrs and are subject to change. Equipboard may receive compensation for purchases made at participating retailers linked on this site. This compensation does not affect what products or prices are displayed, or the order of prices listed. Learn more here.
Reviews
Trusted musician and artist reviews for Vic Firth American Classic 5A
4.5
Based on 2 Reviews
4y
almost 4 years ago
edited about 3 years ago
Workhorses
Nice and durable sticks, which were always my favourite when i was a hard-hitter. Dinamic playing is no problem, but they feel very stiff and hard. Compared to Vater 5A sticks, these are pretty top-heavy.
Pretty Standard
Hahah, just a standard couple of sticks. Pretty comfy for me since I have small hands, but whenever I buy a new pair I like to try a bunch out to get a nice weight I like. It may just be me being crazy, but I like comparing how comfy I find them, hahah.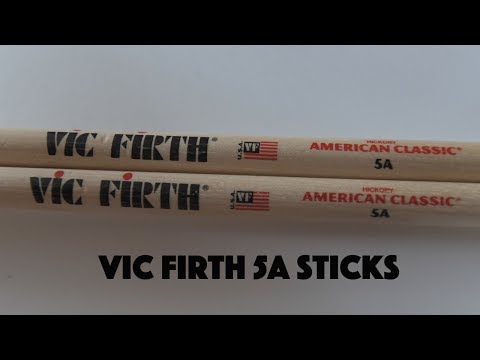 The Industry Standard | Vic Firth 5A Drum Sticks!
Popular Drumsticks, Mallets & Brushes