Addictive Drums 2 comes standard with three extraordinary drum kits including both of our acclaimed Fairfax kits (recorded at the legendary Los Angeles studio formerly known as Sound City) and the loud, large, and luxurious Black Velvet! The packa... read more
CHECK PRICE ON
Lovely drums for ease of sound creation and manipulation
This drum module has to be downloaded from XLN's website they make you choose the primary drum kit of your choice from a list of genre's so choose carefully before downloading. The drums sound dynamic and can be tailored very easily to the user's tastes I found it really easy to build a dance kit and the good thing is that this drum module gives a comprehensive array of drum manipulation parameters. You can drag and drop drum patterns from this module into your DAW.project or you can route its patchs through third party drum sequencers like maschine. Addictive drums 2 is great sounding bit of kit gets my thumbs up.
sexual
You could tell these dudes put alot of work into recording different drums at different volumes, diff rooms, etc etc etc etc wow wtf.
I love it. The interface is great. You can mix the drums there and then sound out to channels.
Works well as both main and back drums. Can edit drums to sound quite different from their true source and it still will sound decent.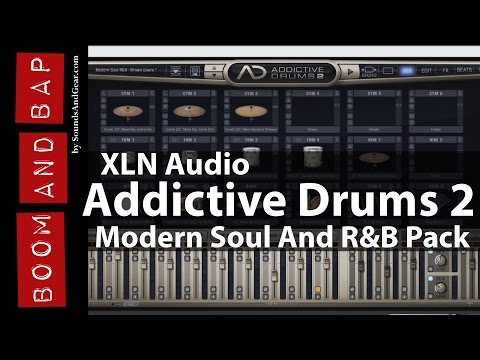 Boom And Bap: @XLNAudio Addictive Drums 2 + Modern Soul And R&B Pack
Description
Addictive Drums 2 comes standard with three extraordinary drum kits including both of our acclaimed Fairfax kits (recorded at the legendary Los Angeles studio formerly known as Sound City) and the loud, large, and luxurious Black Velvet! The package includes 130 presets ranging from super-clean to highly polished and radio-ready to heavily processed and distorted. You also get our Core MIDI Library containing over 5000 inspiring beats and grooves covering many styles. You can use them as-is or easily tweak them to make them uniquely yours.