Eventide: pioneering digital effects for over four decades
In the 1970s, Eventide put digital effects on the map with their groundbreaking Digital Delay and Harmonizer units. In the early '80s came the first rackmount multi-effects processor,... read more
$1,799.00
Instant Delivery
Download after purchase.
Software is not returnable
Instant Delivery
Download after purchase.
Software is not returnable
Recommend Related Items & Pairings
This is where you can recommend to readers an alternative - or gear that goes with - Eventide Anthology XI Plugin Bundle. What gear sounds similar, is less expensive, higher-end or boutique, etc.?
ADD YOUR RECOMMENDATION
$1,799.00
---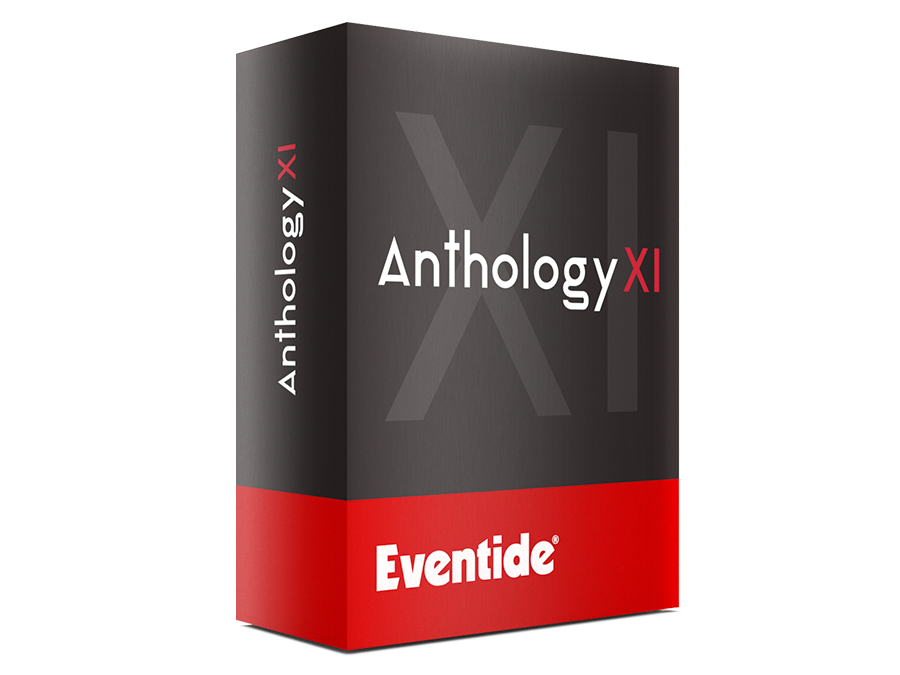 [Eventide's Artist Page](https://www.eventideaudio.com/community/artist-gallery/justin-broadrick) lists Anthology XI as being among the c... more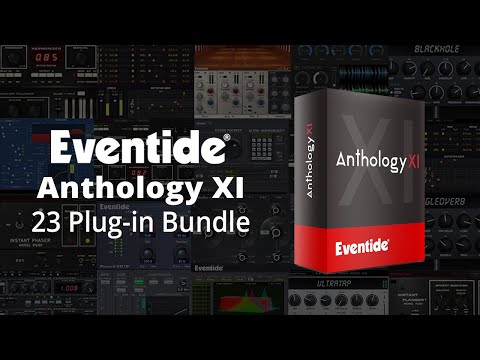 Anthology XI Plug-in Bundle from Eventide
Description
Eventide: pioneering digital effects for over four decades
In the 1970s, Eventide put digital effects on the map with their groundbreaking Digital Delay and Harmonizer units. In the early '80s came the first rackmount multi-effects processor, the SP2016. Every studio worth its salt had to have one for its reverbs alone, much less for the other one-of-a-kind effects on tap. The SP2016's successor, the H3000, introduced a cornucopia of new effects and was the must-have rackmount processor of the '90s. The H4000 and H8000 followed, introducing the concept of surround sound reverb — which the H9000 takes to even greater heights of stunning realism. Meanwhile, Eventide began porting their effects expertise to the design of high-end guitar multi-effects pedals. And as computer audio began to become a force majeure in music and sound production, Eventide plunged into the software arena with a series of plug-ins emulating their acclaimed hardware.
Eventide Anthology XI Included Plug-ins:
Blackhole - Extraterrestrial reverb that creates virtual spaces that could never exist in the real world
Tverb - Unique virtual room reverb developed with legendary producer/engineer Tony Visconti
2016 Stereo Room - Renowned reverb from Eventide's classic SP2016 rackmount unit
MangledVerb - Good reverb breaking bad; blends reverb with distortion
UltraReverb - Modern reverb with 9 unique algorithms
Physion - Groundbreaking Structural Effects technology that splits sound into its transient and tonal components which may then be independently manipulated via effects and dynamics
UltraTap - Delay that lets you create drum fills, vocal choruses, swelling guitar chords, and more
EQ65 Filter Set - Includes high- and low-cut 18dB/octave filters, and 2 band-reject or bandpass filters with variable depth
EChannel - Includes a gate, compressor/limiter with sidechain, and 5-band 48-bit double precision parametric EQ
UltraChannel - Deluxe channel strip with user-configurable signal path, with a gate, de-esser, Omnipressor or compressor/limiter with sidechain, 5-band 48-bit double precision parametric EQ, stereo delays, and Harmonizer micro-pitch shifter
EQ45 - A faithful re-creation of the vintage analog 4-band parametric equalizer
Precision Time Align - Useful for bringing close-miked drums, overhead mics, and room mics into phase alignment
Octavox - Delivers 8 voices of diatonic Harmonizer pitch shifting, each voice with individual delay adjustment and pan control
Quadravox - Offers 4 voices of diatonic Harmonizer pitch shifting, each voice with individual delay adjustment and pan control
Instant Phaser - Simulates the world's first phaser, heard on Led Zeppelin's "Kashmir"
Instant Flanger - The plug-in re-creation of one of the first hardware products to faithfully simulate tape flanging
Omnipressor - So dubbed because of its unique ability to compress, limit, expand, and dynamically reverse audio; the first dynamics FX unit with side chain functionality
H910 - The re-creation of the very first Harmonizer-brand effects processor
H910 Dual - Two ganged H910s; capable of jaw-dropping stereo effects
H949 - Pitch changing with the world's first intelligent de-glitching algorithm
H949 Dual - Two independent H949 units with cross feedback and stereo width controls
H3000 Band Delays - Features 8 voices of tempo-based filtered delays with pan and volume controls
H3000 Factory - Based on the ever-popular Factory algorithms from the H3000 and the ultimate effects tool kit
Eventide Reverb - Comprised of the best Halls, Plates, Rooms, Chambers, and Ambience from Eventide's top-of-the-line H8000 hardware processor
Popular FX Bundle Plugins