The H910 Harmonizer was the world's first digital effects processor. With its unique combinations of pitch shifting, modulation and delay, the H910 can be heard on countless ground-breaking works by artists from AC/DC to David Bowie to Frank Zappa... read more
$249.00
Instant Delivery
Download after purchase.
Software is not returnable
Instant Delivery
Download after purchase.
Software is not returnable
$249.00
Reviews
Trusted musician and artist reviews for Eventide H910 Harmonizer Plugin
4.5
Based on 2 Reviews
Bet your ass I got this fella...
I was blessed to work in a studio with 2 of these AND... I had no clue what to do with them. Thank god I had a haggard, bitter, miserable, pale, lonely, husk of a man as the lead engineer (that's a list of qualifications to be a lead engineer, not an arbitrary list) to tutor me in HOLY SHIT THIS MAGIC BOX!! I've seen loads of "90ish%" plug ins modeling...and that rules. I'd NEVER have that expansive a budget to afford the real deal (X 2?) but this is an excellent pass at the impossible. Climate could effect the hardware for fucks sake! You can't cover that in a plugin, but the best parts are covered (so was our climate control most of the time with the hardware) but yeah- tons of fun. Please comment on your favorite application of this guy. Always wanna know more!
I don't know that 'lonely' is required, but you got the other ones dead on. Lets face it, even non-Caucasian Recording Engineers are pale by the standards of their ethnicity... if you get out in the sun enugh to look remotely healthy then you are not making many records.
oh, best application for one of these? hmmm, well, one can enver go wrong putting it ahead of a reverb on an effects send.... actually creating a weird, ghostly harmony that's not 100%in tune with every harmony played by the isntruments can work wonders and there's always the U2 shimmer verb, riding the fader as needed to add ethereal bazinga in some songs... and of course the harmonized drums send is fun too... a little expansion first, then the eventide set to taste, maybe a lexicon reverb with a fast decay set 50/50, tempo sync a delay to an 8th or 16th note (give or take) and kill the dry signal and then gate hard! Pulsing harmonic 'after drums' -- or ditch the reverb and try it with room mics on a kit recorded in a big room. Not appropriate for every type of music, but a fun application of any harmonizer really, but the buggy nature of the original 910 and the old AMS units (which I like a lot too, what a weird sound to that pitch shifting) really do the business in this application. I wish I had bought an old AMS when they were uncool.... the Yamaha SPX90 can do a close approximation, but its not quite as musical in its bitty-gritty pitch shifting.
The AMS! God I loved that thing when I had access to the hardware & it was the 1st plug in I got from Universal Audio soon as I got their hardware. Think this was maybe 3rd...for that matter the Lexicon was definitely top/first 5 (got a bundle during their Holiday Sale).
"Lonely" is in there because my girlfriend & now Wife refers to those years as the "I didn't get laid enough years". As in, "don't ever do that to me again you bastard". I caught me a good one.
when I was still married I kept my musical endeavors to a minimum to avoid wife snark about that issue (as well as financial issues... for some reason she thought an extra dresser we couldn't fit in our house was a better way to spend a grand than on a moog... as if she never frivolously dropped a grand on her own bad habits, none of which had resale value in a pinch)
Dunno how I got so lucky but on the big buys-those also tend to be the ones to hold their value or go up- I,ve been the one hesitant & my wife will 9 times outta 10- say "you've been looking for _________ for ages, just get it you idiot!". Some of my best purchases have come about just like that.
Great vintage fx machine, deep house vocal pitcher
The best Eventide plugin in the market right now - even better than Eventide's own plugin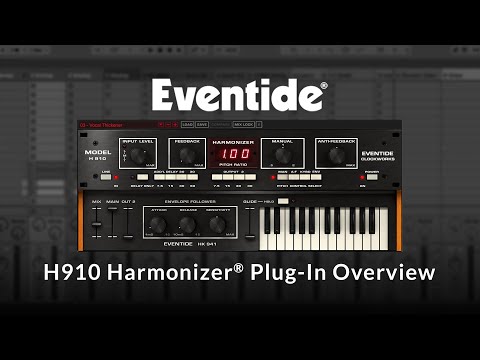 H910 Harmonizer® Plug-in Overview
Description
The H910 Harmonizer was the world's first digital effects processor. With its unique combinations of pitch shifting, modulation and delay, the H910 can be heard on countless ground-breaking works by artists from AC/DC to David Bowie to Frank Zappa. Simply put, nothing sounds quite like it. A powerful creative tool, the H910 plug-in is a faithful recreation of the original hardware. Use the H910's pitch changing ability to create specific musical intervals and perfect harmonies, spread guitars, fatten snares, apply subtle organic de-tuning to synths or add slap-back delays to vocals. At extreme settings, you can create unheard-of mechanical sounds, drone effects or robot language using self-oscillation, delay, and anti-feedback. When you purchase the H910 Harmonizer plug-in, you also receive Eventide's exclusive H910 Dual Harmonizer. This version recreates the popular technique of running two H910 units in parallel to create lush doubling and other interesting effects. Features NEW Keyboard and MIDI mapping - The original H910 featured a keyboard remote control which was used live by several artists including Elton John. With the H910 plug-in you can easily use MIDI to control pitch and harmonization in real-time. NEW Envelope Follower -Engineers and producers discovered that sending a control voltage to the hardware H910 could be used to slightly (or massively) vary the pitch, creating entirely new sounds. The built-in envelope follower makes exploring these possibilities easy. NEW OUT2 Delay Group - adds inspiring attributes to your sound. True analog modeling of highly nonlinear electronics for faithful reproduction of the original H910's juiciness and grit. Perform perfect pitch changes controlled manually, via MIDI or with Anti-Feedback. Anti-Feedback modulates the pitch around unity for a subtle or wild effect. Optional "glitching" of original H910 hardware to create unpredictable sounds as it alters pitch. Modify pitch by musical intervals (diatonic) to harmonize vocals or solo instruments. Delay rhythms and melodies to create everything from slap-back echoes to feedback chaos. Create colorful, unique sound effects and drones through self-oscillation. Individually control delay outputs and dry/wet mix. Mix Lock allows for scrolling through presets or settings while keeping the dry/wet mix constant. BONUS: H910 Dual H910 Dual recreates two H910 units running in parallel to create doubling effects and other unique sounds. H910 Dual easily fattens and thickens instruments when assigning opposite pitch ratios. H910 Dual Stereo (cross-unit) Feedback can cause the incoming signal to shift up and then down continuously.