Recommend Related Items & Pairings
This is where you can recommend to readers an alternative - or gear that goes with - Soundtoys Little Alterboy. What gear sounds similar, is less expensive, higher-end or boutique, etc.?
ADD YOUR RECOMMENDATION
Soundtoys Little Alterboy
Soundtoys Little Alterboy
Fun toy but still some glitches
It's a fun toy and you can really mangle a vocal with this, but in FL Studio 12, it almost invariably causes the first occupied mixer track to play out of sync with the master tempo when it is loaded. While it is fun to use to mangle a vocal, this glitch makes it difficult to use in an actual project.
I'm having that sync problem with alla these CDmaster effects I picked up recently and I want my fucking money back LOL. They sound cool but I would have to delay every other track by ear because no matter what I do with my asio latency settings the track with the CDmaster comrepssor or EQ is the same amount behind.... I guess I could ceate a submix for every other track with a transparent delay, but fuck that. Good to know soudntotys ahs the same glitch, I mainly use their delays and they seem fine, sync okay, although I do sue the ltitle radiator and that's been fine.
A Bit Wonky, But Fun
AlterBoy does a decent job with monophonic pitch stability, and the Formant knob really brings this one onto the forefront when you need something in a different key and/or tonality range. It usually only freaks out with pitch glitches if you're also teasing it with other pitch shifting.
Amazing!
To me this has been one of the best plugins for voice modulation and altering. Definitely recommend and soundtoys other plugins as well!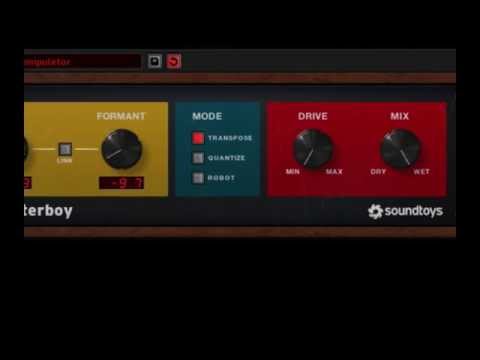 Introducing: Little AlterBoy
Popular Pitch Shifter Plugins