1984 Ovation Ultra GP 1431 Solidbody Electric
The Ovation Ultra GP 1431 was part of the short-lived "hardbody" series of guitars. This was Ovations third foray into the solidbody market. The GP was designed to be a competitor to the Les Paul (The name GP means Guitar Paul). There is also a... read more
CHECK PRICE ON
---
Josh Homme has used three 1984 Ovation Ultra GP guitars throughout his music career. One of the them comes in the sunburst design (as see... more
Reviews
Trusted musician and artist reviews for 1984 Ovation Ultra GP 1431 Solidbody Electric
4.5
Based on 3 Reviews
Fantastic Heavy Tone, Rivals a Vintage Gibson Les Paul
A very brief history:
The Ovation Ultra GP was built by ovation in 1984 to rival the Gibson Les Paul series. (Hence the name GP which stands for Guitar Paul).
No-one (including Ovation) knows how many Ultra GPs there are in the world as Ovation did not keep track of production numbers due to the time of flux in the guitar industry. There are probably about 300-500 in existence and they come up for sale very rarely. You cannot talk about the Ultra GP without mentioning Josh Homme, there are Ovation Ultra GP fans and then there are Josh Homme fans. I'm somewhere in the middle as I like QOTSA but it's not the reason why I went for one of these. People chasing Josh Hommes tone caused the value of these guitars to increase dramatically. Generally there is roughly one Ultra GP for sale every year so if you have your eye on one it won't stay around for long.
So what is the guitar actually like:
It's an absolute all round beauty. The playing action is great for me, it is quite a heavy guitar but then so is a Gibson Les Paul. The weight balance is great. I have a full red GP and I'm looking at getting another as a backup, they come in a red/orange sunburst, red and black colours. I have heard that the black ones are a bit rarer. The tone is just fantastic and I can see why Josh Homme held on to his when he first got his hands on one. It has a very solid construction and in my opinion (and I know this is highly subjective) I think it sounds nicer than an equivalent Gibson Les Paul. Perhaps I am biased (because I have an Ultra GP) as I have never really been into the look, feel and (now common) tone of a Gibson. The Ultra GP for me is just something slightly different all round.
all original in great condition. Guitar is for sale.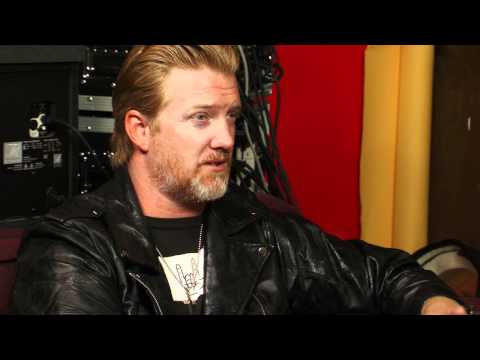 Josh Homme - Guitarings Interview Part 2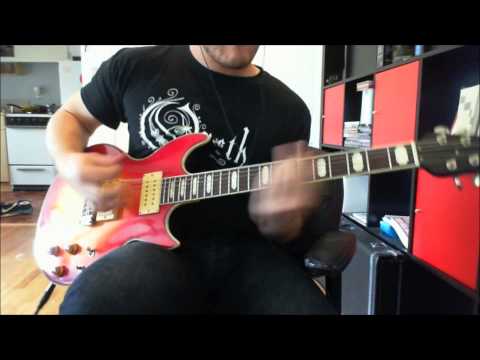 Queens of the Stone Age - Regular John - HD Cover
Description
The Ovation Ultra GP 1431 was part of the short-lived "hardbody" series of guitars. This was Ovations third foray into the solidbody market. The GP was designed to be a competitor to the Les Paul (The name GP means Guitar Paul). There is also a GS and guess what that one stands for. The GP features a heavy hardwood body and set neck, topped with a beautiful rosewood fingerboard and large block inlay. The hardware is top notch with Schaller parts and a screaming pair of DiMarzio Super 2 pckups wired to twin volume and tone controls with a 3 way selector. The guitar plays great and has incredible sustain. The tops got some of the best color finishes that Ovation ever put out on solidbodies - gloss black, sunburst, wine red and honeyburst (pictured below). Despite how nice this guitar was, it never found much commercial success and the line was discontinued after only a few years. Rumors are that production numbers were only a few hundred or so, making it one of the more rare Ovations. In the mid 90's a popular heavy metal band started using the GP and this has brought some renewed interest to this rare guitar and has also driven up prices. Overall, this was probably Ovations best ever solidbody offering.