Gibson Les Paul Standard Electric Guitar
CHECK PRICE ON
AS FEATURED IN
Reviews
Trusted musician and artist reviews for Gibson Les Paul Standard Electric Guitar
5.0
Based on 15 Reviews
5y
over 5 years ago
edited about 2 years ago
So heavy!
For a while in the late 2000's I had an '89 (or maybe 88, I'm getting old) cherry burst standard. You know how the post-norlin standards were made until the introduction of weight relief so I won't bore you with details.
I wanted to love this guitar, but it had some classic LP flaws. For starters, there was a rise at the heel that made her tough to set up. Next, she would not hold tune when I was doing a lot of bending on the B string. Classic Gibson. Adding to my set-up woes, the bridge was bending in the middle because the previous owner had player her with 11s and 12s ("they call em regular strings for a reason, regular guys use em," you shoulda seen what this guy did to this 61 SG reissue he won in a raffle at GC... took me forever to take the twist out of the neck so he could sell it!). Also, the stock electronics sounded kinda boxy and blah even through an ac30 or a Plexi.
That said, I made everything work and got her playing well without investing more dough into her and took her on the road for a while. Months of chiropractor sessions later I decided she was too heavy and sold her back to my friend (he missed her anyway). This LP clocked in just shy of 10lbs. SO heavy. TOO heavy.
It occurs to me now as I write this review that this guitar was kinda boxy and sterile unplugged and didn't have the vibrancy I now expect from a carve top. Maybe the pickups were okay and the guitar's weight was to blame. I find the LPs under 9lbs without weight relief or chambering truly sound the best. At approximately 10, this LP was at a serious disadvantage. The strings just couldn't drive the body to resonate nicely. What reached the stock pickups just wasn't special. Even a set of real PAFs with magic winding patterns achieved by rube goldburg (read: leesona) machines, alnico cast using forgotten lore and fairy dust judiciously sprinkled in the adamantium covers by the wee folk who inhabited the old kalamazoo MI shop (which vintage enthusiasts imply must look a lot like that tree the Keebler elves inhabit, though now its the Heritage factory and its manned by mortal men) probably couldn't have made this guitar good.
This guitar taught me a lot about weeding through a lot of Gibsons before buying and also not getting too attached to one until you've played a lot of shows with it. Gibson from any affordable era is a crap shoot, even custom shop stuff. I let my ears and hands decide these days because in this instance I was blinded by the looks of this les paul and a little jealousy of the new rhythm guitarist's standard. Not that his paul was really special, it just looked special...
So I chanced my LP Platinum just for the flash looks, but next time out I will weed through a stack of well worn Gibbies or just get a Greco or Tokai with proper 59 specs. Those bad boys are fairly light from old-growth wood and all that. And the craftsmanship is more consistent than anything Gibson has done since '60? Well, anything they've done LP-wise. The irony is that I am not a big LP guy. I like 2 cutaways on an electric. But I always feel obligated to own at least 1 singlecut carve top. Its like a requirement to bring the rock.
Holy run-ons, Batman! What a load of tangents in this review. Note to self: tone it down or start proofreading and editing before hitting post!
Mine was a little more worn, but pretty identical burst. More of a looker than a player. Heaviest guitar ever. Don't miss her.
the boomstick
tried and true in all styles of music. this tone machine has so much control. this is the iconic les paul!!!
1y
over 1 year ago
edited 5 months ago
les paul
This les paul is a honey burst 1998 standard and is stock and sounds great its a very good guitar
Great Guitar. One of my main axes.
Mines an '03 in Cherry Burst. Put Seymour Duncan Alnico II pups in it and it sounds perfect. Plays like a dream.
Mine is Black
It's a 2008 model. Feels amazing. Sounds Great! My loudest guitar by far.
Solid, heavy, reliable and beautiful
It is what it is. A heritage burst les paul. I rewired it with vintage cloth wire, custom wound pickups for a more vintage low output, different caps and so on but otherwise is as it left the factory. It's got a big thick neck which is just what I want in this kind of guitar. Also from the time when fret ends sat over the binding which I prefer. Not keen on nibs! I have a lot of guitars and this is one that will stay with me. It doesn't get a whole lot of studio use but always feels like home. Good if I want to sit around pretending I'm gary moore (without the talent).
Great
I love this guitar it's one of my favourites.
I love this guitar it's one of my favourites.
Simply amazing
Great guitar period.Sounds great, feels great, and looks great
Hammer of the Gods
I purchased my LP Standard in 1975 when Gibson was only focusing on the Deluxe. They did fill orders for Standards by modifying Deluxe bodies for the larger Humbucker pickups. As a result the headstock bell on mine says "Standard" but the back of the headstock says Deluxe next to the serial number. It makes her somewhat of a rare gem to me. She's a beautiful iced-tea sunburst and is completely stock. I recently had some body repair done to fuse the pancake pieces back together - a tricky problem caused by a very dry environment in New Mexico. The work was done beautifully by Jay M.Kolanda of NTL Guitars, Nashville.
A great great cadillac guitar !
This guitar is a charm to play and the fact that it's not as heavy as older Les Paul is a great thing. The 2 Bursbuckers Pickups who have an excellent sound can also be split as a single coil, and in 2013 it was so affordable if you compare to the 2015 !
NEW Gibson Les Paul Standard 50s 2019 Review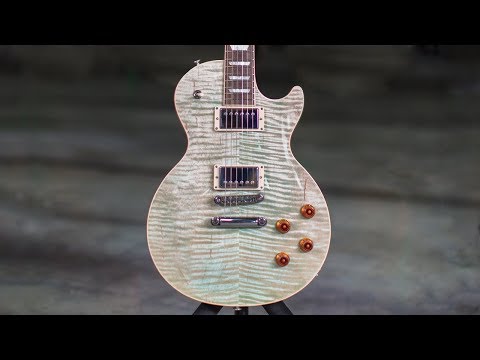 Gibson 2019 Les Paul Standard Demo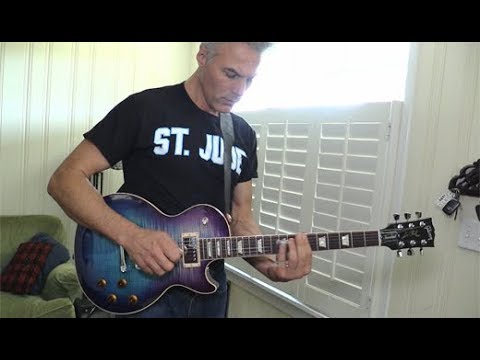 First Look - 2019 Gibson Les Paul Standard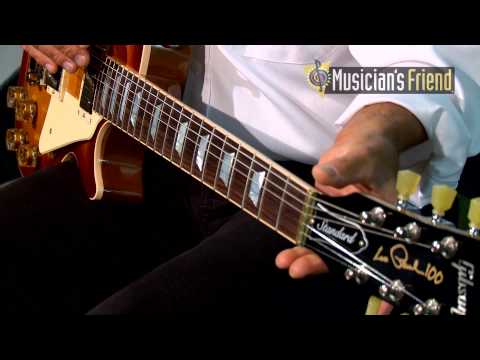 Gibson 2015 Les Paul Standard Electric Guitar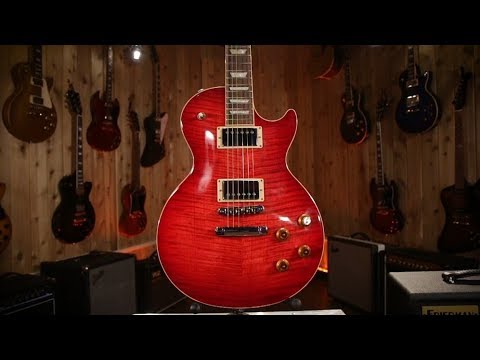 Gibson Les Paul Standard 2018 Electric Guitar