Rane Sixty Four Performance Mixer
A more flexible mixer to help you master 4-channel mixing with the ideal software to make it look and sound flawless.
If you've mastered mixing and scratching on two channels and you want to raise your game, the Rane Sixty-Four mixer and Serato D... read more
CHECK PRICE ON
Rane Sixty-Four Demo with Serato DJ 1.5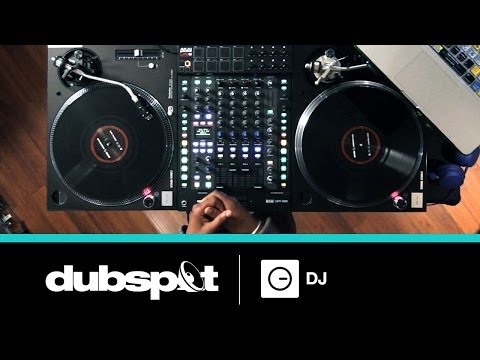 DJ Tutorial: Rane 64 Mixer for Serato - MIDI Mapping the Mic + iZotope Effects w/ OP!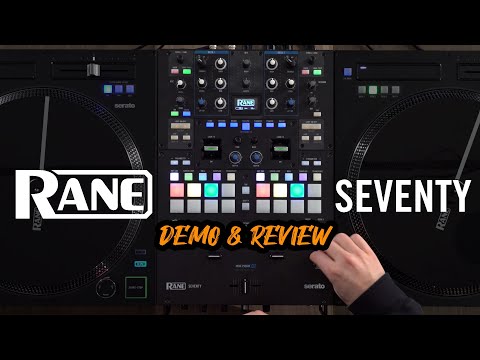 Rane Seventy Battle Mixer - Demo & Review
Description
A more flexible mixer to help you master 4-channel mixing with the ideal software to make it look and sound flawless.
If you've mastered mixing and scratching on two channels and you want to raise your game, the Rane Sixty-Four mixer and Serato DJ software are the tools you need for more channels, more decks, more effects.
Mixing four channels requires a wide variety of amazing transition effects, the ability to sync tracks, more flexible CUE and Loop capability and versatile transport and mixing capability. The Rane Sixty-Four mixer and Serato DJ software provide the ultimate plug-and-play package, providing everything you need. The mixer and software will feel familiar and intuitive while providing the advanced features you require to step your game up.
Internal 22-Channel Soundcard
Why so many channels? The Sixty-Four is able to simultaneously support control-signal pickup and playback for four DVS Decks, provide USB send and return to allow insertion of Serato DJ iZotope effects post fader on your mixer and record the main mix, all at the same time. When not using DVS, it is also possible to record all four decks post fader for music production and mix tape applications.
Dual USB Ports for Simple DJ Change Over
DJ change over is as easy as 1-2-3. With a computer plugged into each USB port, simply switch a mixer input selector to the desired USB source and audio and MIDI are assigned. Seamlessly switch from one DJ to the next using any combination of Serato DJ and 3rd-party software.
Software Controls for Library, Loops, Cues, SP6 Sample Player, Sync and Slip
Take advantage of the Sixty-Four's tight integration with Serato DJ and control the software from dedicated, MIDI mappable controls on the mixer.
* Quickly browse your library and crates to load tracks
* Control sync and slip transport functions from the mixer
* Create, modify and trigger your auto loops
* Set and trigger eight cue points and loops on the fly
* Switch banks and trigger your samples with quick and easy to access sample triggers
* Mixer tracks software BPM
Magnetic Crossfader
The proprietary Rane magnetic fader is fast, accurate, and long-lasting. The design uses non-contact technology previously reserved for demanding aerospace and industrial applications. No travel noise-no bleed-ever. Rane's magnetic faders accurately translate hand motion into precise audio level control. Non-contact fader technology is the only way to fully address the needs of the professional performance DJ.
3-Band Isolator EQs Plus High-Pass/Low-Pass Filter for Each Deck
Each deck on the Sixty-Four has its own dedicated 3-band isolator EQs and High-Pass/Low-Pass filters. These controls allow you to take full control of your mix. Use the full-cut EQs to tune it just the way you want it and use the High-Pass/Low-Pass filter knob to smoothly transition from one track to another or add effect.
FlexFX Loop with Six Internal Effects, Analog Loop and USB Insert
The Rane Sixty-Four FlexFx Loop is the ultimate solution for flexible control of your audio effects. Quickly and easily add and remove audio channels from the loop, apply any of the six built-in beat synchronized effects, use Serato DJ iZotope effects post-fader and add an external effects processor in any combination.
Includes Ultra-low Latency Core Audio and ASIO Drivers
Rane's ultra-low latency, multi-client ASIO and Core Audio drivers set the standard for USB streaming devices. These drivers are fast and reliable, and are designed for professionals with demanding needs.
Rane ASIO and Core Audio drivers connect you to Serato DJ software as well as many 3rd-party software applications that support Core Audio or ASIO. ASIO and Core Audio drivers are multi-client, meaning they allow multiple applications on a computer to share the device at the same time. This unparalleled flexibility allows you to use the tools you need to step up your game.
Sixty-Four with Serato DJ
After 10 years of tight integration and innovation with Rane products and Serato Scratch Live, the Sixty-Four Mixer includes Serato DJ with DVS.
Serato DJ 1.5.0 now supports Serato's world class NoiseMap DVS technology, refined for over 10 years in Serato Scratch Live. Combined with the long list of new features and improvements to Serato DJ, the addition of vinyl and CDJ control in Serato DJ signals the future as Serato's top-end professional DJ software. Serato DJ brings an improved user interface, iZotope FX, Sync, Slip, expanded and improved Cues and Loops, and more.
Specifications
Internal 22-channel soundcard
Dual USB ports for simple DJ change over
Software controls for Library, Loops, Cues, SP6 Sample Player, Sync and Slip
Magnetic crossfader
3-band Isolator EQs plus high-pass/low-pass filter for each deck
FlexFX Loop with six internal effects, Analog Loop and USB Insert
Ultra-low latency Core Audio and ASIO drivers
Includes Serato DJ sofware
Analog Inputs
4 Stereo unbalanced RCA jacks
Phono or Line Level Inputs have rear panel switches for each input
Phono Response is RIAA ±1dB, Gain: 31dB at 1kHz
Max Phono Input = 126 mV
Max Line Input = 4 Vrms
Additional Aux Line Input is a fifth input selectable in any channel
Additional Session Input from RCA analog or S/PDIF with a dedicated level control
S/PDIF
Input
16-bit or 24-bit PCM only, 16kHz to 144kHz sample rate
Output
24-bit/48kHz sample rate
ADCs
24-bit, 48kHz; Dynamic range 103dB A-weighted
DACs
24-bit, 48kHz; Dynamic range 107dB A-weighted
Digital Signal Processing
48kHz, 32-bit floating point
USB Audio
Six Stereo Record, Five Stereo Playback, 48kHz, 32-bit floating point
FlexFX Return
Unbalanced 1/4" TS (tip-sleeve) phone jacks, 4 Vrms max.
FlexFX Send
Unbalanced 1/4" (tip-sleeve) TS phone jacks, 4 Vrms max.
Mic Input
Two Mic Inputs
Balanced 1/4 TRS & XLR combination jacks, Single knob high/low Tone controls, Mic 1 +48V Phantom Power on/off switch, Mic 2 Mic/Line-level switch
Line Outputs
Main Out is on a pair of balanced XLR jacks with pin 2 "hot" per AES standards
Booth Out is on a pair of balanced 1/4 TRS (tip-ring-sleeve) jacks
Session Out is available on a pair of unbalanced RCA jacks
Headphones outputs are available on both 1/4 TRS and 3.5mm jacks
Frequency Response = 20Hz to 20kHz ±0.25dB, Line in to Line out
THD+N = <0.01% re 0 dBFS, 20 to 20kHz, 20kHz BW
Unbalanced jacks maximum = 4 Vrms (RCA & FlexFX)
Stereo balanced jacks maximum = 8 Vrms (Main & Booth)
Internal Universal Power Supply
100 to 240 VAC, 50Hz to 60Hz, 15W max.
Unit Size
14.3" x 12" x 4" (36.4cm x 30.5cm x 10.2cm)