u-he Presswerk Dynamics Processor Plugin
Powerful Dynamics Processor
Presswerk is a powerful dynamics processor with a musical soul. An easy-to-use interface a rich feature set give you hands-on control over all details of your sound. Presswerk doesn't emulate famous compressors, ... read more
$129.00
Instant Delivery
Download after purchase.
Software is not returnable
Instant Delivery
Download after purchase.
Software is not returnable
Recommend Related Items & Pairings
This is where you can recommend to readers an alternative - or gear that goes with - u-he Presswerk Dynamics Processor Plugin. What gear sounds similar, is less expensive, higher-end or boutique, etc.?
ADD YOUR RECOMMENDATION
$129.00
Reviews
Trusted musician and artist reviews for u-he Presswerk Dynamics Processor Plugin
4.5
Based on 1 Review
4y
almost 4 years ago
edited almost 4 years ago
this one's a winner
Presswerk is a great dynamics solution for your DAW. It just sounds nice and musical and it can do basically anything. but like most U-He plugins its a monster CPU hit so beware. This is right in there with the new Arouser plugin for great dynamics software. This guy is not for the unitiated, you can really fuck your sounds up with this if you don't know how compression works. its also quite expensive, I got it at a cheap introductory rate but I think I would pony up for it. I think you can try a demo version so you should check it out. If you're new to compression try sticking with the simplified modes that do LA2A, 1176 and Fairchild style compression respectively. They sound different than say the Waves emulations but are nice.
I think where Presswerk stands out for me is in M/S mode.... I tend to go for this guy when I wanna fuck with the stereo image but not with an m/s EQ or a generic width plugins like waves S1 or A1 stereo control or whatever. You can do some really interesting stuff with this carrying the dynamics between the middle and sides of a group or even your stereo mix bus. This also ahs a superb sidechain, even just using the fitlers its nice and the listen feature really puts it over.
This is an EXCELLENT analog-ish compressor plugin. If you can only have 2 compressors its this and Arouser.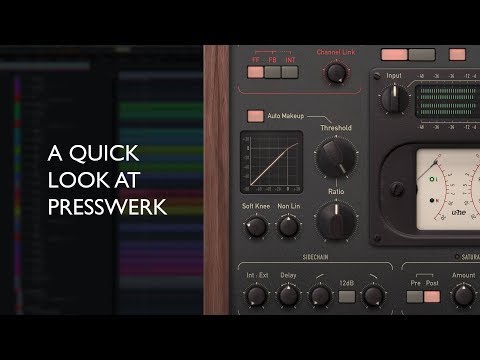 u-he Presswerk Musikmesse Demo
Description
Powerful Dynamics Processor
Presswerk is a powerful dynamics processor with a musical soul. An easy-to-use interface a rich feature set give you hands-on control over all details of your sound. Presswerk doesn't emulate famous compressors, it blends the warmth of classic hardware models with developments that are only possible in the digital domain.
Popular Compressor Plugins