u-he ACE Software Synthesizer
Any Cable Everywhere Easy Modular
ACE belongs to a new generation of synthesizers developed with the latest, fastest computers in mind. ACE offers classic modular synthesis more at a fraction of the cost of dedicated hardware. But like its ... read more
$69.00
Instant Delivery
Download after purchase.
Software is not returnable
Instant Delivery
Download after purchase.
Software is not returnable
$69.00
Reviews
Trusted musician and artist reviews for u-he ACE Software Synthesizer
4.0
Based on 17 Reviews
UHe Ace VST
The plugin design and production company known as U-He presents users with a unique piece of software in the form of ACE. The concept behind ACE is to take advantage of modular synthesis in order to fully use the processing power of newer computers and increase overall creative output. ACE is classified as a semi-modular synthesizer with a huge selling point compared to its hardware counterparts: you can patch any input to any output and are not limited to any number of connections. In a very clever and groundbreaking fashion, u-he has put together one of the most refreshing pieces of software for producers; best of all, it comes with a very artist friendly price tag ($79 at the time of writing).
Understanding the ACE user interface may seem a little daunting at first, but after some experimentation it becomes much easier to get a hang of. In terms of most modular synthesis devices, ACE is fairly straightforward: you are given several inputs and one or two outputs, and you can run as many cables as you like from each output to any input. Inputs and outputs are denoted as they would on a hardware synthesizer by what look like small outlets in the software itself. According to u-he, they classify ACE is a tool that is very favorable to beginning users. With the hopes of giving people a more affordable outlet into experimentation with modular synthesis, ACE easily provides an infinite selection of choices for beginners and experts alike.
After test driving the product myself, I have to say that I'm very pleased with the results it gave me. U-he does an incredible job of designing ACE to be free of any eyesores, while still keeping the interface free of clutter. While most low to mid level synthesizers attempt to cut costs in the visual department, ACE does not take part in this stereotype and actually has a better visual design than some synthesizers that cost hundreds of dollars. My favorite part is that each of the sections of the interface, everything single knob, and all drop down menus are well labeled and don't leave anything up to guessing. The only potential downside that ACE comes with is the high CPU requirement. U-he has worked wonders in being able to attain the sonic charm of vintage hardware, but causes users with slow computers or too many open instances of ACE to suffer. Regardless of this fact, ACE delivers a complete package that most synthesizers just don't come close to, and for the low price it's offered for, it's a no-brainer addition to any software synthesizer arsenal.
Perfect Analog Sub Synthesizer
ACE + DIVA = One of the best combo. It seems that U-he never fails, and if you make your way through the retro and physical way to navigate in ACE, you can get really awesome sounds.
virtual modular? more info in future reviews please, sir
Great for background noise
The presets aren't very good for leads, but they make good for basslines and other background noises that make an EDM song complete.
Hard not to like this virtual semi-modular!
I just broke down and got this thing and I am just blown away. Its fun and the sound quality hangs with legit analog hardware. It really reminds me of an Arp2600, but without limits. Compares favorably with Moog hardware for bass and the Korg Odyssey RI for leads and such. I am usually hesitant to BUY a virtual analog synth, but since this is semi modular and cheaper than the moog mother 32 I've been eyeballing I figured what the heck. You might as well score this, its a big CPU hit like all the U-He plugins, but how many instances will you actually use? Ace sounds so powerful that its a once-a-song gadget.
All in all I can see myself using this in place of Reaktor for a lot of simple modular jobs and just use Reaktor for its more off the wall capabilities. Being closer to a fixed architecture synth its really quick to work in.
Welp, looks like Kyja's gonna start hiding my credit cards.
she should, this one's pricey for a plugin and I kidna regret it even though ti sounds AMAZE-Balls
Good.
Haven't used this a lot, but from experience, it's great.
Not Diva
But it's cheap so I picked it up. Get some pretty cool sounds out of it that might spark some creativity. It's always a crap shoot tryin to find the next VST synth that is going to make your tracks sound as amazing as the producers that are killing it out there. But it's true it's not the shit you have, it's what you can make it do to enhance your own productions. Expensive to be a producer. It's like fucking drugs, you keep buying to get that next high. Love it.
try getting into hardware synths and being a guitarist.... tis not just the cost but the way your home fills with instruments. You look at your VSTi collection a lot because you don't feel like going in the closet for hardware until you feel certain you'll use an idea in the song!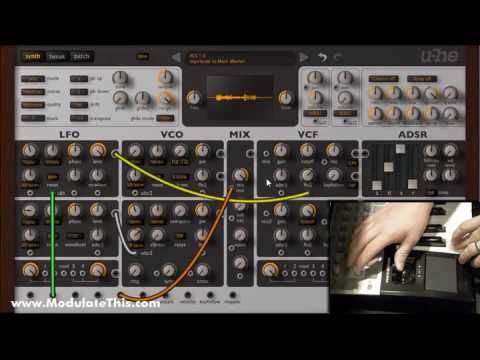 u-he ACE Tutorial: Patch Cables 101
Description
Any Cable Everywhere Easy Modular
ACE belongs to a new generation of synthesizers developed with the latest, fastest computers in mind. ACE offers classic modular synthesis more at a fraction of the cost of dedicated hardware. But like its hardware forebears, you can patch any output into any input: the number of different ways to connect modules together is practically infinite. Needless to say, you will never run out of cables!