STAR is the new flagship line for TAMA drums. It takes the knowledge and research we cultivated for the Starclassic series to the next level, by reexamining every detail to enhance shell resonance. STAR Bubinga features a much thinner shell than ... read more
CHECK PRICE ON
---
Tama Star (Bubinga) Drums Series in Sunny Yellow Lacquer (SYL) w/inlay (outside & inside) Drums 14"x20" Bass Drum 6"x14" STAR Solid ... more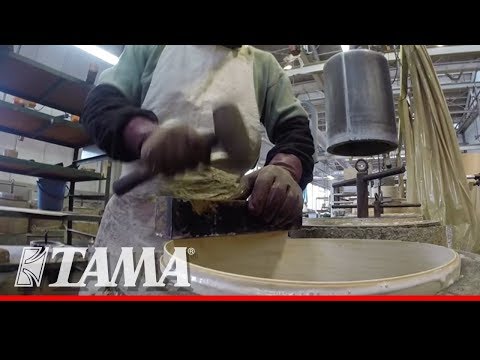 TAMA STAR Drum - Crafted by the Hands of Masters
Description
STAR is the new flagship line for TAMA drums. It takes the knowledge and research we cultivated for the Starclassic series to the next level, by reexamining every detail to enhance shell resonance. STAR Bubinga features a much thinner shell than Starclassic Bubinga. In addition, every shell comes equipped with 9mm thick Sound Focus Rings (SFR) for structural support. This shell configuration provides clear projection and resonance to highlight the distinct sound of Bubinga.
Bubinga Shells (STAR Drum)
4.5mm, 5ply Bubinga + 1 inner ply Cordia (+ 1 additional outer ply Indian Laurel for LNTI), or 4ply Bubinga + 1 outer & 1 inner ply Cordia for CDKG/CDKR/CSTN, w/ 9mm Sound Focus Rings
Bubinga wood, which TAMA introduced to the market, has become increasingly popular as a drum shell material. Because of their ultra-high density, Bubinga shells provide rich, fat low end as well as deep, dark tones. STAR Bubinga shells are crafted to be much thinner than their Starclassic counterparts. All the shells are 4.5mm thick, including the bass drums and snare drums. These thinner shells allow the Bubinga material to vibrate more freely, which greatly enhances resonance. All STAR Bubinga shells feature 9mm thick Sound Focus Rings (SFR), which provide clear projection and sustain for a distinct sound, as well as reinforcement.
Minimum Shell Contact
Every piece of hardware that is attached to shells affects the resonance and sound of the drums. In developing the STAR drum line, every detail was carefully considered to maximize resonance and optimize sound.
The newly designed lugs for STAR drums have a luxurious, sophisticated look, as well as an extremely low mass bridge construction for minimum shell contact. The bass drum claw hooks follow the same principle by "floating" on the surface of the bass drum hoops. STAR drums also feature an imprinted badge and small wooden air hole grommet which further reduce the weight of materials on the shell and improve resonance and sound.
Bearing Edges
Vibration produced by hitting a drum transfers to the shell through the contact point between the drumhead and the shell. Therefore, the shape of the bearing edges is one of the most important factors in a drum's sound. STAR drums feature a bearing edge shape as shown in the diagram. Its peak is rounder than TAMA's traditional bearing edge. This rounded peak provides more contact between the drumhead and shell, allowing vibration to travel from the drumhead to the shell more efficiently. Also, the peak position of the edge is 3.5mm from the shell's outer surface, which further improves contact between the drumhead and drum.