A+
I've had a Zoom model of one kind or another for almost 2 decades. They just kick ass. This model & similar models from the past are a favorite.
One of my favorite recordings I ever did was with just a model like this placed well in the room. Sure, it was the song but it's also the zero barrier to entry, the spontaneity that these create that make them such a must have for me.
If you wanna go further it's a 4 track as well. "Only" 24 bit but who could care. Does a great job.
The ultimate sample collector. The best electronic friend.
100% recommend.
Great Field Recorder
I bought this to get samples for my Akai samplers. I spent an hour in my basement tapping, scraping and banging on stuff and with those recordings created several very nice drum kits. I'm pleased with the results so far.
1y
over 1 year ago
edited over 1 year ago
REALLY GREAT RECORDER
Much more than a just a handheld recorder. Pros -48 volt phantom power for 2 mics -can record these at the same time as the stereo mics on the top of unit -ability to overdub tracks; can record multiple takes as well (like additional tracks) -ability to edit track (trim, mix-down 2 separate tracks into one stereo track) in the unit -built in compressor and limiter -build quality is very good -mics can be swapped with different H6 zoom mics Cons -interface could be much more intuitive; there definitely is a learning curve.For most users they will have to spend more time to take advantage of the additional functions the unit offers ! Yes, you can jut pick up and press the record button, but it take more than that to set it up. -Interface kind of small - no ability to change what is displayed on screen, or change screen appearance -Built in compressors/limiters are for a live situation/when you want to get your own ideas down; but I would save that for your DAW software.
BOTTOM LINE - once learning curve is out of the way (it will take a while), this unit really can do tons of stuff, AND do it WELL. It can even work as an audio interface (!). If I lost this I would probably buy again, or the H6. I've owned this for a year, and have never regretted the purchase.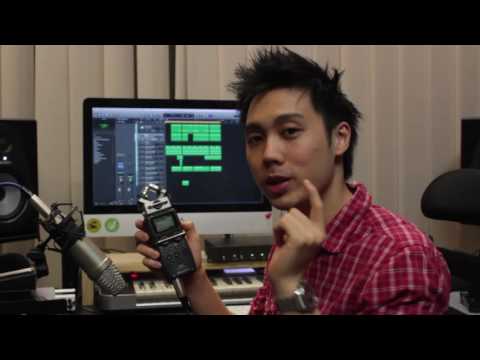 Zoom H5 Review & Music Recording Test - Portable Handy Recorder | Audio Mentor 😁
Description
24-bit/96kHz, 4-in/2-out Modular Field Recording System and USB Audio Interface with 2 x XLR/TRS Combination Inputs, 2 x Microphone Preamps, and Included XY Microphone Attachment