Awesome Semi Hollow Body
I replaced the tuners, the pickups and the tailpiece. I had to replace the pickup selector switch, but that's no biggie. My EchoTone is a Custom, with Trap inlays. A Korean Import model
All I wish for in an ES-style guitar.
The Hamer Echotone is my first humbucker based guitar, so at first I considered the sound as dull due to the wider pickup range. Now after two months of playing I won´t give her out of my hands anymore. The versatility of this guitar is great. The three-way-switch system lets you choose between different voiced sounds. The neck-pickup provides a great clean but glassy jazz/blues tone. The middle position combines both pickups, with the separated tone and volume poti for each pickup you can easily shape the sound of the guitar. The bridge-pickup provides the most output of all possible pickup settings. If you switch to the bridge position you´ll get a nice bitey, more treble based tone wich still has enough bottom to make your 12-inch speaker breath.
A great guitar for a wide range of playing styles. Combine it with your pedals and you´ll have a guitar that´ll serve you from jazz to heavy fx rock. For even harder sounds the pickups might not have enough output. It´s not a shredding machine, but a great produced guitar with a lot of clean sustain and a wide field of application possibilities. If you consider to buy an ES-style guitar, but you are looking for a cheaper alternative to the common brands with the same quality in production I recommend you the Hamer Echotone.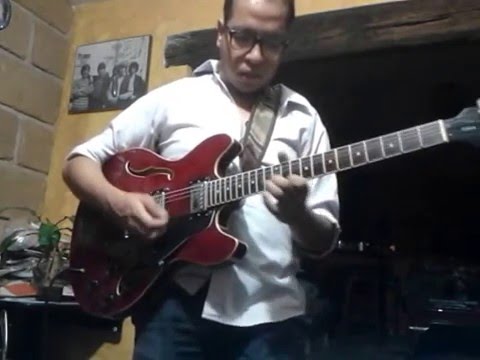 Hamer echotone