Recommend Related Items & Pairings
This is where you can recommend to readers an alternative - or gear that goes with - Epiphone Sheraton II Electric Guitar. What gear sounds similar, is less expensive, higher-end or boutique, etc.?
ADD YOUR RECOMMENDATION
SOLD BY
AVAILABILITY
REVIEWS
PRICE
* Product prices and availability are updated by Equipboard every 24hrs and are subject to change. Equipboard may receive compensation for purchases made at participating retailers linked on this site. This compensation does not affect what products or prices are displayed, or the order of prices listed. Learn more here.
Reviews
Trusted musician and artist reviews for Epiphone Sheraton II Electric Guitar
4.5
Based on 30 Reviews
Ruined chances of me getting another Epiphone ever again
This guitar looks amazing and has a nice weight to it. That's all I can say that's positive.
This guitar has the muddiest, overly bassy pickups I've ever used. The control knobs seem not to do much beyond the volume pots for each pickup. The neck is extremely brick-like, having the input jack on the front of the guitar feels awkward, and the overall tone of this guitar is useless. I tried it on different settings I have. It's not smooth enough for blues, not crunchy enough for distortion. This is the first Epiphone I've ever even thought twice about.
I figured since it was 600 bucks new, It might be better than an entry level guitar. WRONG. I have a modified $200 Ibanez that trumps this in every way but looks. It doesn't even really have that distinct hollow-body sound. It's just a weak tone. The bridge pickup is almost tolerable although under-powered. The neck pickup is the abomination of this guitar. It has 3 settings. Off, turned up just enough to be heard while being slightly over bassy, and SUPER MUDDY BASS BAR.
I would consider this a wall guitar. It's a Ferrari with a Ford engine and dodge transmission inside.
You gave this four stars? A bit kind considering the review.
I love this guitar!
I also have a Sheraton and Im totally in love for this one, is great for country pop rock, blues, worship music, very classic tones!
From Gear Setup:
She's a beauty. What year did you buy her?
I have her since 2012, but she is 1997.
Looks great, plays great, Sounds GREAT!
I have an ebony Sheraton II Pro with ProBucker Alnico II pickups. I own or have owned many Fender. Gibson and Epiphone guitars for decades (Strat, Tele, LP, SG etc.) but of all of them, this is the most enjoyable of them to play for all of the reasons stated in the title above. I am puzzled by the comments here that indicate that this guitar sounds "awful" or "muddy". They may have an earlier version, gotten one that had been modified or possibly just have a vendetta against Gibson/Epiphone, whether real or imagined. It is also possible that the Alnico II pickups are just not bright enough for the tastes of some, but that was a major selling point for me. Seymour Duncan has stated that he personally prefers Alnico II pickups over all, and there is a guy that knows more about pickups than anyone I know of.
Sheraton
Beautiful and very versatile for an acoustic guitar! The mahogany center bar helps a lot in this part, and reduces reverberation.
Love It
As an acoustic guitar player, this is the best transition into the electric world for the price. It's a true tank and sounds great!
Great!
A little bit of trouble with the feedback, but nothing that a noise gate pedal wouldn't fix, great sound, and a beautiful piece of art in aestethic view
One of the nicest playing guitars out there.
This was the first guitar that I had bought with my own money when I was 16 years old. Initially, I was on my way to buying an Epiphone Casino, however a used 2005 MIK Epiphone Sheraton 2 appeared for sale locally at £220. I actually knew the seller, and I had in fact seen and heard the guitar in action as part of the band performing the music for the school production. It came with a hard-case and the seller kindly dropped the price to £200. I bought the guitar, and whilst I still wish that I had saved up a little bit more for the Casino, my Epiphone Sheraton has been used live and in the studio, and it works great for the medium gain rock and roll sounds that me and my band have been going with. One of the best semi-hollows you can ever buy, and for the price, one of the best value guitars out there.
Like it.
Of all the 335 inspired guitars this turned out to be my favorite. If you're only playing solid body guitars & wanna try out a semi-hollow body but don't have the cash or want to fork out for the 335 (retails about $2600 I think? Despite that the cost of manufacture is around 800) you could do a lot worse. It plays great, you can get great tones & textures outta it, & it won't break the bank if you'd just like to see how you like the semi-hollow body family I'd say go for it.
The tone of a real 335 is spectacular & id love to own one-don't get me wrong. I just really doubt that I'd sell this one if I did. It's got its own character & gets played regularly. Kinda like the made in Mexico Strats & Teles that have gained a following in the past. Lots of "pros" also play this guy despite having no lack of options or cash. The Edge is the only one I can think of off the top of my head tho I know there are more.
All that said I'd happily recommend anyone try one. They're not hard to find & id bet you'll dig it. Played my today.
Ruth
This guitar can really roar. Cleans up very nicely w/ the neck pickup - good deal of definition (especially for a semi-hollow) at the bridge. Exactly the tones you'd expect to hear from a semi. Had a ton of wiring and pickup issues, though.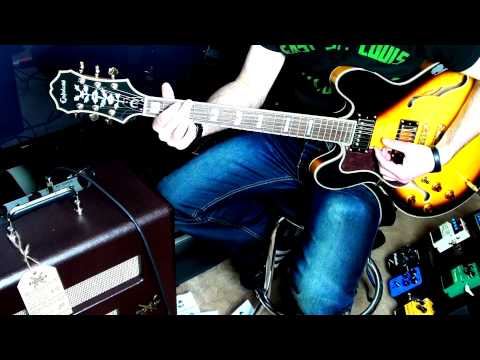 Epiphone Sheraton II Electric Guitar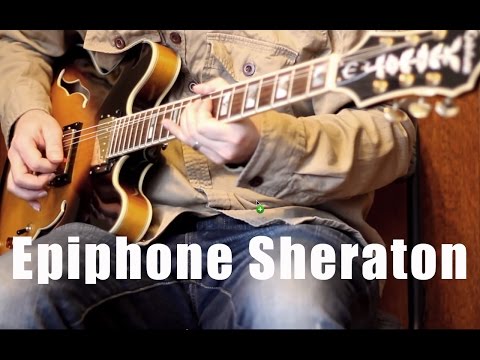 Epiphone Sheraton II - Guitar Jam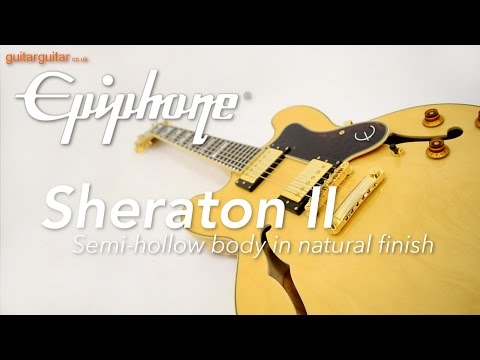 Epiphone Sheraton II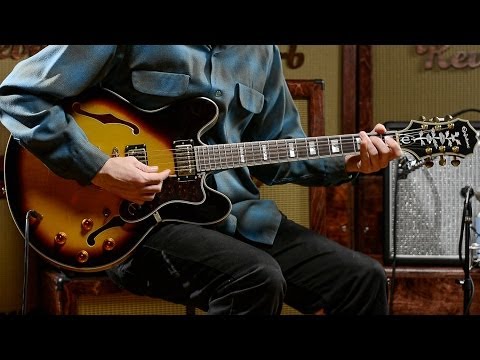 Epiphone Sheraton II Vintage Sunburst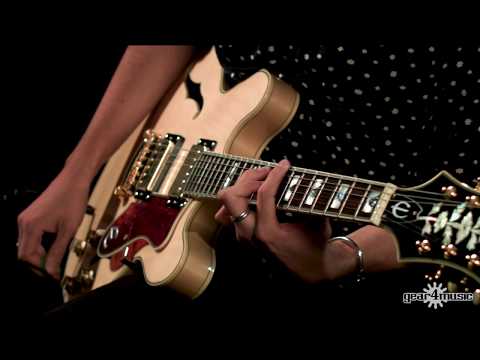 Epiphone Sheraton II Pro | Gear4music Demo
Popular Semi-Hollowbody Electric Guitars