CHECK PRICE ON
AS FEATURED IN
Reviews
Trusted musician and artist reviews for Danelectro 59 DC Electric Guitar
4.5
Based on 9 Reviews
This guitar oozes Rock & Roll.
With a set of DR Black Beauties coated black strings it sounds very ballsy. The guitar came new and needed very little attention before getting it ready for playing. My original thoughts of it as a joke guitar were changed immediately after cranking the volume and setting it loose. It has great tone and the action lets it sail from end to end. It will begin earning your respect and you'll start fawning over it like a 59' Les Paul.
the tone matters
good enter at least 36 more characters...
A1
Every guitar player needs one of these. They are spectacular value and provide tonnes of tone.
Wonderful!
Not sure if I chose the right version, but my my, this Dano can do wonders, especially on clean tone!
Love the guitar, unique.
I own the 2007 version, wich is a bit poorly produced. The original pickups sound a bit muddy and not as clean as the pickups of former version. But what makes me love the guitar is the feel this piece produces as you play it. If you like single coils and clean/low gain sound you will not regret purchasing one, it´s great for spacier sounds too. Try some fx and you´ll see. :D
2y
almost 2 years ago
edited about 1 year ago
Fantastic guitar
Just a guitar one needs you need a danelectro its a crime not too keep it tuned DADGAD for page vibes
Fun, unique twangy sound, but with some quality issues
This is a very fun guitar to play-the neck action is great, but the pots are very fussy and mine needed some work almost immediately. The sound variations are somewhat limited, but I don't think there is any other guitar that sounds quite like the Danelectro. Being that they are so inexpensive, I guess you can forgive it for the not so great quality control.
from 1998
This is a re-issued i got in 1998. Smashed up a bit and I use duct tape to fix it. and it still sounds ok, considering it is semi-hollow, Light in weight, tone is impeccable, and you only get that from a danelectro.
Collectible and surprisingly playable
Mine is the 2nd generation reissue Chinese made one with asymmetric headstock, and non-stacked pots. It has a burgundy color that made me call it the Dr. Pepper guitar. It came for a price I could not resist, and thought I'd keep it in the trunk for the worst scenario. Surprisingly, after some cleaning and setup, the thing not only looks good, but plays good and sounds well enough for a 200 $ axe.The straight maple neck has a comfortable profile depth , maybe at its width some more real estate could come handy, which makes it a twang guitar, rather than a two note-bend guitars. Has a nice sustain with a flat fretboard, that makes it highly suitable for slide. I tend to tune it to open G and fiddle with Muddy Waters riffs for hours. The bridge PU alone sound a bit thin, the neck a bit too dark, but the two provide a nice balanced sound when engaged together. A blend wiring could be very useful for this kind of guitar. It has a unique sound without any added effects, I believe it will serve me well as an open mike / backup or canyoulenda guitar.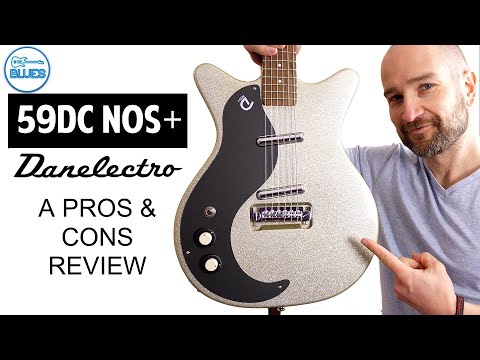 Danelectro DC 59M NOS+ Electric Guitar Review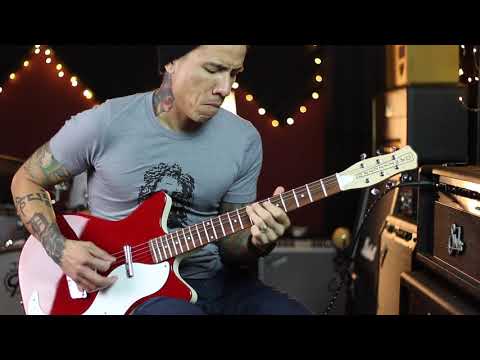 Danelectro "Stock '59" guitar - demo by RJ Ronquillo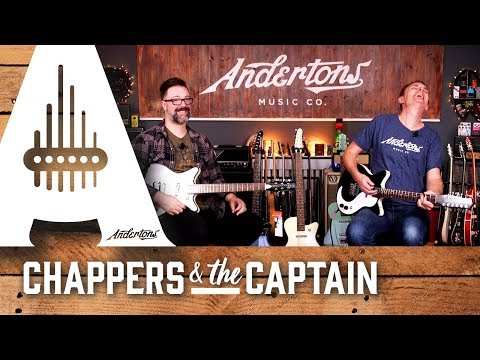 Danelectro Guitars - That 'something different' you've been after? - Andertons Music Co.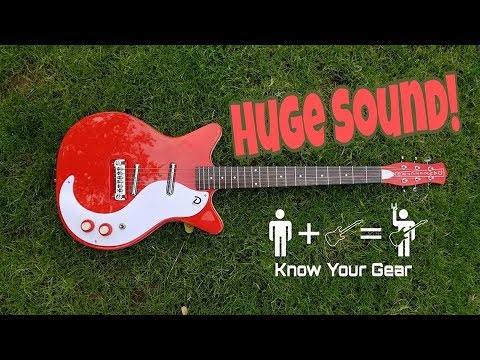 The Danelectro 59M NOS. Press-board Never Sounded So Good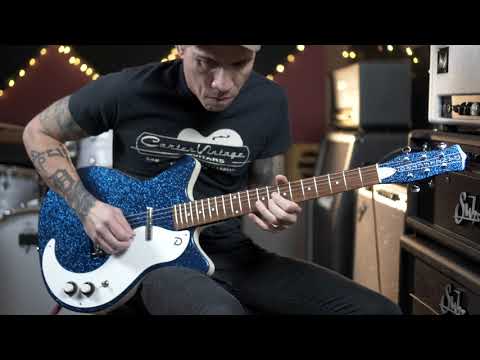 Danelectro 60th Anniversary 59 DC NOS+ electric guitar demo by RJ Ronquillo