Native Instruments' flagship all-in-one DJ system.
Experience a new way to mix and perform with TRAKTOR KONTROL S8 – a 4-channel stand-alone mixer, professional audio interface, and enhanced Stems-ready decks for ultimate control over the include... read more
CHECK PRICE ON
Recommend Related Items & Pairings
This is where you can recommend to readers an alternative - or gear that goes with - Native Instruments Traktor Kontrol S8 Controller. What gear sounds similar, is less expensive, higher-end or boutique, etc.?
ADD YOUR RECOMMENDATION
Reviews
Trusted musician and artist reviews for Native Instruments Traktor Kontrol S8 Controller
5.0
Based on 15 Reviews
As important as headphones....
This piece of equipment is the swiss army knife of mixers. It has the capabilities to be a stand alone mixer as too! This is my preferred mixer for large shows and everyday use. I don't always have the luxury of transporting this beast so that can kinda be a kick in the pants sometimes. I use this with my cdjs, sl1200's and serato. Although you lose a few features using serato vs. its native program traktor, you can always midi map.
Everything in it's right place.
If I lost all of my gear, I would replace this and my subpac first.
11/10
By far the most integrated Traktor controller ever! Love the build quality & color display. Don't be discouraged by the lack of jogwheels, because you can connect turntables/cds & use it as a standalone mixer!
Greay piece of kit.
Love the stems view more than anything when dj'ing. You can really make creative mixes.. A little bulky to take to a club. Ideal for a home dj set up.
impressive
really impressed by the built quality and the creative power of this monster
Just. Epic.
The stems format is easily to use to the fullest. The whole body and structure of the controller is like two F1's combined, but now more easily accessed. I'm really proud to be one of the few actually using the remix decks live on stage, and combined with other live elements and the easy filtering of layers in my tracks that I prerecorded makes this thing a spaceship on it's own. It's definitely something to take notice of, if you never heard of either Remix Decks or Stems. But; 1 but, there's no platter. I really missed these for scratching. But the robust outlook could probably only be maintained with the touch sensitive pad above the transport pads on both the lower sides of the decks.
Versatility is key for me.
The S8 is not traditional to say the least but that's why I like it. I am more of an MPCer or finger drummer and that is how I dJ. This hardware allows that freedom.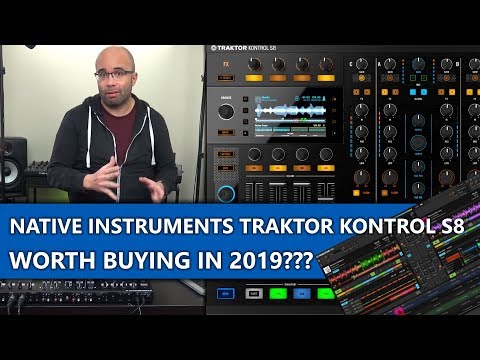 Native Instrument's Traktor Kontrol S8: Still Worth It in 2019??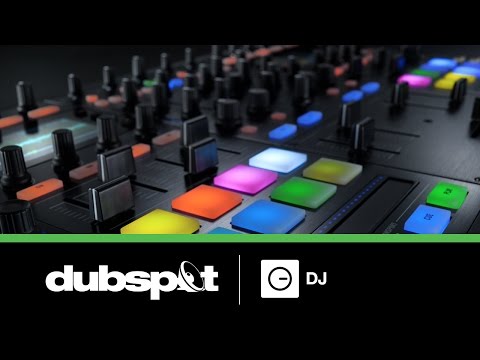 Native Instruments Traktor Kontrol S8 DJ Controller - In Depth Overview w/ ENDO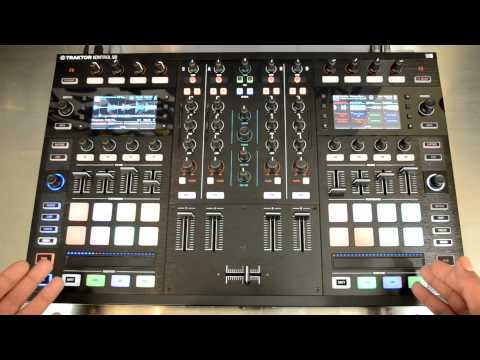 Native Instruments Traktor Kontrol S8 Review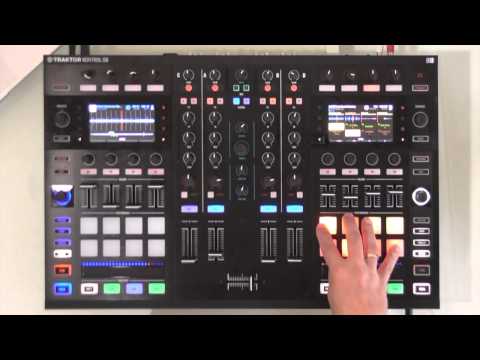 Traktor Kontrol S8 Review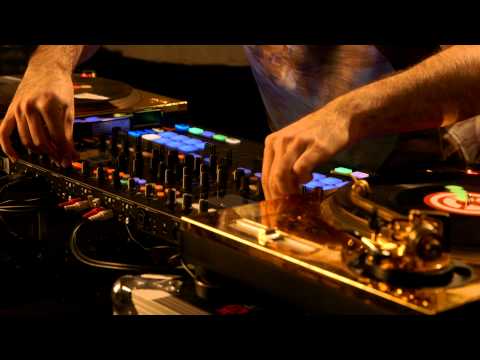 DJ Shiftee, two turntables, and the power of TRAKTOR KONTROL S8 | Native Instruments
Description
Native Instruments' flagship all-in-one DJ system.
Experience a new way to mix and perform with TRAKTOR KONTROL S8 – a 4-channel stand-alone mixer, professional audio interface, and enhanced Stems-ready decks for ultimate control over the included TRAKTOR SCRATCH PRO software. Touch-sensitive controls and high-res displays deliver DJ workflow that is truly cutting-edge.
Connect with Your Crowd
Get physical with the music. Touch-sensitive knobs, faders, and LED-guided touch strips bring TRAKTOR software to life on vivid full-color displays, keeping you focused on performance - not on your laptop. The S8's touch-and-see workflow means you connect with your music - and with your crowd.
High-Resolution Displays
Two high-res color displays put TRAKTOR software in plain sight. Browsing, track info, effect, and filter values come into view directly in front of you. Keep an eye on the running track's ultra-crisp vector waveform. Or access Remix Decks in full view.
Next-Generation Decks
Play different. TRAKTOR SCRATCH PRO's Effects, Remix Decks, and track browsing come to life on full color displays triggered by touch-sensitive controls. Two wide touch strips allow for pitch bending, track seeking, and vinyl scratch emulation.
Sixteen color-coded performance pads transform the decks into powerful live performance controls. Trigger Remix Set cells, slice up and rearrange in Freeze mode, tweak your loops, or improvise using hotcues - all within view, and within reach.
Versatile Mixer
Not the average mixing interface. TRAKTOR Mode buttons on every mixer channel toggle between TRAKTOR and stand-alone mode for integrating a wealth of analog and digital gear - perfect for use with TRAKTOR SCRATCH and seamless transitions between multiple setups.
The S8's 4-channel mixer section features innovative wear-resistant faders. Under the hood, inversed carbon strips prevent nightclub wear from debris and drastically prolong fader life.
Audio Interface
The S8 offers the most comprehensive connectivity on a TRAKTOR controller yet. Four analog inputs with phono and mic preamps let you connect turntables, CDJs or other gear. Both XLR and RCA master outputs and ¼ inch booth outputs connect the TRAKTOR KONTROL S8 to any sound system imaginable.
24-bit/48kHz of built-in, pristine audio boosts output to levels designed for the most demanding situations. MIDI In and Out lets you sync TRAKTOR with synthesizers, drum computers, MASCHINE, or external effects.
Remix in the Moment
Create your signature sound with responsive Remix Deck controls. Intuitively mix in sounds with 4+4 channel Remix Deck faders. Plus, live capture and trigger your own samples and loops using 16 color-coded performance pads.
Built for Performance
Connect anything your setup needs - TRAKTOR KONTROL S8 boasts the most expansive connectivity on a DJ controller yet. The on-board 4-channel mixer features unique wear-resistant faders that offer unprecedented durability. Plus, TRAKTOR Mode buttons on every mixer channel switch between TRAKTOR and stand-alone mode - ideal for handing the night over to the next DJ.
Designed for Traktor Pro with STEMS
The latest version of Traktor Pro Software is STEMS ready. A Stem file is an open, multi-channel audio file that contains a track split into four musical elements – bass, drums, vocals, and melody for example. With each element available independently, you can mix in ways that just weren't possible until now. With Stems fully supported by the included flagship TRAKTOR software, each of these TRAKTOR controllers are pre-mapped and designed for playing with Stems right out of the box. You can get mixing with Stems right away with a 1.5 GB package of free Stems tracks. Derived from selected MASCHINE expansions, these 65 Stems tracks cover a wide range of tempos and genres ranging from techno, house, and funk, to trap, drum and bass, dubstep and more.
*TRAKTOR SCRATCH timecode vinyl or CDs not included with TRAKTOR KONTROL S8 and must be purchased separately.
Specifications
Cutting-edge DJ controller, decks, and stand-alone mixer
Stunning high-res displays react to touch-sensitive controls
Built-in 4-channel mixer with wear-resistant faders
Touch-sensitive knobs, faders, and LED-guided touch strips
Onboard audio interfaces with 24-bit/48kHz audio performance
Intuitive Remix Deck control, plus live capture and trigger
Plug-and-play with included TRAKTOR SCRATCH PRO software