Full-sized 44-note analog subtractive synthesizer
Building upon the same award winning voice architecture of the Mopho and Mopho Keyboard, the Mopho x4 boasts huge sound and 4 voice polyphony in a... read more
Recommend Related Items & Pairings
This is where you can recommend to readers an alternative - or gear that goes with - Dave Smith Instruments Mopho x4 Synthesizer Keyboard. What gear sounds similar, is less expensive, higher-end or boutique, etc.?
ADD YOUR RECOMMENDATION
Full-sized 44-note analog subtractive synthesizer
Building upon the same award winning voice architecture of the Mopho and Mopho Keyboard, the Mopho x4 boasts huge sound and 4 voice polyphony in an ideally sized, portable, and elegantly designed package. Use it to create huge unison basses, creamy leads, maniacal sequences, and ethereal pads.
Each of Mopho x4's four voices is composed of two analog oscillators, two sub octave generators, selectable 2- or 4-pole famed Curtis low-pass filter, three 5-stage envelope generators, four LFOs, a relatchable arpeggiator, and a 16 x 4 step sequencer. Its voice also comes packed with 20 modulation sources and almost 50 destinations. You can FM the filter to create metallic bell-like sounds and use the feedback path to add subtle or destructive harmonic content to your sound. Mopho x4's 100% analog signal path is powerful, monstrous, and sonically dynamic.
Work less, play more
Mopho x4 is intuitive and inviting. Every parameter is fully programmable and editable from the front panel. The controls are logically laid out, lending themselves to quick access so you can tweak knobs without missing a beat. The x4's full-sized, 44-note semi-weighted keyboard has aftertouch and velocity sensitivity. The sturdy full-sized pitch and mod wheels are freely assignable and sport smooth reliable action.
Expand your sonic horizon
Expand Mopho x4's polyphony using it's Poly Chain port. Mopho, Tetra, and Prophet '08 can all be connected to the x4 to increase its voice count. You can Poly Chain up to three Tetras with Mopho x4 to create a 16 voice analog super synth.
100% analog signal path
Two oscillators per voice capable of producing sawtooth, triangle, saw/triangle, and variable pulse width square waves, with hard sync
Two sub-octave generators per voice (one octave below oscillator 1 and two octaves below oscillator 2)
One classic Curtis low-pass filter per voice (switchable 2- or 4-pole) with audio rate modulation, self-oscillating in 4-pole mode
Analog VCAs
Three envelope generators per voice (ADSR plus delay)
Feedback loop per voice with programmable level and gain
White noise generator
4 LFOs per voice
Gated 16 x 4 step sequencer per voice (one sequence per program)
Arpeggiator
Glide (portamento): separate rates per oscillator
Full-sized, 44-note (F to C), semi-weighted keyboard action with velocity and aftertouch
Full-sized modulation wheel and spring-loaded pitch wheel
Fully programmable with four banks of 128 read-only factory programs and four banks of 128 user programs (1,024 total)
I/O
USB type B receptacle
MIDI In, Out/Thru, and Poly Chain
Left and Right audio outputs: 1/4" phone jack (unbalanced)
Sustain pedal input (accepts normally on or off momentary footswitch with 1/4" phone plug)
Expression pedal/control voltage (3.3 VDC max.) input (1/4" TRS phone jack)
Headphone output: 1/4" TRS stereo phone jack
Included
Power supply for 100V - 240V AC operation
Operation manual
SOLD BY
AVAILABILITY
REVIEWS
PRICE
* Product prices and availability are updated by Equipboard every 24hrs and are subject to change. Equipboard may receive compensation for purchases made at participating retailers linked on this site. This compensation does not affect what products or prices are displayed, or the order of prices listed. Learn more here.
Reviews
Trusted musician and artist reviews for Dave Smith Instruments Mopho x4 Synthesizer Keyboard
4.5
Based on 4 Reviews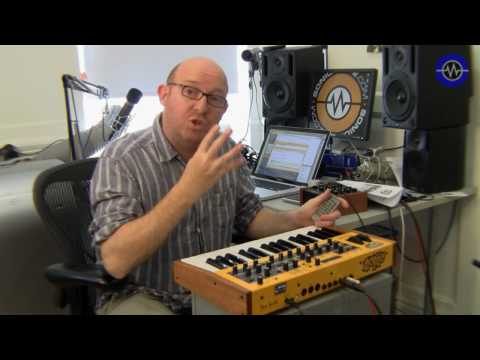 Sonic LAB: Mopho Keyboard Review