Recommend Related Items & Pairings
This is where you can recommend to readers an alternative - or gear that goes with - Moog Little Phatty. What gear sounds similar, is less expensive, higher-end or boutique, etc.?
ADD YOUR RECOMMENDATION
2y
about 2 years ago
edited about 2 years ago
A great Moog, just not the Moog for me
Attractive. Built like a tank. Sounds like a Moog... with presets! What's not to like?
I have this Little Phatty on my "to sell" list because it just never seemed to fit, sonically, with all the old Japanese electronics I tend to favor. Even my weightiest-sounding Rolands (Jupiter 6 and Juno 60) don't have the (for lack of a better term) midrange "heft" of the LP. Whenever I used the LP with the rest of my synths, I felt like I was using a riding mower on a yard that was just too small. I always ended up swapping my analog drum sounds for sampled acoustic sounds to match the power/presence of the LP.
Nice problem to have, right?
I'm sure a little bit of EQing and more time served learning some of the more buried tonal parameters could have eventually got it jelling with all my decaying Japanese favorites... but working hard to thin-out a Moog just feels wrong; I'd always be working against it's nature... it would be like modifying a V-8 Mustang to be quieter, get better gas mileage, and be more comfortable in stop'n'go traffic.
So whoever buys this thing one day is getting a hell of a synth. I'm sure they'll think I'm crazy for not getting more use out of it... and they're probably right.
Moog Little Phatty
Update the firmware is a major problem with this unit, very unstable procedure.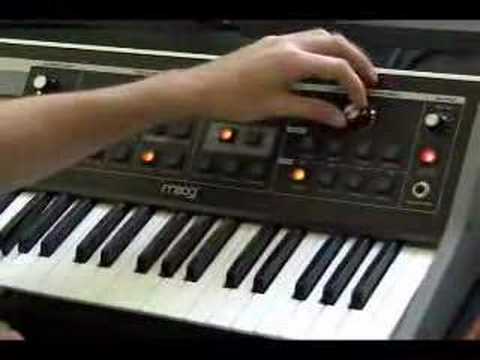 Moog Little Phatty and Jordan Rudess - Moog Bass!