Novation Bass Station II Analogue Mono-Synth
The classic Novation Bass Station, reworked for the 21st Century.
Bass Station II is an analog mono-synth with a talent for bass, but a sound-engine that is versatile enough to kick out sharp leads and crisp arpeggios. It brings the best elemen... read more
CHECK PRICE ON
AS FEATURED IN
Reviews
Trusted musician and artist reviews for Novation Bass Station II Analogue Mono-Synth
4.5
Based on 22 Reviews
Outstanding entry-level mono
Excellent sound quality, extremely versatile, and a price that's hard to beat. Love everything about it, except that filters evidently cannot be controlled via MIDI. I might be wrong about that, though.
I love my Bass Station. Every time I traipse through it I find some new sound that I can jam on for hours.
You can definitely control the filters via Midi CC. Page 21 of the manual.
Great Bass Station
Very cool synthesizer. Indispensable for lovers of retro-wave and electronic music in general. You can use factory sounds to create a tube sound as in 70-80. At the same time, you can create a modern dance sound.
Yeah, i mean it's like a lamp. The warm lamp sounds from the 80th :)
there are no vacuum tubes in tehre, there aren't even ay discreet transistors, its all ICs and CMOS chips
I know there is no vacuum tubes. In slang usage, the phrase "warm tube sound", abbreviated to "warm tube" or simply "tube", began to mean "warm, cozy, sincere, nostalgic" outside the original context of evaluating the sound of music. That's all im trying to say.
Such a wonderful analog monosynth!
This is not my first synthesizer at all. I've probably had 10 total. This is my first digitally-controlled analog synth though. I wanted a true analog monosynth with patch memory, a small keyboard and a sub oscillator. It was between this, the Korg Monologue and the DSI Mopho. The Korg doesn't have a sub osc and sounds generic and metallic to me and the DSI is hard to program and much more expensive so I went with the Bass Station. The other main selling point was the sound. It does have a very creamy fat analog sound that reminds me of vintage Rolands. The Bass Station name is a throwback to Novation's original Bass Station from the early 90's but this synth is completely different, and while it excels at bass, it also handles leads wonderfully. The built in sequencer and arpeggiator are really nice too. It also sends midi notes from the arpeggiator which is pretty amazing. Pro tip- always add FX to your analog synths. They come out sounding dry otherwise. I typically add some reverb and chorus or delay and this thing will hang with any other synth with those basic FX added.
Future classic and a must have!
The best Bass Station so far. Don't get fooled by its size or price or name. This is one of the best analog monosynths for the moment and can do so much more than what it name would suggest.
Obviously some shortcuts were made to meet its price tag (plastic casing, only one set of ADSR sliders and a few other minor shortcomings) but fortunately non are audible ;-)
This is a future classic and a must have for every synthesist!
Muy Bueno!
While it's a mono-synth, you're given two oscillators and a sub oscillator that you can de-tune against each other and get some fat sounds. I'll typically have the sub an octave below the main oscillator, and the 2nd oscillator a 5th above the first, and it really kicks out some epic lead or bass lines. 32-step sequencer that you can save four of, and a totally usable arpeggiator? Done. Full-size keys and an all analog signal-path for $400? GTFOutta here, this thing slays. Run it through a delay/reverb and you're in business. Oh, and you can shape some wicked kick drums and snares with it.
Powerful monosynth
This is the first analogue synth I bought and it met all my expectations. It's taught me a ton about signal flow, LFO, OSCs, etc. It's a staple in my studio and I couldn't create the way I do without it.
The best analogue monosynth under $500
This was my first synthesizer, and I wouldn't easy part with it. Its incredible for the newbie to learn on, as well as a great addition to the collection of a seasoned pro. Must-have!
The Underdog Monosynth
This was the first synth I purchased when I got back into making music this year. It is a solid bread-and-butter monosynth that makes an excellent pairing with any polysynth. It is well worth the price of admission, especially if you don't have any other monosynths.
Loads of fun!
I have used this monosynth a lot lately. I purchased it to replace my SH-101 as a live monosynth but it has ended up being additional! Exciting features have been added by Novation via the firmware updates lately, hopefully they continue this (though it's already a 5-star beast!)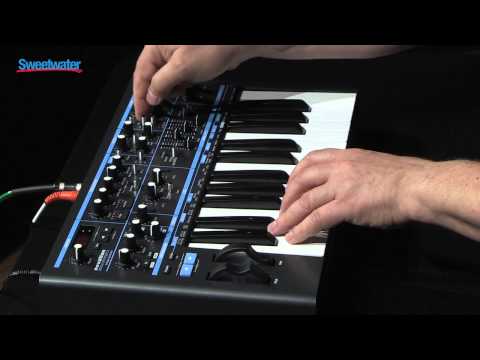 Novation Bass Station II Analog Synthesizer Demo - Sweetwater Sound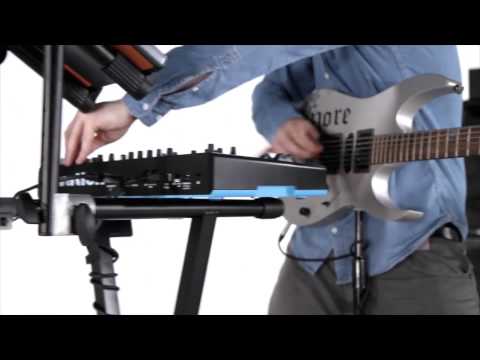 Novation Bass Station II Analog Mono-Synth Performance | Full Compass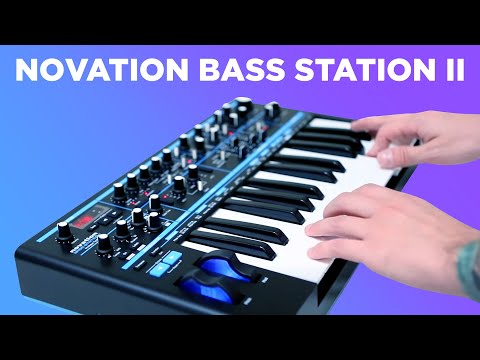 Bass Station II Demo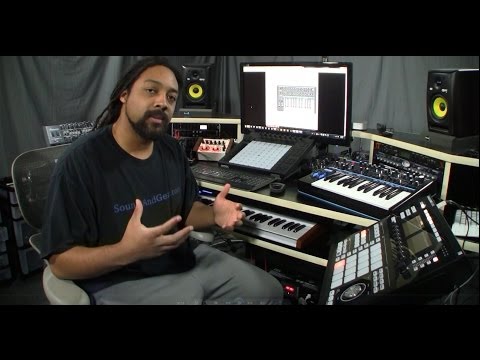 Novation Bass Station II analog synthesizer review - SoundsAndGear.com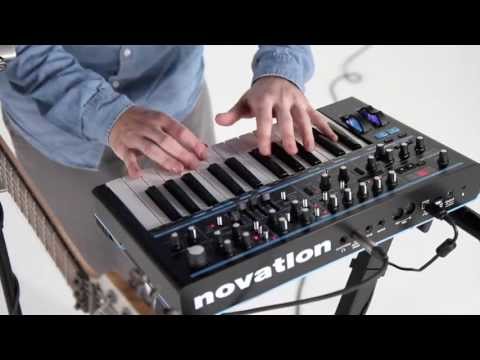 Novation // Bass Station II Performance
Description
The classic Novation Bass Station, reworked for the 21st Century.
Bass Station II is an analog mono-synth with a talent for bass, but a sound-engine that is versatile enough to kick out sharp leads and crisp arpeggios. It brings the best elements of the original Bass Station into a brand new design with re-worked modulation, effects, filters and more; like the Bass Station, but much much bigger.
The signal path is pure analog - including the effects section. The hardware has been laid out in modules with dedicated pots, switches, sliders and buttons for all major parameters. Critically, you can store and recall patches on Bass Station II. It comes with 64 killer factory presets, space for 64 of your own sounds on the hardware, and you can store more on your computer.
The key-mechanism consists of 25 full sized keys that are velocity sensitive with assignable aftertouch. It has been developed as a ˜synth-action' keyboard, where each key is individually sprung so it is light to the touch and highly responsive to the synth engine. Bass Station II is a fully class compliant MIDI device with MIDI I/O on 5 pin din ports - for connecting to other MIDI outboard - and can interface with your computer over USB.
The Synth Engine: A Brief Overview
Oscillators: Bass Station II is built on three analog oscillators and a noise generator. There are two fully independent oscillators plus a sub oscillator (which is the critical component in creating rich, analog bass sounds). Oscillators One and Two are switchable between sine, sawtooth, square and variable pulse width, and Oscillator Three - the sub osc - can be set to one or two octaves below Oscillator One. It can be square, sine or narrow pulse width, delivering the characteristically ˜fat' bass tone.
Filters: You can select between two discrete filters - ˜Acid' or ˜Classic' - each with a built in overdrive for pushing filter tones from dry, to warm, to nasty! The ˜Classic' Bass Station filter can be switched between low pass, high pass and band pass at 12 or 24dB slopes. The ˜Acid' filter is based on a diode ladder filter design that delivers a characteristically 303-esque sound that is designed to squelch!
Effects: Bass Station II has two effects (not including the filter overdrive). Analog distortion drives circuit components to add new frequencies to the sound. Bass Station II's Distortion function can add gentle warmth, filthy granularity and anything in between. The second effect is ˜Osc Filter Mod' which creates a distinctive FM-type sound by using Oscillator Two to modulate the filter frequency. This is very good at crunchy, sound-mulching effects that substantially fatten up bass and lead patches.
Modulation: There are two envelope generators and two low frequency oscillators (LFOs). The first envelope is an ADSR amp envelope and the second is a mod envelope that can be used to modulate filter frequency, oscillator pitch and osc pulse width. LFO One is dedicated to pitch modulation whereas LFO Two is used to modulate osc pulse width and filter frequency. Although it looks like there are four LFO waveforms, the ˜LFO Slew' function can be used freely to sculpt LFOs into smoother wave-shapes.
Arpeggiator and step sequencer: Bass Station II's Arpeggiator and Step Sequencer are killer performance and production tools. The Arp can be directed to run through 32 different rhythmic patterns in different directions with a switchable octave range. The fun really starts when you engage the Step Sequencer. Up to four sequences can be played in - with legato and rests - and assigned to any one of the 32 rhythmic patterns. As well as getting ideas down quickly and programming performance sequences, this is a brilliant way to preview patches while you are editing them.
Specifications
Analog synth: brand new version of the classic Bass Station
Two distinct analog filters: brand new "Acid" filter joins the "Classic" original Bass Station filter
Bass Station II ships with 64 factory patches and a further 64 user slots
Patch dump enables you to archive and swap sounds
Pattern-based Step Sequencer and Arpeggiator
Analog synth layout includes dedicated controls for all major parameters
Two Oscillators plus an additional Sub Oscillator
Analog effects section: Bass Station II includes fully analog distortion and filter-modulation effects and a separate filter overdrive to add an aggressive, crunchy sound-quality
Flexible modulation featuring 2 Envelopes and 2 LFOs
MIDI I/O and USB connectivity
Players 'synth-action' keyboard with aftertouch