Moog Sub 37 Paraphonic Analog Synthesizer
The Sub 37 Tribute Edition is a limited edition (2-note) paraphonic analog synthesizer built on the award winning Sub Phatty sound engine. Its panel features 40 knobs, 74 switches, and has a dedicated LCD display - placing each critical sound cre... read more
CHECK PRICE ON
Recommend Related Items & Pairings
This is where you can recommend to readers an alternative - or gear that goes with - Moog Sub 37 Paraphonic Analog Synthesizer. What gear sounds similar, is less expensive, higher-end or boutique, etc.?
ADD YOUR RECOMMENDATION
Reviews
Trusted musician and artist reviews for Moog Sub 37 Paraphonic Analog Synthesizer
5.0
Based on 25 Reviews
Love love love this synth.
Love love love this synth. I still love my voyager more tbh even though this thing can get a lot different of sounds than my voyager. It is a very impressive build for a synthesizer. I use the Audio input into this thing every once and a while as well. (this is something that is a lot easier with two musicians in the studio). I really hope to see a polyphonic moog in the future that borrows a lot of ideas from this guy.
I'm not saying it's a bad synth but personally I was disappointed
I know lots of people love this and rave about it. It's certainly solidly built with a nicely knobby interface that won't have you menu diving that often (although still sometimes you will have to). I just don't find it that exciting given the price (It does seem to be more expensive in the UK than USA though). Maybe I just don't have enough experience with it yet. It seems a bit boring that all the patches you can make with it seem really smooth and mellow even if you crank up the resonance and drive and open the filter. I suppose I can use it to make smooth mellow sounds... A bit of an expensive option to make GenericPad04JupiterRisingLOLScifi though.
Love synth
Is a very good synth I love this synth , One of the best sounding Moog synths ever
much grimier and wormier than my MIDI-moog... it really is its own sound but still in the 70s Moog family! I appreciate that Moog is still trying to offer new analog sounds especially when there are cheaper options on the market to get the Model D sound. Not that I am not excited about the Mini Moog model D reissue.
Endless Bass
For the noisemakers in us all. As usual with any Moog, they bring us the soundscapes unlike any other. Love the sequencer added
Future classic Moog
One of the best sounding Moog synths ever, definately the best sounding of the "modern" Moog synths. Easily beats the Voyagers in sound (and price). With all the hands on controls (almost one knob per function) it's the best incarnation of the "Phattys" as well. With it's sub-1500€ price tag, it's even the best value for money Moog. Why only 4 stars? It's still a lot of money for a mono synth (Novation, Arturia and now Behringer offer a lot more bang for the buck) and some functions still need to be accessed by a key combination which is not always easy to remember if you do not access it frequently (which messes op my "flow"). Still a future classic!
I settled for a sub phatty so I could get an ARP too. I wanted the 37.
I'm less envious since picking up a used studio electronics SE1. What a great riff on the model D.
The beast
What can I say about THE synthesizer? ... oh yes: I'm in love.
Voyager killer
This is a truly amazing analog synth. This is my first Moog, and while I wasn't really drooling over the previous Phattys and couldn't afford the Voyager or anything above that, I definitely got excited when this came out as it seemed to have tons of functionality and was priced reasonably. When the Mother-32 came out I nearly picked one of those up, but then the opportunity presented itself for me to get a great deal on a Sub 37 which I just couldn't pass up. Really happy I went for it, as I think this will last me a very long time. Amazing high quality sound and some seriously advanced routing options, especially when you expand it with the Sub editor software (very recommended!!!). In duo/paraphonic mode you can get some really interesting sounds and happy accidents. Plug this thing into a nice reverb or delay unit, and you will be in heaven. Also, it looks really sexy! My only complaint is the limited CV connectivity, but there are at least a few options there. The only reason to get a Voyager over this would be the additional oscillator it has, but honestly the extensive routing options on the Sub make it eclipse the Voyager in my mind (and I know I am not alone in this thinking!). Could not be happier with this thing.
Powerful behemoth of analog synthesis
Built like a tank, heavy and sturdy, all English owner's manual book, striking design, big Moog logo --everything about this Moog Sub 37 Tribute Edition screams high quality and catering to the needs of synthesizer performers.
I purrs, it roars, it launches into outer space. Intuitive controls and knob-per-function interface make this machine fun and easy to use to generate cool sounds. I especially like how I can utilize this Moog Sub 37 to create those old 1960s science fiction tones. 256 presets for rapid music making.
Great MOOG till you get Voyager :)
This synth is awesome. All kinds of sound design. Great MOOG sound.
FINALLY HAVE IT!!
HUEHUEHUEHUE!! I spent months exploring this machine at my guitar center. It has what the sub phatty has and more! Love the feel of the keys and it's limitless capabilities! I had a moog mini synth plugin. But with this, it's more hands on so you can get more creative with it.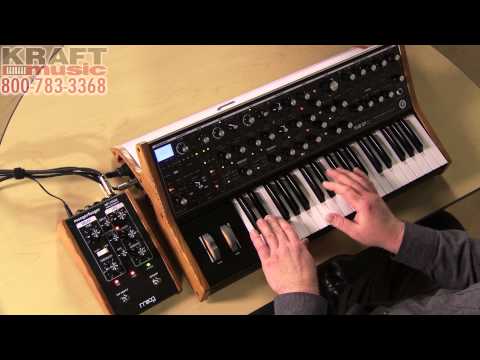 Kraft Music - Moog Sub 37 Analog Synthesizer Demo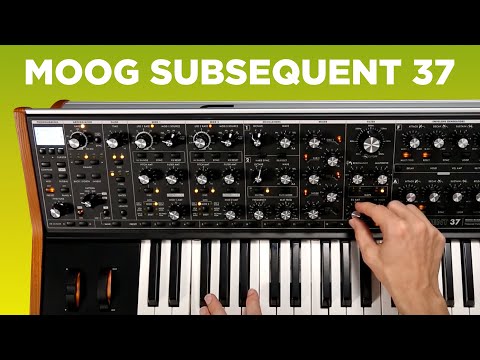 Moog Subsequent 37 Sounds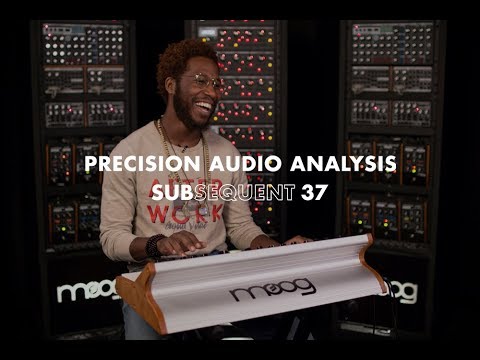 Subsequent 37 | Precision Audio Analysis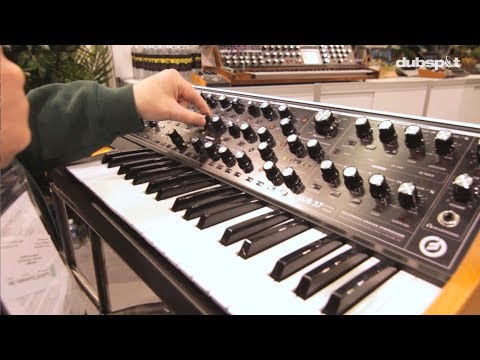 Moog Music Inc Sub 37: Paraphonic Analog Synthesizer - Dubspot @ NAMM 2014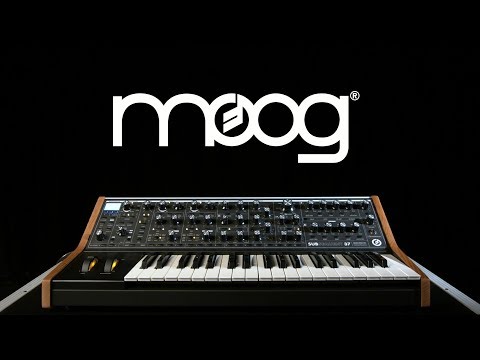 Moog Subsequent 37 Analog Synthesizer | Gear4music demo
Description
The Sub 37 Tribute Edition is a limited edition (2-note) paraphonic analog synthesizer built on the award winning Sub Phatty sound engine. Its panel features 40 knobs, 74 switches, and has a dedicated LCD display - placing each critical sound creation element and live performance tool quickly at your command.
Perform in Mono or Duo modes
37-note velocity sensitive keyboard w/ aftertouch
2 modulation busses w/ assignable source and destinations
DAHDSR (Delay, Attack, Hold, Decay, Sustain, Release) looping envelopes with sync
256 Presets -16 banks of 16 patches
Syncable Arpeggiator and Step Sequencer
Classic Moog Ladder Filter with resonance, MultiDrive, and selectable filter slopes.
The Sub 37 Tribute's new features include Duo Mode, which allows oscillator 1 and oscillator 2 to be played independantly, programmable arpeggiator/step sequencer, two modulation busses with assignable source and destination options, access to 256 presets, and a 37-note velocity sensitive keyboard with aftertouch.
A fully featured mixer section contains dedicated controls and mutes for each sound source, as well as a level control for External audio input and Feedback - which feeds the output of the filter directly back to the input of the mixer.
Also included are the powerful DAHDSR envelopes from the Sub Phatty with panel control of each extended function.
(*) Tribute edition includes Bob Moog signature panel, Wood sides, and Aluminum extrusion
(**) The Sub 37 Tribute is a limited edition analog synthesizer created in honor of Moog Music founder Dr Robert Moog, his passion for education, and his love of music. For every Sub 37 Tribute sold, Moog Music will donate a portion of the proceeds to Asheville Area School Music Programs.
Specifications
Perform in Monophonic or Duo-Paraphonic modes
37-note velocity sensitive keyboard with aftertouch
2 modulation busses with assignable source and destinations
DAHDSR (Delay, Attack, Hold, Decay, Sustain, Release) looping envelopes with sync
256 Presets -16 banks of 16 patches
Standalone and DAW Plug-in editor included
Syncable Arpeggiator and Step Sequencer
Classic Moog Ladder Filter with resonance, MultiDrive, and selectable filter slopes