Roland JD-Xi Interactive Crossover Synthesizer
A blending of two technologies.
What do you get when you combine an interactive analog synthesizer with realtime parameter control and a keyboard with one of the most popular and highly rated digital sound libraries in the world? You get the Ro... read more
CHECK PRICE ON
AS FEATURED IN
Reviews
Trusted musician and artist reviews for Roland JD-Xi Interactive Crossover Synthesizer
4.5
Based on 15 Reviews
about 5 years ago
edited about 5 years ago
Exceptional
I've only owned it for 30 minutes but already I feel confident giving it a 5 star rating. The ability to lay down drums, 1 analog synth track and 2 digital synth tracks into a little 4 channel track so quickly makes this ideal as a musical sketchpad. It sounds great too! I'm sure I'm not the only person who has considered making a whole track just on the JD-XI. It makes you love it. edit: owned it for longer than 30 minutes now, still like it!
better than i expected
basically with the way it was presented and how the synth is set up i was expecting something like a groovebox but slightly better, basically it does come down to that but with the ability to create your own sounds from scratch, and it can make just about any sound you can think of, and the ability to create drumsounds by layering 4 waves in 1 drumsound and effects that can be set per drumsound this synth becomes so much more. the sound quality is amazing and really beyond expectation, only thing is that the analog voice could have used a little bit extra, with the way i use it i almost need to use distortion on it all the time. but still this wont spoil the fun. another great feature is the sequencer, which reminds of the trx sequencers. Normally i always needed my daw and with this synth i can just play, record and tweak till i have a base pattern with sounds and then record it to my daw and work on variations of the pattern, add more synths, breaks and such. it's my go to synth when i dont want to start up the imac and i never had a go to synth for this before. real recommender this little powerhouse
Amazing techno music generator!
Roland JD-Xi does everything I always dreamed of doing with an analog-digital hybrid synthesizer. Super intuitive controls, magnificent presets, arpeggiator and step/live playing / TECH-REC sequencer, and much more. Perfect dream synthesizer for under $1,000. Love to play it with Korg Kaossilator Pro Plus as accompaniment pad.
I was torn between the Roland, the Micrkorg or the Novation Minonova. I ended up getting the Roland. So far I'm really enjoying it, but I don't have anything to compare it to since it's the first synth I've ever owned. I notice that you own the Korg, too. What is your opinion on the two, or three? Do you have any tips on the Roland? Thanks for your time.
Great workstation
JD-Xi is great "workstation". It has one pure analog synth track, one drum track (great samples of 808, 909, etc.) and two digital synth tracks, build-in sequencer, vocoder, effects, ...
A cross between versatile and power
When you at search of a unique and small keyboard to sum with your main keyboard, this machine is the best option. Analog synth plus good quality PCM sounds and a lot of real time controls.
Drum machine + Sequencer + 2 x Poly Synth & 1 x Analogue Synth
This thing is a beast. If you get a chance to play on one of these things, go check one out. They are a little bit pricey for the brand new synth player, but very affordable if you are already in the hobby of collecting synths. This thing makes some great sounds, and you can pretty much make entire songs on this thing with all of the tracks and sequencing features. My favorite synth so far.
Great value!
While I have not yet been able to use this in any recordings I have had lots of fun noodling around with it making patterns. Again I have trouble making full tracks with these machines that have only pattern mode and no song mode but for the money you get a drum machine, 2 digital voices that are very good examples of Roland sounds and 1 analog voice that while it is good its there I haven't found it overly useful. Overall though great fun, great sounds and amazing value!
Good beginner synth
Fun little thing, great for pulling up quick song ideas, but not good for true synthesizer sound design. You get an analog voice (monophonic mind you) and 3 digital voices all for under 800 cad. Its a Solid synth to learn on. It lacks many features you'd want on a truly professional synth which makes this not ideal for performance.
Awesome Beat Maker!!
Great Synth. Lots of Looping fun! Mini keys are a grip, but there is always midi:)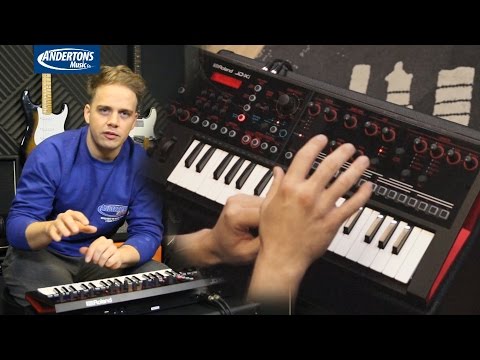 Roland JD-Xi In Depth Demo - Is There a Better Compact Synth?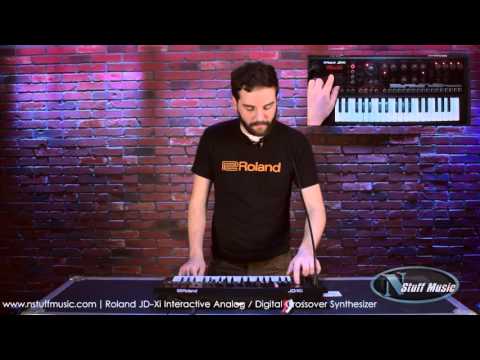 Roland JD-Xi Interactive Analog-Digital Crossover Synthesizer | N Stuff Music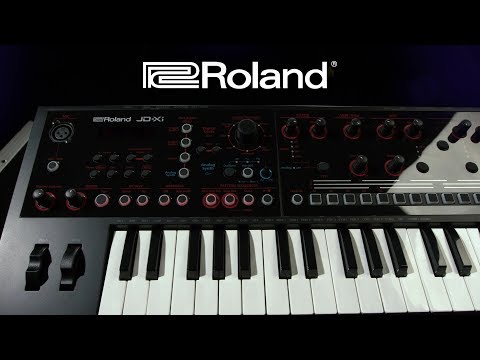 Roland JD-Xi Interactive Analog/Digital Crossover Synthesizer | Gear4music demo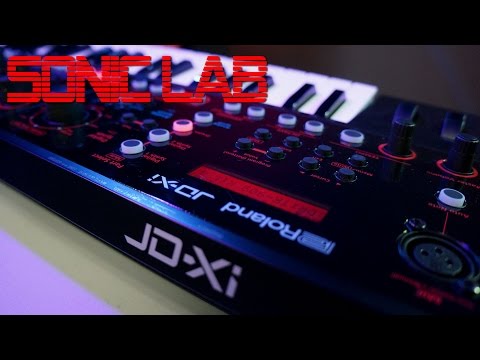 Roland JD-XI Crossover Synth - Review
Description
A blending of two technologies.
What do you get when you combine an interactive analog synthesizer with realtime parameter control and a keyboard with one of the most popular and highly rated digital sound libraries in the world? You get the Roland JD-Xi, an analog/digital crossover synthesizer that is the perfect instrument to address the needs of the contemporary creative musician.
Tiny, mighty, and affordable, the JD-Xi puts a true analog synth engine, Roland™s famous SuperNATURAL synth sounds, and many other creative tools under one hood. Equipped with 37 mini keys, this compact instrument delivers fat, warm analog bass and lead tones with ample controls for hands-on tweaking, plus polyphonic PCM essentials like pads, strings, brass, and more. Create impressive loops in a flash with the pattern sequencer and built-in drum kits, and explore expressive vocal textures with the gooseneck mic, Vocoder, and AutoPitch. Small in size and large in versatility, the JD-Xi is all about big sounds and big fun!
Analog and digital synths in one keyboard
With its unique crossover sound engine, the JD-Xi provides the best of both worlds: the warm, smooth response of classic analog, and the clarity and versatility of modern digital. The newly developed monophonic analog synth section features saw, triangle, and square waveforms with pulse-width modulation and an analog filter, plus an independent sub oscillator for low-end power. Two digital synth sections offer 128-voice polyphony and a wide range of high-quality SuperNATURAL synth tones, including pads, strings, electric piano, sound effects, and many others.
Gooseneck mic for vocoder, autopitch, and other vocal effects
The JD-Xi comes with a sturdy, high-quality gooseneck mic that brings even more fun to the party. Using the Vocoder, you can sing into the mic and control the tone and pitch via sounds played on the keyboard. With AutoPitch, it™s simple to achieve the exaggerated, robotic vocal sounds that are common in today™s pop and electronic music styles. There™s also a cool Auto Note function that allows you to œsing JD-Xi synth sounds without touching the keyboard!
Build loops with the four-track pattern sequencer
Using the intuitive pattern sequencer and large selection of onboard sounds, you'e able to create and perform sophisticated music with only the JD-Xi. The sequencer offers four separate tracks"two digital synth parts, analog synth, and drums"allowing you to build rich-sounding loops for any genre. Real-time and step recording modes are provided, along with a special TR-REC mode for programming in the style of Roland™s classic TR-series beatboxes. It™s easy to play patterns and tweak sounds as you perform, and many preset patterns are built in for jamming right out of the box.
Pro drum kits for high-impact beats
Packed with a variety of dynamic drum kits, the JD-Xi delivers quality rhythm tones to suit any groove. Included are many types of electronic and acoustic kits, and the drum instrument assignments are conveniently labeled above the keys for quick identification. You can also personalize the kits for your music by adjusting filter, envelope, pitch, and pan parameters on individual drum sounds.
Shape sounds with impressive effects
The JD-Xi includes four simultaneous effects sections for enhancing any sound. Effect 1 and 2 provide selectable processing options such as Bit Crusher, Slicer, and Ring Mod, while dedicated Delay and Reverb sections make it easy to envelop sounds in spacious ambience. Each effects section can be turned on/off separately for the three synth sections and drums, allowing you to shape your mix with many creative combinations.
Download additional sounds at Roland™s axial site
Need some fresh inspiration, or maybe a sound for a particular style of music? Just visit the Axial sound library site, where you™ll find a growing selection of free new sounds and patterns for the JD-Xi. Axial features sounds for many other Roland synths as well, all created by top engineers and leading electronic music artists.
Specifications
Warm and rich analog sounds
Crytal clear digital timbres
Vocoder and effects
Easy programming