Fender Precision Bass Sting Signature
It's a faithful limited edition reproduction of Sting's trusty 1953 Precision Bass with his signature in a block inlay at the 12th fret. Contoured lightweight ash body with single-ply pickguard. Maple neck and fretboard with a 7.25" radius, a vint... read more
CHECK PRICE ON
---
Colin is seen playing the Fender Precision Sting Signature Bass at 0:08 in this 2012 aMiniature reunion concert. Notice the white 12th fr... more
Reviews
Trusted musician and artist reviews for Fender Precision Bass Sting Signature
4.0
Based on 3 Reviews
Nice bass
A good and affordable bass for a classic sounds. I owned it for a year and I love the sound. It isn't suit if you're seeking a modern bass sound, but it's great if you play jazz or blues. My only concern was the original pick up was weak, so I replace it with Seymour Duncan Antiquity.
I had a friend who owned one of these. What a player. But yeah, the single tele-ish bass pickup is really primitive sounding, even if you replace the stock one with an antiquity... If you're not going for that ultra vintage bass tone I have heard these sound really good modified with a badass bridge and a stacked humbucker. If you get the right stacked model you can wire it to coil tap off a push pull pot so you have access to a good approximation of the original single-coil P-bass tone.
Honestly, I like the original sound, this is the sound I'm ooooing from this bass, that's why I choose antiquity. For more powerful sound, currently relying on my cheap Stingray copy. I'm planning to buy a Rick honestly
the ric bass sound is so badass
Yep, that's why I want it so bad
Solid bass
It may not have the tonal quality of more modern Precision basses, but it has its charm. The neck is more of the vintage "baseball bat" feel, so small handed players may be a bit daunted. Mine has a custom wound Lindy Fralin pickup in place of the notoriously weak stock unit. Its mellow sound is great both on recordings and for use in smaller gigs or those demanding big bottom without the growl.
2y
almost 2 years ago
edited over 1 year ago
great bass, HUGE hum
I loved this bass, but the hum was intolerable through my ampegs at the time... great tone though, it just was a total bear to record and that's the only reason I owned it. She didn't stick around long before I sold it to someone less concerned with accumulated 60 cycle hum. But the Sting bass is an excellent player and if you can angle yourself to avoid hum it has an outstanding tone not unlike a j-bass, but more 'rounded' and very balanced.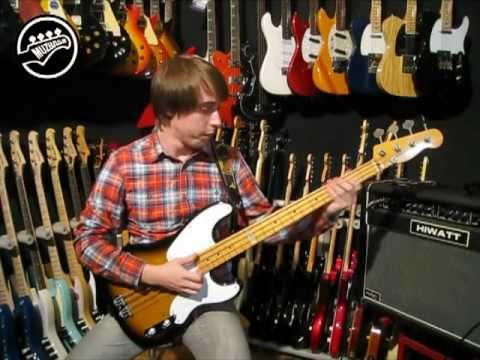 FENDER Sting Precision Bass Artist Series Japan 1999
Description
It's a faithful limited edition reproduction of Sting's trusty 1953 Precision Bass with his signature in a block inlay at the 12th fret. Contoured lightweight ash body with single-ply pickguard. Maple neck and fretboard with a 7.25" radius, a vintage 2-saddle bridge, and a vintage single-coil pickup. Enjoy this re-creation of the P Bass from the early days and pay homage to a great player at the same time. Includes Fender gig bag.