Specifications
Neck Type: AZ Oval C Roasted Maple neck Top/Back/Body: American Basswood body Fretboard: Roasted Maple fretboardAcrylic & Abalone block inlay Fret: Jumbo Stainless Steel frets Number of Frets: 24 Bridge: Gotoh® T1502 tre... read more
SOLD BY
AVAILABILITY
REVIEWS
PRICE
* Product prices and availability are updated by Equipboard every 24hrs and are subject to change. Equipboard may receive compensation for purchases made at participating retailers linked on this site. This compensation does not affect what products or prices are displayed, or the order of prices listed. Learn more here.
--- Tim Henson's Official Ibanez Signature Model. more
No reviews yet!
Be the first to add a review of Ibanez THBB10 (Tim Henson Signature Model).
ADD REVIEW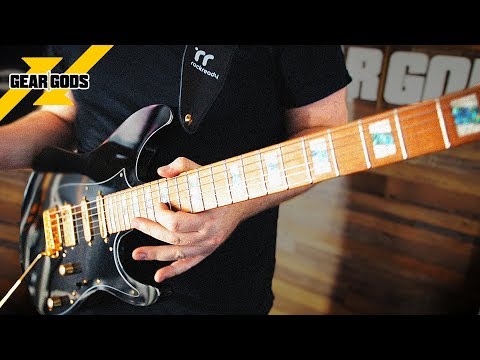 From Flashy to Classy: The Tim Henson of Polyphia IBANEZ THBB10 Guitar | GEAR GODS
Description
Specifications
Neck Type: AZ Oval C Roasted Maple neck Top/Back/Body: American Basswood body Fretboard: Roasted Maple fretboardAcrylic & Abalone block inlay Fret: Jumbo Stainless Steel frets Number of Frets: 24 Bridge: Gotoh® T1502 tremolo bridge Neck Pickup: DiMarzio® THBB Original neck pickup Middle Pickup: DiMarzio® THBB Original middle pickup Bridge Pickup: DiMarzio® THBB Original bridge pickup Factory Tuning: 1E,2B,3G,4D,5A,6E String Gauge: .010/.013/.017/.026/.036/.046 Nut: Graph Tech® Hardware Color: Gold
Neck Dimensions
Scale: 648mm/25.5" a: Width 42mm at NUT b: Width 57mm at 24F c: Thickness 20.5mm at 1F d: Thickness 22.5mm at 12F Radius: 305mmR
Popular Solid Body Electric Guitars