Introducing a powerful additive / subtractive synthesizer, image synthesizer as well as audio resynthesizer, Harmor.
Additive / subtractive
Just like its little brother Harmless, Harmor is driven by a powerful additive synthesis engine. Its ... read more
CHECK PRICE ON
Image Line Harmor
This is the best plugin I have every bought. I use this for almost every sound I make.
It's a windows only plugin. What's good about it is that the developer positions Harmor as an 'additive/subtractive' synthesiser. You can manipulate and modulate tones in ways that you can't in other synths.
What a beast!
This is by far my favourite synth! My go-to for resampling, basses, pads, leads, plucks and everything else there is. Since it is additive based it can do things that I don't know are possible in any other synth i know!
An amazing synth
If you ask me, Harmor deserves the reputation Massive has (and by that I mean it should be sought after by thousands of aspiring electro/dubstep producers). I first discovered it's power while watching SeamlessR's tutorials and live streams, and since then pretty much all of my productions have used Harmor in some way. A great synth for leads, pads, and especially basses. It's about one hundred dollars on Guitar Center, and it's the best hundred dollars you'll make buying a VST.
Very Good
Harmor is a very good additive synth. You can articulate everything from the unison pitch to the prism amount. The effects are very good and can completely change the sound. The only thing I dislike about it is the LFO, which is always out of sync even in tempo mode, and can not be edited very well.
4y
about 4 years ago
edited about 4 years ago
Really good synth
I used this since a lot back when I was an FL user, and I recently got the standalone version to use in Ableton. It's still an incredible synth, with the best unison I've heard on any synth hands down, great resampling capabilities, and tons of programming capabilities. It can be a little intimidating for beginning users, but once you get under the hood, it's a great synth.
this is a great synth to layer with a hardware analog, you get the 'thick' of the drifty VCOs and deep bass and evolving mid texture from Harmor... lately I have ben using a MIDI Moog with Harmor and my DX7 running into the audio input of a sub phatty for insanely complex, velocity sensitive bass lines... take away Harmor and it loses something even if I have Harmor buried in the mix
The "everything" plugin.
Image-Line gave birth to Harmor in October of 2011, and its the definitive Jack-of-all-trades in my eyes. It's the perfect plugin for rigorous and extensive sound design and can produce some of the most unique sounds you'll ever hear. I love it so much. I wish I could hug it and cuddle it, but that's impossible with digital software, unfortunately. Its purposes range from simple things like leads, plucks, pads, and basses, but it has a really, really big ace up its sleeve; the IMG tab. With this, you can import any sample you'd like, and re-synthesize it into a disgustingly filthy growl, or stretch it into digital robotic beauty. However the IMG tab is not limited to audio. You have the ability to import images. Already you're probably thinking "how does that... what?" Harmor is an additive synthesizer, which, in simple terms, means creating a timbre using many sine waves at different frequencies. Each sine waver is referred to as a "harmonic," hence the name "Harmor." However each sine wave besides the fundamental is technically referred to as a "partial." So with this plugin, you can literally make any sound you desire. Yes, literally any sound, with no limitations. Easily a 5/5 just for it's sampling and re-synthesis capabilities. If you don't have this plugin, buy it. Its worth every penny.
hugging, wow, I there's another reason to have some hardware...
I totally started typing before finishing the review a minute ago and started talking about partials, then I finished it and was like, oh, he mentioned they're partials... duh
Cool
Simple controls but amazing sampling interface great for processing vocals and chopping sounds
Man, this synth has some of the coolest features ever. You get two parallel synths running in sequence, easy pluck features, the ability import images and sound for resynthesis, and you even draw your own filters.
I use this when i want to resample. Resampling is fun but you can't make it obvious that you are doing it.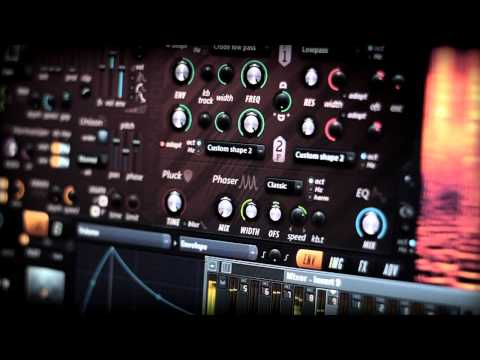 Image-Line | Harmor
Description
Introducing a powerful additive / subtractive synthesizer, image synthesizer as well as audio resynthesizer, Harmor.
Additive / subtractive
Just like its little brother Harmless, Harmor is driven by a powerful additive synthesis engine. Its modules will look familiar to subtractive synthesizer enthusiasts: oscillators, filters & phasers, these are featured in Harmor but, because performed through additive synthesis, offer more freedom. You don't just select filter types, you draw them.
You wanted more, so also featured is the multipoint envelope editor of Sytrus fame, applied to over 40 parameters, in 2 independent parts. Through the same envelope/mappings, randomize any parameter or link it to key or velocity, and even fine-tune each unison voice independently. Processing units can be rearranged in a semi-modular way. If you need one of the 2 filter units processed after the blur unit, that's no problem.
Image synthesis
Because it typically requires manipulating large amounts (up to 500 per voice) of partials over time, additive synthesis is hard to handle. No human can (or even wants to) edit 500 envelopes, but editing 2D images, that we can do easily. Get access to gain & pitch planes which you can tweak in the image editor of your choice, and import any bitmap, even if it wasn't designed to be turned into audio, it might still sound interesting.
Audio resynthesis
Being an additive synthesizer, Harmor can resynthesize audio files as well. The reproduction will be faithful, not a vague sound-alike as in many additive synthesizers. Resynthesis can of course be tweaked, providing time stretching, pitch shifting, or less conventional manipulations of partials. And of course, the result of the analysis can still be turned into an image for further editing.
Efficient
Additive synthesis is generally very CPU-consuming, but not Harmor's engine. Its efficency is in fact, comparable to that of subtractive synthesizers. Voices may be generating hundreds of harmonics in parallel and still not overload the CPU. Processing being multi-threaded, extra CPU cores come in handy.
Pixels!
Resynthesis or image-synthesis, Harmor features both. Import a piece of audio and time-stretch or pitch-shift it (with formant and transient preservation). Convert this to an image and edit each partial individually!
Two parts
Two independent parts (or "layers") for even more complex sounds. Parts can be imported from other presets.
SFX
In the effects section you will meet all the usual suspects: distortion, chorus, delay and reverb, as well as the mighty Soundgoodizer based on the Maximus engine. Just like processing units, effect slots can be re-ordered. Each part has its own effect mix amount.
Looks pretty
If you don't understand it, visualize what it's doing, best way to learn! Watch how each partial evolves in the built-in spectrogram, a picture is worth a thousand words.
System requirements Windows XP (SP2), Vista, Win7, Win8, Win8.1, Win10 - (32 & 64 Bit) 2Ghz AMD or Intel Pentium 3 compatible CPU with full SSE1 support 512Mb RAM. 30Mb free disc space. DirectSound or ASIO compatible soundcard.