Reviews
Trusted musician and artist reviews for Marshall 1960B 4x12'' Cabinet
4.5
Based on 5 Reviews
2y
almost 2 years ago
edited 7 months ago
big
great cab for the marshall stack goes with the 1960a
so many 80s cabs have the G12S50s, which are cool speakers, but the 65 is the sound of the 80s.... nice find
they are higher good for higher gain i think which fits well with when I was 14
Rock and Roll Standard
The standard Marshall 4x12. Picked mine up for $100 from a friend, tolex is in rough shape, but structurally sound and the casters still work well! Replaced the stock G12T-75's with a mix of 65w and 75w Creambacks. Mine rattles a bit with certain notes at high volume so I plan on reinforcing it structurally as well as re-wiring it with some better components.
they don't make 'em like they used to! just a heads up, 80s marshall cabs are still the same price as current ones on the used market. Between 400 and 600bucks. They will usually have better speakers stock and they are just made better, though they typically have lots of road wear.
Perfect Cab for all your needs
This cab is perfect for any situation studio to live as is and is a great addition for your gear.
Great Cab!
If you want to make loud noise ... that's what you searching for!
Good amp
Love the sound of it and the loudness for many reasons,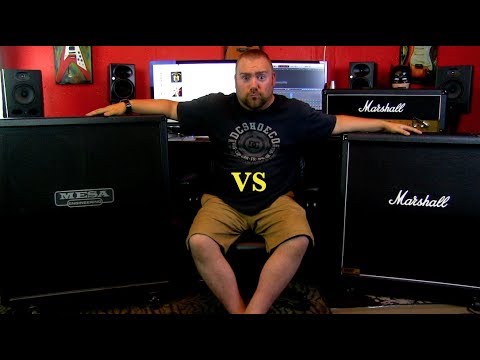 Mesa Rectifier 4x12 VS Marshall 1960A 4x12
Description
4x12" 300-Watt Straight Extension Cabinet