Marshall 1960AV 4x12 Cabinet - Vintage
The impressive 280w 1960 vintage cabinets are a combination of the enclosure of the 1960 and the vintage aural characteristics of a 1982. It features four Celestion G12 Vintage speakers that give a warmer ... read more
CHECK PRICE ON
Incredibly versatile amp, built solidly, sounds huge.
I've been running the 1960AV cab for the last 2 years and it sounds pretty decent. I've used it with several different heads including my Marshall JVM410, a Peavey 6505+, and Marshall JCM900. The low end response is decent and carries a lot of those low end frequencies pretty well, but retains a nice amount of the high end as well. It also has a nice mid range, and I feel that this cab reflects the mid range the best out of all the frequencies. However at the same time, I find my tone is rather thin through this cab when compared to an Orange PPC412. My conclusion would be because the Marshall cabs are built with incredibly thin woods when you compare it to the Orange cabs. So I will be looking to replace this cab
Despite the cab not being perfect, I still think they are quite decent cabs and it's been getting the job done for me.
The tolex is also of really nice quality and not fragile as all hell.
tight body
Awsome classic marshall speaker plus a extra tight low end.
Marshall 1960BV
I use the 1960BV Straight cab loaded with vintage 30's, Tone Monster !
Amazing Cabinet
Love this cabinet, sounds great and sturdy! Heavy as fuck though, but the side grips help lol
Great cab for any amp!
I've used one of these for years now and it sounds great with near enough every amp I've tried with it! My one has two V Type (Top) and two Seventy 80 (Bottom) speakers.
Amazing
Great sound, those celestion speakers are absolutely heavenly sounding. Just pure raw aggression.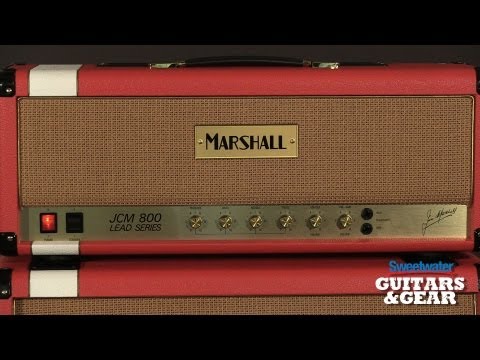 Sweetwater-exclusive Marshall Custom JCM800/1960AV Demo - Guitars and Gear Vol. 43
Description
Marshall 1960AV 4x12 Cabinet - Vintage
The impressive 280w 1960 vintage cabinets are a combination of the enclosure of the 1960 and the vintage aural characteristics of a 1982. It features four Celestion G12 Vintage speakers that give a warmer tone than its predecessor. This powerhouse offers it all from a well rounded high end punch to a low end thump.
Available in both straight and angled forms to create the perfect Marshall Stack.
KEY FEATURES Stunning look – this cabinet is truly dazzling in silver vinyl and vintage fittings and will compliment your other Silver Jubilee reissue products. Great tone – four Celestion G12 speakers deliver an ultra-focused sound reminiscent of the late-1980s.
TECHNICAL SPECIFICATION
GENERAL Models 1960AV and 1960BV
ELECTRONICS Inputs 2
SPEAKERS Speaker configuration 2x12" Speaker model Celestion G12 (16?, 70w) Unit impedance 16/4? Mono, 8? Stereo
DIMENSIONS Width (mm) 770 Height (mm) 755 Depth (mm) 365 Weight (kg) 60.6 (1960AV) 41.4 (1960BV)