Marshall JVM Series JVM410H 100-Watt Tube Guitar Amp Head
CHECK PRICE ON
AS FEATURED IN
Recommend Related Items & Pairings
This is where you can recommend to readers an alternative - or gear that goes with - Marshall JVM Series JVM410H 100-Watt Tube Guitar Amp Head. What gear sounds similar, is less expensive, higher-end or boutique, etc.?
ADD YOUR RECOMMENDATION
Reviews
Trusted musician and artist reviews for Marshall JVM Series JVM410H 100-Watt Tube Guitar Amp Head
5.0
Based on 8 Reviews
Versatility is the second name of the JVM.
It is an extraordinary amp. It can take you everywhere: from a really clean tone to an insane modern high gain sound. The JVM works very well with low output single coil and active pickups. I have owned it for four years, and tasted with my vintage noisless single coils strat and 81 EMGs. I am really happy. Versatility is the second name of the JVM, high quallity versatility. You can play Hendrix and detuned Kill Switch Engage by the same amp, without any problem. The digital reverb is a discrete useful tool, the direct line out is perfect for the studio, and the footswitchable second volume is an excelent live weapon. It also comes with serial an parallel fx loop. I love it.
This thing rattles windows
This head can crank out some sound. Seriously, if you play guitar where there are people within miles of you, you may want to consider another option. It can be played at lower volumes, but the tubes really kick in around 6+ volume, and that is loud enough to harm someone. I have used it at a variety of performances, and it is more than enough power to rock a venue.
Dream Amp!
I wanted this amp for a long time. And now I have it. It's perfect. The cleans are beautiful, the crunch is crunchy, the overdrive is really nice and the reverb is a studio quality reverb. And I mean like a real expensive studio. The programmable footswitch is great as well. I programmed mine for clean - crunch - a balls on overdrive - a slightly more balls on overdrive - boost - and finally reverb. I wanna play it just writing about it. I LOVE IT! (if that wasn't already clear)
Amazing amp, does anything you want it to if you make it.
Let's talk about the Marshall JVM 410.
I've had this amp for 2 years, however for the last 8 months it hasn't worked at all. It powered up, the tubes glowed, however there was no sound. No hum, no buzz. Nothing. I tracked this down with the help of a friend and discovered it was a preamp fuse that was blown.
Now, let's actually hear about what I think of the amp.
Hands down one of the best amps out there in my opinion. And this is coming from a guy who used to be ignorant and naive and hated Marshall amps. From their MG's (which I still hate) right through to the JCM 800's. I use this amp mainly for my pop punk band and let me tell you, it is perfect. The clean channel is the prettiest thing I've heard besides a Rockerverb and is beautiful and glassy sounding and it's pretty much perfect for my desired tone besides having not dialled it in with my POD HD500X yet.
The OD channels are absolutely gorgeous. I use the OD1 Channel for my less gainy, crunchier tone. This works incredibly well when I'm playing more modern pop punk stuff (kinda Neck Deep, TSSF inspired). And the OD2 channel works brilliantly for my heavier, A Day To Remember-esque tone. It's tight, has the perfect gain structure for what I want and I'm incredibly excited to dial it in with my POD and/or a nice OD pedal. The crunch channel, I haven't played around with heaps as I haven't YET found a desirable use for it. However I'm sure I will at a later date.
(Note; I haven't finished dialling in my tones to perfection with my POD HD500X and this amp, so to say this amp sounds perfect for me WITHOUT completely dialling it all in, is saying a lot)
The fact that each channel has it's own EQ, volume, gain and reverb, AS WELL as there being two separate master volumes really makes this stand out among others. The reverb for each channel (although I don't use it) is also quite stunning, considering I'm not usually a huge fan of inbuilt reverbs on amps.
The resonance and presence control is really good and I'd be lost without it.
To summarise.
This amp is absolutely perfect for almost anything (Unless perhaps you're tuning real low). I use it for pop punk. You may want to use it for rock, grunge, metalcore, deathcore, blues, jazz. It will you do a lot of good. If you want diversity and versatility, this amp is what you want. There's plenty of dials to fiddle with and countless hours of fun in dialling in your perfect tone.
Definitely recommend this if you're looking into getting a new 100 Watt head. Amazing, amazing amplifier. Hats off to Marshall.
THE ONE
Best AMP Forever, Love the Sound feels like endless punches
The tone and versatility of this amp just makes it a must have really
Good amp
Loved this amp for many reasons the tone and the options of the amp.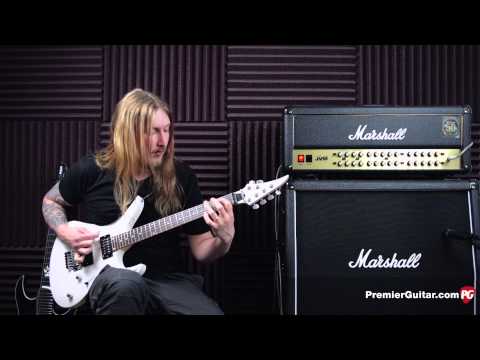 Monsters of High Gain '13 - Marshall JVM410HJS Joe Satriani Signature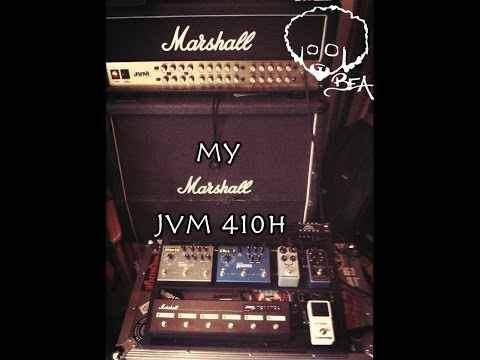 Marshall JVM 410H - My Favourite Settings
Add Details
Help add a description of Marshall JVM Series JVM410H 100-Watt Tube Guitar Amp Head
ADD DETAIL
Popular Guitar Amplifier Heads