MXR Carbon Copy Analog Delay
The MXR Carbon Copy Analog Delay Pedal features a completely analog audio path for the ultimate in rich, warm delay--made possible only by old-school bucket brigade technology. This design boasts an amazing 600ms of delay time with optional modula... read more
CHECK PRICE ON
AS FEATURED IN
Similar Sounding and Related Items
Reviews
Trusted musician and artist reviews for MXR Carbon Copy Analog Delay
4.5
Based on 75 Reviews
Analog vibe for days.
This thing is so gritty and dark. It just has the most amazing character to it. Perfect for pairing with clean digital delays. I would never do a gig or session without it. The self oscillation is gnarly, and it makes a great slapback tone.
I wish it had a more modulation.
Hello! By opening the back panel there are two knobs to change the modulation, but I haven't tried it.
A great dark delay
MXR's Carbon Copy delay, while only having been out for a few years, is a great delay for dark echo fans. The oscillation you can get with this delay is amazing, similar to Radiohead's "Karma Police" effect near the end of the song. Great delay for the money, I recommend you get one now!
Great sounding pedal that is not noticeable unless it's not there. Does that make sense??
I bought this pedal because of the price and some great reviews and YouTube shoot outs. I play an American Strat into a Fender blues deluxe. I don't think this pedal is as versatile as some of the other digital delays but it does deliver a nice mellow analog delay to complement a clean or dirty signal. From slap back to spacey delays, this pedal delivers. It is nice to see the list of professionals using it getting larger too.
MXR M169 Carbon Copy Analog Delay
Amazingly beautiful sounds, from quirky slapback to dreamlike delay soundscapes, organic feeling that doesn't alter the core of your sound and on top of that a mod button that gets you even further. I was amazed by how naturally this pedals sits in the mix with a full band and also how it plays well with other pedals.
Perfect Delay
Warm saturated delay that can oscillate like crazy, or add the perfect amount of slap. Mod switch warms it up even more by adding a chorus effect on the repeats, somewhat simulating a tape echo.
This is a professional level stompbox
Everything about it is great. Usually i don't like the narrow sound of mxr guitar pedals but this one really suprised me and as i tried it for the first time i told the worker at the shop that i was going to buy it. At the end, of course i ended up buying it despite it's high price that left me with 100 bucks approx. What i can say is it has it's own unique sound that no other analog pedal can reach. My suggestion is to buy it because you'll never regret it.
Echo...cho...ho...o
I love this little guy. It was between this a Memory Man and a TC Flashback. This was the winner for me. It feels like its built like a tank. Simple as hell to use. Gives a really nice dark natural sounding delay. Best of all very reasonably priced.
I use this as a warm echo as ambiance and for its glitchy effect when you turn up the regen
Beautiful but limited
A great pedal for swells. The mod on it is brilliant. I use it exclusively for heavy ambient songs. It doesn't have a tap tempo so it makes its use very limited, but its sound is amazing.
Rich sound
The carbon copy is a very common pedal, thanks to the price and quality. It was my first pedal and is still here with me! I use it in the fxloop to fat up my sound, because is anolog and very dark sounding,sometimes to hear the repeats the only thing to do is to play in palm mute otherwise it will completely blend with the dry signal. So i dont use it as my main delay, i use it to put some very good make up to my clean sound and a mistic vibe to my crunch sound. Great pedal but if you are looking for a crystal sounding delay this is not your pedal.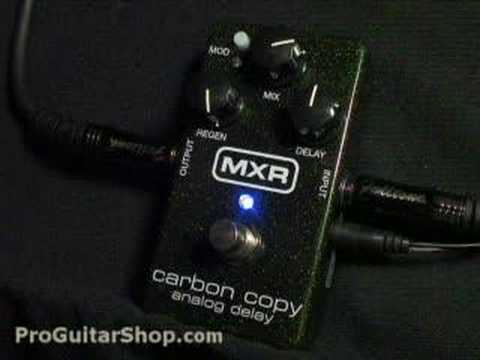 MXR Carbon Copy Analog Delay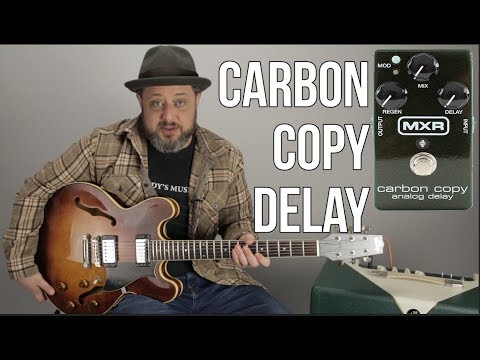 Affordable Guitar Pedals: MXR Carbon Copy Delay Demo
MXR Carbon Copy Analog Delay Pedal Review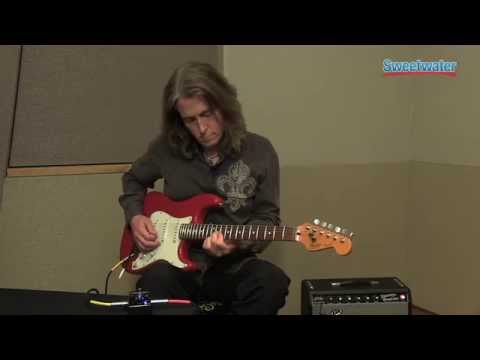 MXR M169 Carbon Copy Analog Delay Pedal Demo - Sweetwater Sound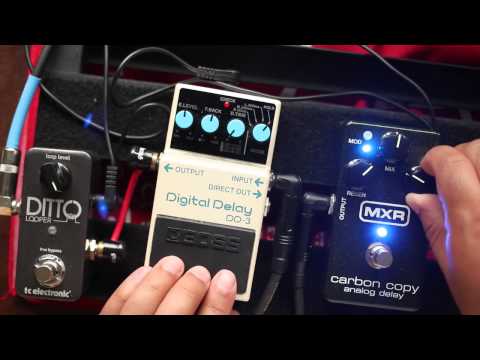 Analog vs. Digital Delay (Oscillation and Hold)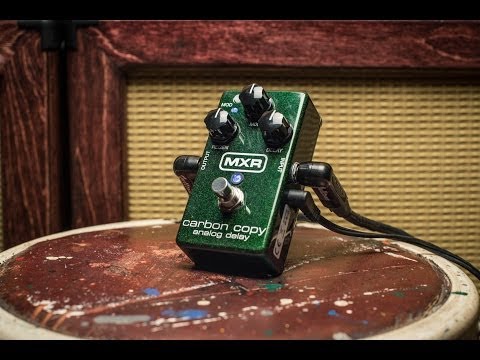 MXR M-169 Carbon Copy Delay Pedal | Reverb Demo Video
Description
The MXR Carbon Copy Analog Delay Pedal features a completely analog audio path for the ultimate in rich, warm delay--made possible only by old-school bucket brigade technology. This design boasts an amazing 600ms of delay time with optional modulation via a top-mounted switch and a simple, three-knob layout that controls Delay time, Mix (dry/wet blend), and Regen (delay repeats)--all in a pedal no bigger than a Phase 90. In addition, the M169 pedal has two internal trim pots that offer user-adjustable width and rate control of the modulation for even more tonal options. The Carbon Copy effect pedal will take you from crisp "bathroom" slap echoes to epic, Gilmour-esque delays with a twist of a knob. True hard-wire bypass, single 9-volt operation, and stage-ready blue LEDs round out the package.
Specifications
Analog audio path
Extremely compact
600ms delay time
Controls: Mod switch, Delay time, Mix, Regen
True hard-wire bypass
9-volt operation
Popular Delay & Reverb Effects Pedals