Virtual analog, wavetable, and sample-based oscillators combine for more musical opportunity.
The Waldorf Blofeld Keyboard provides flexible and simple to use sample memory, setting this keyboard apart from the rest. You can import your own sampl... read more
CHECK PRICE ON
Recommend Related Items & Pairings
This is where you can recommend to readers an alternative - or gear that goes with - Waldorf Blofeld Keyboard. What gear sounds similar, is less expensive, higher-end or boutique, etc.?
ADD YOUR RECOMMENDATION
SOLD BY
AVAILABILITY
REVIEWS
PRICE
* Product prices and availability are updated by Equipboard every 24hrs and are subject to change. Equipboard may receive compensation for purchases made at participating retailers linked on this site. This compensation does not affect what products or prices are displayed, or the order of prices listed. Learn more here.
I want to love this synthesizer...
I really want to love it.... but I can't. I sent this synth BACK to the retailer. Yup. I spent a week with it and found its sound & features to be fantastic but f you're going to get the keyboard version thinking "live performance instrument" think again. Its so deep with such a limited interface that you need to spend a long time creating patches. They're going to be killer, unique patches. This is the mother of all digital engines, covering every type of synthesis you can imagine with huge multitibrality for layered soundscapes. That said, its a preset machine or studio piece. I ight get the module version in the future, but I wanted something more immediate from the keyboard. I perform live with friends a lot and I need to be to imagine a patch, throw it up from an initialized state, and then be able to screw with it while playing. This is not the modern digital synth for that. On top of its interface issues, the engine can get over the top and do things you don't really want. it can 'freak out' on you so to speak. What else can I say? this is a hugely powerful engine. Just amazing. But its hard to take advantage of while playing and you wind up with a very expensive rompler. Get the module. I'd give that 5 stars as its purpose is clear, a studio sound design swiss army knife. Add a keyboard without adding any functionality to the interface and I'm left flat. What I DO like? the display is great, easy tor ead, informative text/graphics.... myriad of options. very cool waveforms/tables n addition to the usual stuff... COMB FILTER.... like I said, I'm thinking about a module. I think you can make the stereoping synth controller command this thing with a bunch more knob per function control of bread and butter parameters one might need, but for this price I shouldn't have to resort to a 3rd party controller like that. This is an expensive device new.
I had anticipated the menu diving aspect looking at the module, but I wasn't aware of this keyboard version until now. I'm still in the market for a midi controller, maybe the right one would make the process less time-consuming? In any case I'm enticed by your description of the engine on this, for my purposes (and given the inability to perform live at present) it sounds ideal. My interest is in complex and chaotic patches along the lines of what the serum software can do, and I'm no stranger to all-night programing sessions to achieve them.
@toxicant, the people who called it buggy are legit, it can freeze up at times... the argon is simpler architecturally with a soemwhat streamlined feature set but its glitch free, smooth operation like an analog machine... Blofeld and Argon are similar in spirit to eachother but Blofeld piles on features that aren't always useful, as mentioned the multis can cause problems and its tedious to program. Argon8 eschews heavy duty multitimbrality, samples, comb filter.... but it runs like an analog machine and is a delight to program ONCE YOU UNDERSTAND IT. Because its far more confusing than Blofeld. The cross modulation and voice spread are incredibly powerful, but can take a long time to wrap your head around. It depends what kinda headaches you like... in covid world I've been toying with the idea of a blofeld module.... wish they had a rack unit. At the moment my argon's not racked but it can be and probably will wind up racked.
Also consider the hybrids, peak/summit and prologue. I have both. and they're, well, awesome at doing their respective things.
Really amazing machine.
+Really powerful modulation matrix. 16 modulation slots and 4 modifiers. (Modifier is a thing, where you can do logic and math things, for example "Source X * Source Y". You have: Constant, +, -, *, AND, OR, XOR, MAX, min)
+3 oscillators, 2 filters, 4 envelopes, 3 LFOs and 2 effects give you great possibilities.
+On oscillator 1 and 2, besides the classic shapes, you can have wavetables and samples, both of which you can import. Default samples sound really good though, I really like the Piano and the Guitar.
+Great overall sound
+A lot of preset memory.
+16-part multitimbral, though with 25 voices of polyphony (keep in mind it's DSP) I doubt you'll be able to load 16 decked out sounds at once.
+Good price.
---
-Very buggy. Multis bug out constantly. FM bugs out when trying to FM samples together. It once bugged out when changing MIDI to omni.
-Hard to use with a computer (at least for newbies - like me). It uses SysEx and only SysEx for updates, moving presets, samples, wavetables etc.
Best sounding Waldorf synth but... when do we get a the Blofeld XT?
One of the best sounding Waldorf synths out there. Excellent and very deep synth engine with classic wavetables, good virtual analog waves (check the Don Solaris sounds) and even imports user samples. This synth can make an enormous range of good sounds and has an excellent value/money. It has a metal casing and a good keyboard, which gives you a very good feel.
The down side: -Not enough knobs to tweak in real-time. Probably done for keeping the cost low. Fortunately menu-diving is relatively quick thanks to the matrix next to it. - The FX are not really up to the same level as the actual synth engine. But that's easy enough to fix...
If only they would marry the Blofelds synth engine with the microWave XT's user interface and stick it in a 19" rackmountable case (angled and with optional wooden cheeks)... to create the ultimate Waldorf Blofeld XT
I'd buy it immediately and give it the full 5 stars but for now...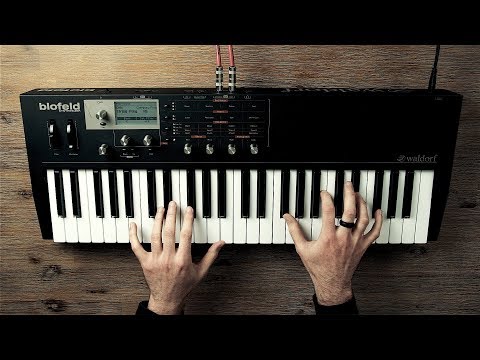 Waldorf Blofeld melodic synth demo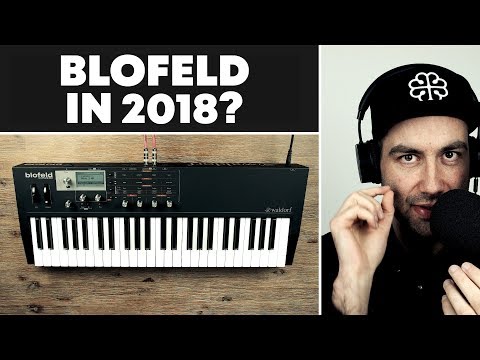 Why I got a Blofeld in 2018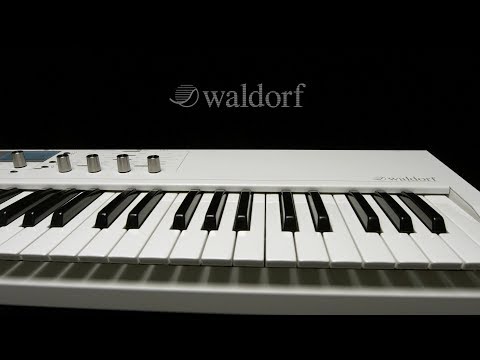 Waldorf Blofeld 49 Note Keyboard Synthesizer | Gear4music demo
Description
Virtual analog, wavetable, and sample-based oscillators combine for more musical opportunity.
The Waldorf Blofeld Keyboard provides flexible and simple to use sample memory, setting this keyboard apart from the rest. You can import your own sample libraries for endless sonic and creative possibilities. The semi-weighted Waldorf keyboard provides a professional feel with velocity and aftertouch. Along with the prize-winning features of the current Blofeld module, the Waldorf Blofeld also delivers virtual-analog synthesis and classic wavetables, a large graphic display, sustain pedal connection, numerous oscillator and filter modulation, modulation wheels, an internal power supply, and countless stainless steel rotaries " complete in a smooth, sleek metal package.Also included is Spectre, the free tool for creating and transferring sample content for the Waldorf Blofeld Module (with License SL upgrade installed) and the Waldorf Blofeld Keyboard (License SL not required for keyboard). Note: this is NOT a patch editor. Download the Mac or PC version and manual at: http://www.waldorfmusic.de/en/archive?relPath=blofeld/spectre
Specifications
60MB sample memory
Virtual analog, wavetable, and sample-based oscillators
High-quality semi-weighted keyboard with 49 keys, velocity, and aftertouch
Internal power supply (100-240V, 50-60Hz)
Pitchbend wheel
Modulation wheel
Sustain pedal connector
Octave Up / Down buttons
Freely programmable button
Sturdy metal enclosure
7 endless stainless steel dials
Graphic display 128 x 64 pixels, B/W, white background LED
More than 1000 sounds
3 Oscillators per voice
Frequency modulation between oscillators
All Q oscillator models
All Microwave II/XT/XTk wavetables
2 independent multi mode Filters per voice
Filter FM
2 Drive stages per voice with selectable Drive Curves
3 Fast LFOs per voice
4 Fast Envelopes per voice
Freely programmable Arpeggiator Pattern with up to 16 steps per sound
Up to 25 voices
16 part multitimbral
More than 1000 sounds
8 buttons
MIDI LED
Volume control
Power switch
Stereo output
Headphone output
MIDI Input/Output
USB interface for MIDI In/Out
Uses standard USB MIDI driver provided by host computer OS
Per Voice
Poly, Mono, Dual, or Unisono Mode with selectable Voice Count
Frequency modulation between the oscillators
Oscillator synchronization
Ring modulator for Osc 1/2
Noise Generator with Noise Colour
Virtual analog models:
Pulse with Pulse Width Modulation and adjustable Brilliance
Sawtooth with adjustable Brilliance
Triangle
Sine
Wavetables:
Q Alt 1 and Alt 2 Wavetable with adjustable Brilliance
All wavetables from Microwave II/XT/XTk Series with adjustable Brilliance
Separate Wavetable selectable for Oscillator 1 and 2
2 independent Multi Mode Filters:
Filter FM
Resonance up to Self-Oscillation
Low Pass 24dB/12dB
Band Pass 24dB/12dB
High Pass 24dB/12dB
Notch 24dB/12dB
Comb Filter with positive/negative Feedback
PPG Low Pass Filter
2 Drive stages per voice with adjustable Drive Gain and selectable Curves:
Clip
Hard
Medium
Soft
Sine Shaper
Etc.
Modulation Matrix with 16 slots, freely programmable:
Modulation Speed far into Audio Range
Modulation Sources include all internal Modulation Sources plus various MIDI messages
Modulation Destinations for almost all continuous sound parameters
Various pre-routed Modulation Destinations with selectable sources:
Pitch Modulation
Oscillator 1/2/3 Frequency Modulation
Oscillator 1/2/3 Pulse Width Modulation
Filter 1/2 Cutoff Modulation
Filter 1/2 Frequency Modulation
Pan 1/2 Modulation
Amp Modulation
4 Modifiers for transforming Modulation Sources with various Algorithms
3 fast LFOs:
Syncable to MIDI Clock
Note Retrigger with adjustable Start Phase
monophonic LFO
Keytrack
4 fast Envelopes with selectable types
Single Trigger / Retrigger per Envelope
ADSR
ADS1DS2R (2 Decay/Sustain stages plus adjustable Attack Level)
One Shot
Loop S1S2 (Loop between Sustain 1 and 2)
Loop All (Loop over all stages)
Per Part
1 Effect slot per part 1-4
Powerful Arpeggiator:
Hold and One Shot modes
Syncable to MIDI Clock
Direction Up, Down, Alternate
Range up to 10 octaves
Various methods to modify Note Sort Order
Freely programmable Arpeggiator Pattern with up to 16 steps per sound
programmable per Step:
Accent
Timing
Length
Glide on/off
Pause
Chord
Previous note
Random not from Note List
First and/or last note from Note List
1 Effect slot globally for all parts Effect types:
Chorus
Flanger
Phaser
Overdrive
Triple FX (S&H, Ring Modulation, Chorus)
Delay (only available on global Effect slot)
Clocked Delay (only available on global Effect slot)
Reverb (only available on global Effect slot)