Considered by many to be the industry standard "go to" pedal when you want to add spice to a riff, our X-Series Synth Wah goes beyond the standard one sound other brands offer you and delivers 7 different synth effects to choose from including fun... read more
CHECK PRICE ON
X-Series Synth
Being able to work with the changes in guitar frequencies is something that results in an incredible sound that takes us back to the 70s. Considered by many to be the industry standard! You want your music to sound as unique as you are and DigiTech gives you the power to create that sound wrapped up in a rugged metal chassis with dual wet and dry outputs. 7 stellar sound types; Mix, Range, Sensitivity, and Type controls;
Wet filter for bass.
I exclusively use modes 1 and 2. 1 is the classic envelope up sound. Quacking for days. 2 is followed by a fuzz a la Bootsy's "I'd Rather Be With You" solo. An overdrive in front of this pedal really brings out the wetness even more. 4 stars because the envelope filter sounds are pretty good, but the rest of the options are next to useless.
Super freaky envelope filter
Envelope filters have always been my favorite effects pedal. This one is really a wild psychedelic freak box.
It delivers a matrix of 7 different synth effects -- envelope up, envelope down, synth tone 1 (opening envelope) , synth tone 2 (closing envelope), filter sweep 1 (SynthTalk), filter sweep 2 (SynthTalk with inverse filter envelope) , and continuous automated wah.
Plus -- CIT cabinet modeling and control knobs governing trigger sensitivity, synth attack, filter sweep shape, cut-off frequency, frequency envelope, speed, and wah range.
I tested this at the Guitar Center pedal station, running an electric guitar through it.
After playing about 3 chords, I was convinced that I had to get this right now to add to my ever expanding Str8 Sounds equipment. The sales guy said, "That was fast!"
Great Synth Pedal
Honestly, I wish I had four more of these pedals so that I can get every sound possible out of it, but money restricts that option. There are so many options to this pedal, but I usualy use it on the 3rd effect with the other knobs down to zero. This gets an interesting fuzzy sound.
Awesome Envelope filter and octaver-esk pedal all in one. Awesomeness in a box.
3y
over 3 years ago
edited over 3 years ago
Dr. Strange Pedal
This pedal is great...you can produce a wide range of strange suonds with his 7 modes. In a single small pedal (very quiet too) you can find 2 envelopes, 2 synth sounds, 2 filters and autowah. 3 knobs for sensitivity, control and range help in shaping every strange sound you got in your mind. Sound quality is amazing for a cheap pedal. I needed synth and filters for some covers and it provided me a perfect solution
cool pedal
(chris's pedal) jackson: kinda weird, but cool because of it, i like settings 1, 2 and 3
3y
almost 3 years ago
edited almost 2 years ago
too loud
Some of the sounds on here are very cool, and I would love to use them, but it is WAYYY too loud when you turn it on.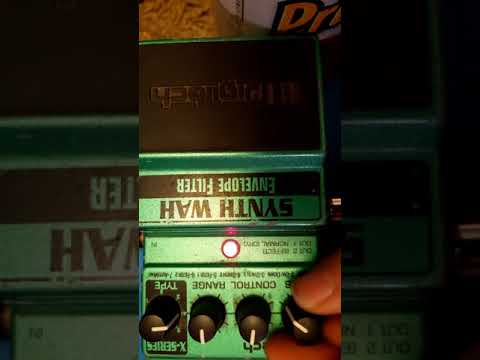 Digitech Synth Wah guitar
Description
Considered by many to be the industry standard "go to" pedal when you want to add spice to a riff, our X-Series Synth Wah goes beyond the standard one sound other brands offer you and delivers 7 different synth effects to choose from including funky envelope filters, synth tones, and filter sweep effects!
You want your music to sound as unique as you are and DigiTech gives you the power to create that sound wrapped up in a rugged metal chassis with dual wet and dry outputs.