A small pedal with big-time delay.
The Electro-Harmonix Memory Toy effects pedal presents a pure analog delay for musicians who covet thick sound from a thin wallet. EH melds heritage with select components to present the musician with up to 550m... read more
CHECK PRICE ON
Upgrades and Related Items
cool, but mine is flawed
Sounds great, but mine has a really irritating issue. There's a high pitched ringing whenever it's on, and it gets higher the lower the delay time is. At the lowest setting it's about 12khz. Through a guitar amp, it's not very noticeable, but when used as a aux send on my mixer, it's prominent enough to be annoying. Maybe it's just an issue with my unit?
My Electro Harmonix Toys
I have this small pedalboard I use alone at home for practicing, all made of old style pedals, with an Electro Harmonix Soul Preacher compressor, a Soul Food, a The Glove Overdrive, a Neo Clone and a Memory Toy, all nano versions. Why I did that, having already a lot of better pedals? Because of a weird sense of nostalgia for my old times. So now a can say something about these nice toys. First of all, I had to work on internal trim pots of some of these pedals, before having an acceptable sound, the factory settings can be really awful. The controllability of the Memory Toy and the Neo Clone are limited, but that was the way we played in our old times... the Soul Pracher strives to be a bit too invasive even at lower levels, the Glove Overdrive has a nice sound, becoming too muddy already at medium level. Finally, I can say these pedals are really nice toys, especially for older people like I am, but, except for the Soul Food, I wouldn't use any of them in a recording session. My personal opinion, of course.
Amazing!
It's an incredible pedal, it's crystal clear and you can get chorus-like sounds and also a reverb effect.
A ROOMFUL OF TAPE RECORDERS IN A BOX THE SIZE OF A POCKET DICTIONARY
Named by EHX as a sly reference to their bigger "Memory Boy" (itself named as a sly reference to their even bigger and earlier "Memory Man"), the EHX Memory Toy only lives up to half of its name - anything but a "toy", it /is/ an effects pedal you'll hardly forget. To paraphrase mega-corporation heir Douglas Renholm from britcom "The IT Crowd", this pedal "sounds like it comes from space". A simple analogue delay which, with only three controls, is ridiculously versatile. Contains chorus modulation which, while it can't be controlled, definitely takes your guitar sound that little bit further out past Pluto. All it's missing is, perhaps, the expression pedal support found in the bigger "Memory ___" units, so y've still gotta Ben Dover if you want to change the delay speed.
Analogue Delay: 5 (possibly one of the single most versatile effects in the history of electrical musical instrument treatment, and done just right) Chorus: 4 (not a great big shiny chorus with lots of settings, but spaces out yr guitar signal a comfortable amount - no settings beside on and off, tho', which costs it a star)
Overall: 5 (for most, a complete package, and the beginner psych player's dee-lite, but if you really want to vorp that gee-tar, save yr pennies and buy a proper chorus to stick in front of it)
Delay and Ambiance
Very nice pedal. Not just as a delay, but thanks to the modulation setting also an 'ambiance pedal'. When turning the blend knob at 3 'o clock or further, the pedal creates beautiful soundscapes.
Nice, Solo-oriented Delay
Nice delay, horrible modulation (with micro pot inside which I haven't checked yet). It is great for soloing because it raise the volume a little, I found it really nice! (micro pot for it inside too)
Pretty like a wilting daisy
It's a great starter delay pedal. You can make some great sounds out of it if you do it right. It's kinda finky with a power supply and the battery drains fast. But it's good bang for its bucks.
Good
Good delay but there are better options and for less money
Sounds Good, but has flaws
Analog delay sound is good. Don't like that the blend dial does provide a volume boost if you put it past noon.
Basic analog delay
Not setting any records with this guy, but it gets me my delay tones on the cheap.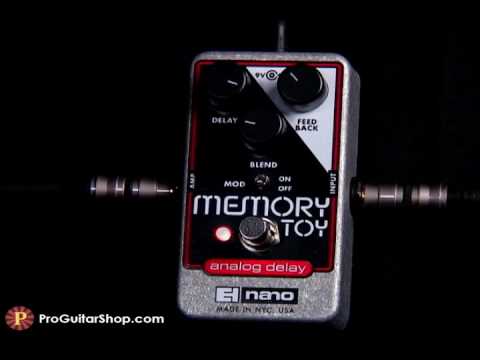 Electro Harmonix Memory Toy Analog Delay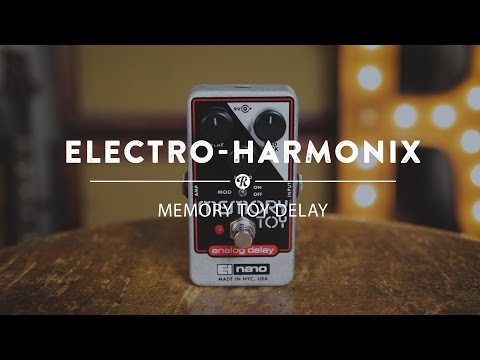 Electro Harmonix Memory Toy Delay | Reverb Demo Video
Electro Harmonix Memory Toy Delay Review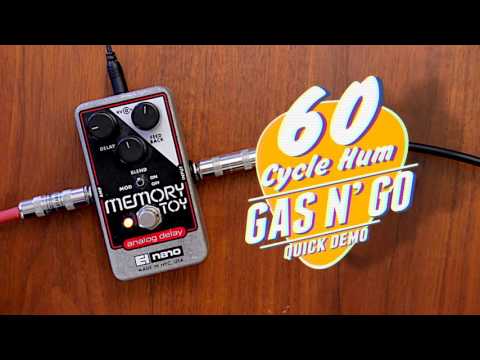 GAS N' GO - Electro-Harmonix Memory Toy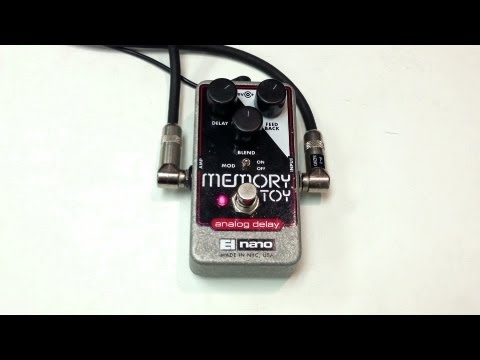 Electro Harmonix Memory Toy Analog Delay
Description
A small pedal with big-time delay.
The Electro-Harmonix Memory Toy effects pedal presents a pure analog delay for musicians who covet thick sound from a thin wallet. EH melds heritage with select components to present the musician with up to 550ms of delay. Not a toy but a professional tool that bathes your axe with organic depth and dimension. The selectable chorus is a lush bonus.
The Memory Toy can be used in combination with other effects processors. Experiment with any combination to develop your own unique sound. The footswitch toggles between effect and true bypass modes.
Delay controls the delay time of the EHX Memory Toy guitar pedal and the range of delay time is from 30ms to 550ms. Turn the delay time clockwise to increase the delay amount. The Blend control allows you to vary the mix of direct and delayed signals from 100% dry when set counterclockwise to 100% wet at full clockwise. The effect pedal's feedback control increases the number of delay repeats or multiple echoes. At high settings the unit will begin to self-oscillate. Fairly high feedback with short delay settings produces a reverb type of effect. The Mod switch will enable a slow modulation on the delay time similar to the chorus modulation of the Deluxe Memory Man. The Status LED shows that the Electro-Harmonix Memory Toy is in effect mode. When the LED is off, the Memory Toy is in true bypass mode. Use the footswitch to toggle between the two modes.
Specifications
DELAY Control"The range of delay time is from 30ms to 550ms
BLEND Control"Mix from 100% dry when set counter-clockwise to 100% wet at full clockwise
Feedback Control
MOD Switch
Input jack
Amp jack
Popular Delay & Reverb Effects Pedals