Reviews
Trusted musician and artist reviews for Marshall JCM 2000 TSL 100 Triple Super Lead 3-Channel 100-Watt Guitar Amp Head
4.5
Based on 7 Reviews
Classic Marshall tone
I actually have the JCM 2000 TSL 122 Combo, it sound great. It's an amplifier for life, let's agree on that.
Best thing since the 30th Anniversary amp.
As the creator of the sub-genre Dubstomp I require the highest gain, lowest noise, purest sound and best tone from my amps to compete with the super clean sounds EDM DJ's produce on computers. Only the new 4 channel amps from Marshall come close to what my TSL has been doing for 15 years. If you don't use Marshall, fuck off. I aquired a second one of these heads this year and as far as i know I'm running the only twin TSL stacks currently on tour in the world! now i just need a whole other set for stage left.
JCM TCL100
First real amp I owned. Still have it today. A real work horse. Good tone and no lack of power. Custom Orange Crush color
I love this amp
its 100 watts of marshall tone it sounds great breaks windows annoys the neighbors and kills it for shows
This guy rocks!
I love this head! It's a 3 channel amp that lets you make a variety of songs combination. In addition you can use a complete footswich where you can controll clean, crunch, lead, reverb and loop-in effects. Nice head!
Underrated amp
The TSL100 is a very underrated and generally unreliable amp mainly to the main board having issues about the biasing of the tubes. However, I used this amp on my 2006 'Eniac' album and had tones that I have never achieved with any other amp to date - and I have loads of tube amps.
The fix is simple, get a replacement board and fit it, it solves the issues forever and the amp returns to an incredibly good sounding lead tone. Don't listen to moaners... they don't know quite how to use this amp.
oh man, I knw a guy who endorsed these and he would have to trade his into an authorized marhsall dealer/svc center every couple dates on his tour. They would literally hand him another one, repair his and sell that one. he traveled around the US and UK that way trading them in like that. there's no reason marshall couldn't have found a way to build this right, its just cheapness and corner cutting in the JCM2000. They used to build a mean PCB channel switching amp, but it all went downhill after the jubilee. Marshall and fender crank out some real garbage anymore.
My main amp from 2001-2012
I owned several TSL100's.
The amp itself was ok, but the 5 way foots witch was terrible. Also the FX loop was awful. I've also used the tsl60 which has a much better FX loop, but sadly only works well at gig level volumes.
There are stories of reliability issues. Sadly these are true. Don't get me wrong, they sound good. But personally I think the JVM is a better amp.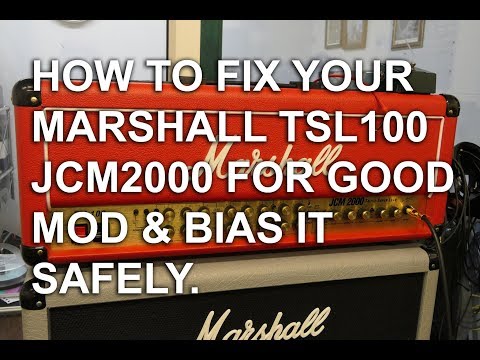 Marshall TSL100 JCM2000 Amplifier | Permanent Fix For Bias Runaway | biasing review | Tony Mckenzie
Add Details
Help add a description of Marshall JCM 2000 TSL 100 Triple Super Lead 3-Channel 100-Watt Guitar Amp Head
ADD DETAIL