Recommend Related Items & Pairings
This is where you can recommend to readers an alternative - or gear that goes with - Roland SC-55 Sound Canvas. What gear sounds similar, is less expensive, higher-end or boutique, etc.?
ADD YOUR RECOMMENDATION
SOLD BY
AVAILABILITY
REVIEWS
PRICE
* Product prices and availability are updated by Equipboard every 24hrs and are subject to change. Equipboard may receive compensation for purchases made at participating retailers linked on this site. This compensation does not affect what products or prices are displayed, or the order of prices listed. Learn more here.
Extremely goofy and old, but perfect for GM
Make no mistake, this isn't a synth you'd ever want to use for music production now. It's old, it's dated, it's cheesy, and pretty much nothing on here is usable beyond turning your tunes into an early 90s budget cover band's live gig. But it's got loads of charm, it's easy to use, and it's the only synth I trust for making General MIDI music thanks to its very well balanced instruments. I keep mine around just for retro game projects and the occasional DOS and PC-98 gaming binge.
A fantastic desktop MIDI module. The ultimate in General MIDI playback.
The SC-55 is a MIDI module aimed at karaoke and computer music playback. It provides the user with a wealth of good, if not great sounds for MIDI playback and the instruments and environment provided in this little 1u half-rack box are perfect for all your GM and general playback needs. This device holds a lot of value with gamers of a past age, as many famous games including DOOM and Duke Nukem 3D supported music playback with a Sound Canvas, many also composed with one.
You get a stereo phono output, as well as a stereo phono input that allows you to mix in an external signal, be it your DOS sound card, or even another synthesizer! The SC-55 is one of the friendly options when you want to hit the ground running on desktop music, without the need for advanced configuration, although such things do exist if you find yourself wanting some more special adjustments.
There are many different ROM revisions of the original SC-55, and an SC-55 mkII unit that expands the polyphony from 28 voices to 32, and changed around a few of the onboard tones. Generally, the mkI units are only better for certain games that took advantage of some of the firmware's quirks. For modern use, and compositional use, the mkII is the variant to acquire.
SC-55 are powered by a 9V power supply, and a CR2032 battery can be installed to allow settings on the unit to be retained when the power is disconnected, however unless the device is being used in an onstage scenario, this battery is almost entirely redundant, and the synth functions completely without one.
I'm very biased, but it fills my Geneal MIDI niche perfectly
Given that the Microsoft GS sounds are based off this module (and this module being fully unlocked), it's extremely fun to maximise its capabilities. Unfortunately, the polyphony and CPU overhead isn't very generous - it's quite easy to choke these units, and not at the fault of the MIDI cable bandwidth, either! But it also makes great fun for optimisation practices in General MIDI.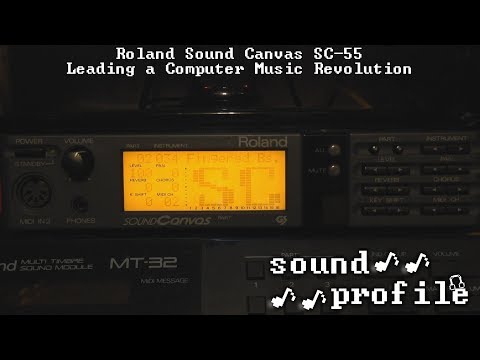 Roland Sound Canvas SC-55: Leading a Computer Music Revolution! - Sound Profile