Arturia Jupiter-8V Software Synthesizer
Tags:
Vintage or Discontinued
THERE IS A NEWER VERSION OF THIS ITEM:
Arturia Jupiter-8V Software Synthesizer
Arturia Jupiter-8V Software Synthesizer
Reviews
Trusted musician and artist reviews for Arturia Jupiter-8V Software Synthesizer
4.5
Based on 12 Reviews
Good piece of 'vintage' DSP
It sounds NOTHING like a real Jupiter 8. But it sounds very good in its own way. Using too many instances of it in the same track is not recommended as one layer of it tends to obscure another.
Same Original
i use this for live performance in cosplay contest , and this , is BEST SYNTH with PERFORMANCE every time [use with Ableton Live]
Own as part of Arturia V Collection
It is a great emulation of a classic synth. I do use it from time to time but I cannot claim to fully understand it! Probably rewards time spent on it like many of the synths in this collection. They do keep upgrading them which is nice but they charge a lot to get the upgrades every year or so though there is a slight discount if you already own the collection but I think its a bit steep and always wait for a sale.
Not bad so far...
I'm curious about the sample based Jupiter plugin that's due anyday but...
Does hit the CPU a bit but nothing horrible (using a MacBook Pro the model before they killed the fucking I/O). I've never had the pleasure of playing an actual Jupiter & I'm fairly sure I'll never be in the market for the price tag on the real deal so this is a affordable option to ARP the fuck out. It's not perfect, not by a long shot. It does offer a taste tho...whatever that's worth...
So far it's made it onto one track for a client (1 instance & only fair to say it's a fairly dense mix and it's set low in the mix) but I'll update more as it get used more & that seems very likely. It's down right addictive despite its limitations.
I like it.
Like most VST's from Arturia, it sounds incredibly close, once you add it to a mix, no one would honestly know the differnce.
Awesome On Vintage Like Sounds !!!
Its Awesome On Vintage Like Sounds !!! I Like it too Much
LOVE THIS SYNTH
I absolutely love this synth. It has SO MANY presets and the possibilities are endless when shaping your own sounds. A must have.
Classic Synthesizer
Jupiter brings those classic electronic sounds back to the future, I LOVE IT!
Another great VST
This one is also one of my favourites to reproduce the sounds of the eighties.
Lot's of people saying this one does not sounds like a real Jupiter, but they don't consider the fact that even a Jupiter doesn't sounds like another Jupiter. These are hardware synths from the eighties, and every single on of them have a slightly different sound. This emulator produces a blend sound, but comes very close. Just like someone already mentioned: If you put it to a mix, you won't hear any difference.
The settings and tweaks are great. They all have their purposes, and they all work! Indeed it's CPU intensive, and they happen to be conflicting eachother when you have more instances loaded. Since I use this one as a lead, I don't require much instances.
Overall it's a great addition to my collection, and it's rare when I don't use it in my tracks.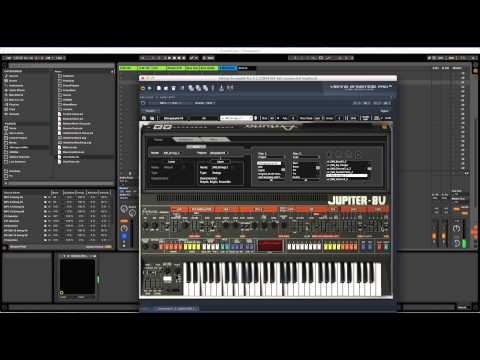 Arturia Jupiter 8V