Recommend Related Items & Pairings
This is where you can recommend to readers an alternative - or gear that goes with - Casio SK-1. What gear sounds similar, is less expensive, higher-end or boutique, etc.?
ADD YOUR RECOMMENDATION
SOLD BY
AVAILABILITY
REVIEWS
PRICE
* Product prices and availability are updated by Equipboard every 24hrs and are subject to change. Equipboard may receive compensation for purchases made at participating retailers linked on this site. This compensation does not affect what products or prices are displayed, or the order of prices listed. Learn more here.
This sampler gave me a 35 year career...
In 1985 I was 15 years old and I produced the A-Side of my very first vinyl release Choice M.C. "Let's Make Some Noise" on Idlers/Warlock Records with the Casio SK-1 and Casio RZ-1. It's not the greatest sounding sampler, but it has its own character and I used it again on the sequel record "Let's Make Some Noise Part 2" released by 12-Bit Records. This sampler some consider a toy has blown up in the circuit bending movement, and strangely enough a few boom bap producers reached out to me to ask if I really used this on my earlier records and my answer to them is often "I still use it"...
lowest of lo-fi
I've been looking for one of these for a few years now, ever since I heard the music in Homestar Runner was made with one, but the prices on Ebay and Reverb are just way too high because of circuit benders and hipster indie bands. 75 dollars for one of these is fucking crazy, but if you can find one at an antique/thrift/junk shop, get it! The built in sounds are pretty typical of kids Casios from this era, but the sampler is so crunchy, it's great. It only has about a second and a half of sample time, but if you pull the classic SP-1200 trick of speeding a record up to 45, you can just barely fit a drum break in there, which sounds great under house drums, a la Fresh & Low's Wind On Water (https://youtu.be/e1X59TH8IxI)
I have owned this since I was an 80s child. I would love to circuit-bend this lil guy someday. Y'know, when I learn how to circuit bend.
Casio SK-1
One of my favorite instruments of all time. I use it a lot for messing up loops and doing vocal drones.
Casio SK-1
I have two of these lo-fi sampling keyboards, and rarely use them as of late, but the low fidelity gritty quality is quite nice. I plan on using them more in the distant future.
"Jammin' on a one!"
Look. I only bought this because Questlove owns one. They're really fun, but I do very little with it.
You have to bend it.
I am bending it now. I will post a picture when i am done.
3y
over 3 years ago
edited 7 months ago
$2 at Goodwill? Worth it!
This was a steal at a local thrift store. I originally intended to circuit bend it, however as I played around with it I found it has great capabilities in it's original form. The sampling function is probably my go-to use for this instrument, but the built-in effects, "sound design" option, and present voices are worth exploring as well.
Original fart sampler
Still have this from when I was a kid. Cool organ-like synthesizer (where you can stack harmonics) and of course the famous 8-bit sampler.
I had one of these I think, does the demo son play a Bach piece?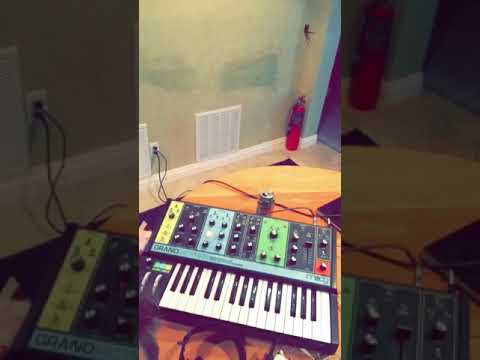 Sampling my Moog Grandmother into my Casio SK-1