Korg Volca Beats Analogue Rhythm Machine
Peerless beats generated by solid analog drum sounds and an Electribe-style sequencer.
Following in the footsteps of the monotron, monotribe, and MS-20 Mini analog synthesizers, Korg announces the Volca series. volca is a new lineup of EDM prod... read more
CHECK PRICE ON
AS FEATURED IN
Recommend Related Items & Pairings
This is where you can recommend to readers an alternative - or gear that goes with - Korg Volca Beats Analogue Rhythm Machine. What gear sounds similar, is less expensive, higher-end or boutique, etc.?
ADD YOUR RECOMMENDATION
Reviews
Trusted musician and artist reviews for Korg Volca Beats Analogue Rhythm Machine
4.0
Based on 37 Reviews
Excellent but not perfect
Excellent value small factor drum machine. The analog sounds are all good but range from fantastic (kick) to hmmm not so good (snare), although the snare is better "in person" than it seemed on videos of people eager to mod the capacitor onto the circuit board. The PCM sounds are all very quiet compared to the analog ones though which means you would have to turn all the analog sounds down and then turn the main volume up which is fiddly and will probably get noisy. Love the colours of the unit though: feels like a 1970s hot tub, sports car, chocolate fondue set or something!
Fun to play with...
but I have had trouble integrating it into my rig. That said it sounds good but can be noisy when recording. An interesting form factor and nice control of sounds and sequencer records parameters so has lots of potential but so far I am not able to totally take advantage of all this though I do plan to have another go at the Volcas and see if I can use it with my Novation SL MKIII.
What? A Pocket-Sized drum machine?
The Volca Beats is part of a series of small, but versatile line of synthesizers known as the Volca range. It has 6 Analogue sounds and 4 PCM (Sampled) Sounds (which cannot be swapped out). People have an issue with the snare, as they feel that it does not have enough punch, but why? You don't need that extra punch, especially when layered with the kick and claps. The Hihats are reminiscent of the Roland C78 Hihats. The volca does offer a speaker for more portability but you can run this unit into headphones or a soundcard. My two issues with this is the low output level, meaning the signal has to be compressed when recording into my soundcard, and the only output on this device is the 3.5 mm Jack meant for headphones that are aimed at the average Joe. I wish that it had a 6.5 mm jack to route to my soundcard, making for a much louder signal.
I can tell you how to get the snare to 'punch'... it ain't complicated
jimmarchi1 you've misinterpreted what I've said. I don't want the transient in the snare as I usually layer it with the kick. Plus, I'm visually impaired so soldering is pretty complicated for me.
An 808 in your pocket for under $200.
Big fan. This is a fun machine to play around with. I like running it through crazy effects and tweaking the stutter button on the high hats.
best budget analog Drumbox
I am Volca User of the first hour and of all 3 analog Volcas I use this most often, And especially the kick and the hi-hats! For me the perfect warm fat bass drum, both for electro sounds, as well as to simulate a "natural" kick.
I also like the analog toms, as well as Clap and the other PCM percussion sounds.
The Hi Hats are especially fun when you loosen rigid 16-figure figures using triplets with the help of Motion Record and Stutter. In general, Motion Record can generate very lively grooves. This also applies to the slightly weaker snare drum, which I like to use for subtle ghost notes, as it is perfect for that.
However, if you can handle soldering iron: There are numerous MODs for snare, MIDI-out, single outputs etc ... Because the biggest drawback for me and therefore a star deduction is the restriction to 16 steps at the sequencer, This can only be avoided with an external sequencer. Everything else can be done - with a bit of skill change yourself thanks to moding-friendly PCB.
Easiest analogue drum machine to use.
It was my first approach with the synth/drum machine world and I use it in every situation, especially when I play on solo shows or in duo. It's an honest drum machine with some good sounds. I think that on the track "Interfuit" you can hear a good example of it: https://lepiccolemorti.bandcamp.com/track/interfuit
Don't like the kick
Nice little drum machine, with a nice little feature to mix up the beat. The 808ish kick is to weak for my taste.
A lot of bang for the buck... and the kick BOOOM.
The Kick is awesome, you are limited in sound shaping but you get a lot of bang for the buck. Great for getting into drum synthesis. And a funny little tool for on the run jamming. I like it but it's not my favourite synth of the Korg Volca series (which is the Korg Volca Keys).
Need more Cowbell
DONG I wish. I bought a metal cowbel and smapled it with the VOlca Sample... did the trick and then some.
Small but powerful
To be honest, I don't like it enough to use it as the main percussion in a track, but it is good at adding an analog feel to the drum part in a track. It's also surprisingly good at making some messed up, cool sounds which I love to do.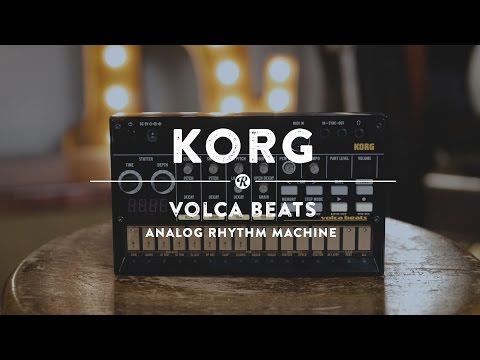 Korg Volca Beats Analog Rhythm Machine | Reverb Demo Video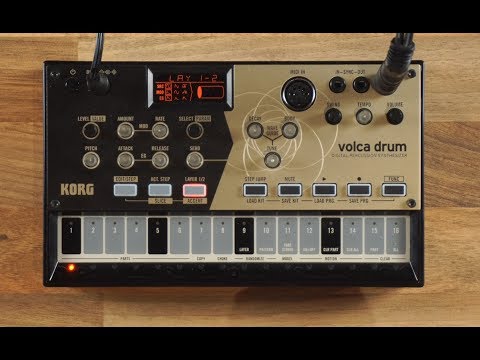 Korg Volca Drum Demo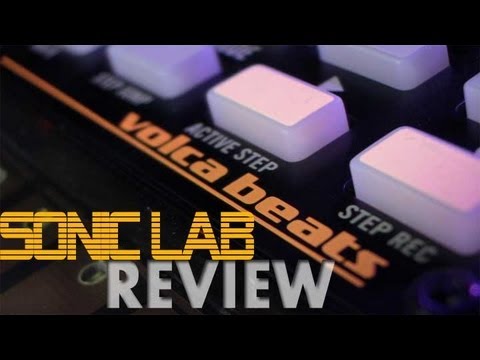 Korg Volca Beats- Sonic LAB Review
Description
Peerless beats generated by solid analog drum sounds and an Electribe-style sequencer.
Following in the footsteps of the monotron, monotribe, and MS-20 Mini analog synthesizers, Korg announces the Volca series. volca is a new lineup of EDM production tools. These powerful and fun-to-use true-analog devices deliver a diverse array of fat sounds that can be obtained only from an analog synthesizer. Each is also equipped with sequencing/recording capabilities for intuitively generating performances. Multiple volcas can be used in tandem via the vintage-style sync in/out, and with your favorite DAW software or MIDI keyboard via MIDI In. Battery operation and built-in speakers mean that you can conveniently play anywhere and anytime. These are the next-generation analog synthesizers, bringing you the ultimate sounds and grooves with ease and depth. Whether used together or by themselves, the volca series is poised to inject true analog power into any performance or studio setup!
Even today, more than thirty years after the age dominated by analog synthesizers, we just can't let go of the sound of analog rhythm machines. Those thick sounds have the power to stand up to guitar and acoustic drums, and are still indispensable for track-making or live performance. The volca Beats gives you those analog drums plus the easy-to-use step sequencer of the Electribe; it lets you turn your inspiration into reality and generate beats with the best high quality sounds.
Specifications
Powerful analog drum sounds
Real analog sounds created with reference to classic rhythm machines
Six editable analogue parts with one knob per function for easy editing
Maximum effect from minimal parameters - a unique advantage of analog
PCM sound engine expands possibilities when used with analog sounds
Loop sequencer distilled from the Electribe series
Electribe-style 16-step sequencer with eight memory patches
Stutter function generates repeated triggers that dramatically change the sequence
Active Step function generates new bass lines by removing or inserting steps.
Step Jump function instantly plays only the step you're pressing
Convenient functions for incredible ease of use
Sync In and Out allows clock sync of multiple instruments from the volca Series as well as Korg's Monotribe
MIDI In for note entry, plus external sync and control from your DAW