Tags:
Vintage or Discontinued
Roland SP-404SX Linear Wave Sampler Turbocharging the World's Most Popular Portable Sampler Roland's acclaimed SP-404 performance sampler takes an exciting leap forward with the new SP-404SX. In addition to the fun, fast, hands-on features of ... read more
THERE IS A NEWER VERSION OF THIS ITEM:
CHECK PRICE ON
Massive Greatness
This box really helps me stay creative on the go at work on sitting outside with downtime and just on the spot creative music creations its gig and small enough and i can use it with batteries witch is very cool six AAs gives you about two to three hrs of straight playing time. this is a must have sampler with so may cool features and it can get connected with your home studio via mixer.
Roland SP404SX
The Roland SP404SX is absolutely a great addition to my rig and a value tool for sketching out new ideas. Its small enough to carry it inside your backpack and great campion to the iPad. The Roland SP404SX is a impactful piece of gear, a performance tool, that I have been using for most of groove production and creative exploration. I only had it for two months and I am already using it on my shows. I love the various effects so its an added feature to the unit that has endless possibilities. The effect selection is amazing period - I have found a unique use for many. As I mention before its battery operated, and the ability to have all your samples on a SD stick is a plus. The 404 is the machine of the future for those artist who want to explore sampling and the art of music production without the use of a computer.
SP-404SX is ubiquitous in studios because it's so simple and easy to use!
Roland SP-404SX is a fantastic, easy to use, great sounding Linear Wave Sampler / Effects Processor. This is my first purely sampling unit since I had a rack unit digital sampler / effects processor in the 1990s, which I sold. I was a bit nervous about importing my samples from Computer Music magazine DVDs and other files into the SP-404SX, but it was totally fun and fast to do. This is such a well designed, fully functional, easy to operate, durable, nice looking machine. Get it and you won't regret it.
My weapon of choice!
For me, the best sampler ever! Tiny but powerful!
I have one too it's quite good
Great little sampler....
Clean sound lots of onboard effects been using this line of samplers for years great for anyone at any level of dealing with audio and sampling.
Sampler capable of much more than people think.
Most people use the SP for beats. Most probably just use it for effects. Very few know its full capabilities. Find and RCA-1/8 cable and plug your guitars in, it becomes a mega-powerful effects pedal. If you know what you're doing you can get a normal guitar to sound like a bass...
great for live
I started to use this one instead of laptop on live shows - couldn´t have done better!
Get it if you want to enjoy your career as a music producer.
This little sampler will change how you make music as well as your way of life, I promise.
Soul Cosmetic
Your imagination is key with the SP-404SX. Once you learn what it has to offer you will begin to fly.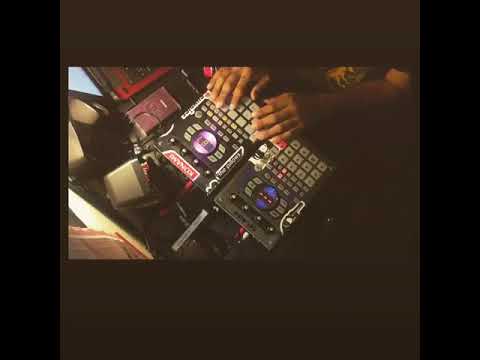 SP404
Description
Roland SP-404SX Linear Wave Sampler Turbocharging the World's Most Popular Portable Sampler Roland's acclaimed SP-404 performance sampler takes an exciting leap forward with the new SP-404SX. In addition to the fun, fast, hands-on features of the original, the new model offers enhanced sound quality with pure 16-bit linear sampling, improved DSP effects, smooth FX switching, a more versatile pattern sequencer (with a new shuffle feature), and easier data management with SD-card compatibility. It's a creatively stimulating, powerful tool for DJs, musicians, producers, and live-sound engineers who trigger jingles.
Sample anytime, anywhere with the built-in mic and battery power. 29 DSP effects, including filter, delay, unique voice effects, subsonic, and looper. 3 control knobs, 12 trigger pads, and Sub Pad for rapid repeat triggering. Seamless effects switching for smooth, perfect performance. Pattern sequencer with quantize mode and new shuffle feels. 1GB SD card included; expand sample storage up to 32GB with SDHC. Import audio files from computer, assign samples to pads with bundled software (Mac/PC). Instant Sampling Sample anywhere, anytime using the SP-404SX's built-in microphone. And since the SP-404SX can run on AC or battery power (six AA batteries), it's easy to record wherever and whenever inspiration strikes. Just power-up, point, and record. Line and mic inputs are also available for recording direct or with an external microphone. The SP-404SX's sampling format is uncompressed wave for high-quality audio capture.
Extreme Effects Create a signature sound using the SP-404SX's 29 DSP effects, which switch seamlessly during live performance. Essential onboard effects include spacious reverbs and choruses, plus filters and delays. There are also unique, esoteric effects built in, including a voice transformer and looper. With the DJFX Looper, you can create short loops (such as machine-gun-like "da-da-da-da-da" sounds) and control reverse-playback with the knob. You can also create scratch effects like a turntable. Connect the SP-404SX to a DJ mixer and use it as an effect processor. Seventeen of the effects have a "limiter" mode, which keeps the effects from overloading. This is great for live DJ performance when you don't want to lose control of the effects in the heat of the moment.
SD Card Memory Start sampling right away with the included 1GB SD card. You can easily expand the sampling time using up to 32GB SDHC. Import audio files from your computer using the included software (Mac/PC) and assign them to the SP-404SX's pads. WAV and AIFF files are accepted. The software is fast and easy to use, as it displays the SP-404SX's pads onscreen. You can even use it to convert SP-404 format files to the SP-404SX.
Hands-On Performance The SP-404SX is made to be played — it's packed with interactive controls for jamming along with loops and patterns. Put your fingers on the three non-slip control knobs, 12 trigger pads, and Sub Pad for rapid repeat triggering in real time. On dark stages or DJ booths, the SP-404SX is a performers dream with its illuminated rubber pads and bright LED screen.
Trackbuilder In addition to the endless supply of loops you can pack into the SP-404SX, you can also create your own tracks in real time with the Pattern Sequencer, complete with quantize mode, which includes shuffle feels. Creating patterns is done in real time. You can loop two measures (maximum 99 measures), for example, then play and record only the bass drum and the snare. Next, add the hi-hat over the top, and keep adding more instruments while the SP-404SX loops. You can store 120 patterns (12 patterns x 10 banks). When you play a pattern with the Pattern Sequencer, the LEDs surrounding the display blink according to the tempo, which is handy during live performance.