Reviews
Trusted musician and artist reviews for Orange Amplifiers DA15H Dark Terror 15 15W Tube Guitar Amp Head
4.5
Based on 6 Reviews
This is the amp equivalent of getting knocked out by a 10 year old
Tiny yet brutal brit valve amp that is worth every cent.
4y
almost 4 years ago
edited over 2 years ago
Small in Size, Big in Sound
The Orange Dark Terror is a lunchbox amp, but it's a lunch that is a full rack of beef ribs, fries, baked beans, and a lovely stout. It's LOUD, it's got that nice Orange tone, and it's actually very versatile. Although it's only got three knobs, it cleans up very well and delivers the #gainz when cranked up. Even at 7W this amp is very powerful. One thing to note (for people who haven't played through it yet) is that the higher you put the gain, the more of the Orange "fizz" you will get, whereas the volume will just make things louder. The shape control is actually very useful and can take you from 60s tones to modern metal. Get this amp.
Would you say that the smaller version is also worth the praise?
I have yet to try the Micro Dark but I had a Micro Terror at one point - based on reviews/vids/info I'd rather get the Yamaha TH series then the Micros
It can punch a hole into your walls
It's amazing how you can get such great sound out of something this small. I do recommend using an overdrive pedal with no gain on it and just the tone knob turned up. Run the OD and a reverb pedal through the FC loop at the back of the amp and you will end up with a sound you'd expect to get from a 100w amp. Without a reverb pedal though it sounds a little bit blunt.
look, on most OD pedals the tone knob isn't doing a whole lot when open. Its just a crude low pass like your guitar tone knob. Perhaps there are some some impedance things going n between the tube preamps and solid state power amps and by using a buffered pedal in the loop its allowing more high end through due to a lower impedance from the preamp? And I guess you're removing some bass thump if the tube stages have a large coupling and cathode bypass caps... the input capacitor on the tubescreamer for instance is on the small side and forms a high apss filter. Really the FX loop should be doing a lot of that itself if its buffered though.... some of what you're hearing may be psychoacoustic...
@jimmarchi1 wow that's some great feedback there. You're totally on to it cause as you can see on my gear page, I'm using a TS9 with it and I dial out the gain and turn up the tone to max. It's a light effect but seems to fill out the sound and make it more well rounded.
Tiny Monster!
This may is the best sounding amp I ever had. It's the amp we use in Motorjesus. Just one sound and go!
Low Wattage Monsters - Orange Dark Terror (metal demo)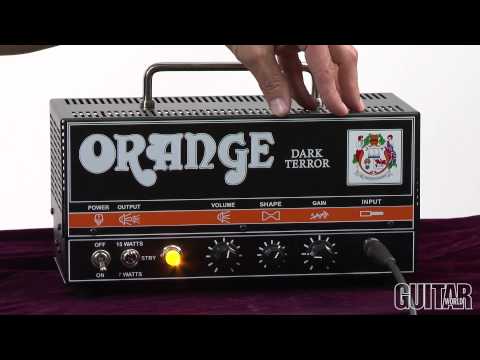 Orange Dark Terror Amplifier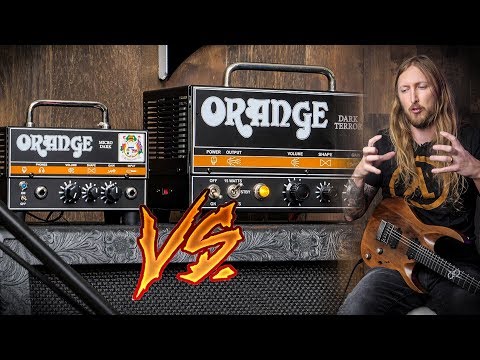 ORANGE Dark Terror vs Micro Dark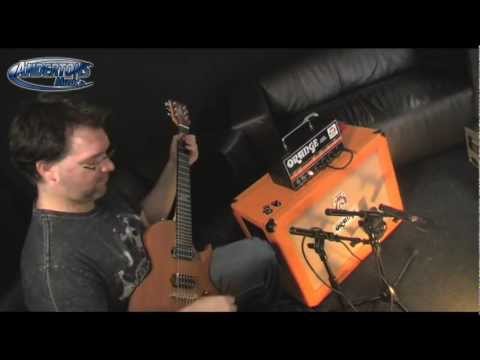 Orange Amps Dark Terror - Full Volume Demo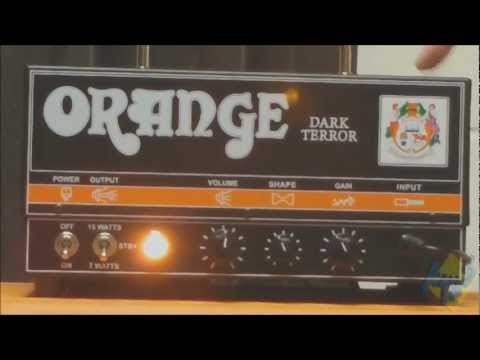 Orange DA15H Dark Terror Guitar Amplifier Head - Orange Dark Terror
Add Details
Help add a description of Orange Amplifiers DA15H Dark Terror 15 15W Tube Guitar Amp Head
ADD DETAIL