The RAT2 covers all the bases: distortion, sustain, fuzz, overdrive - from the sweet raunchy to the grinding raunchy to the raunchy raunchy, RAT2 lets you pick yer poison! Has glow in the dark controls for distortion amount, filter cutoff and volu... read more
CHECK PRICE ON
AS FEATURED IN
The Legendary Rat
This pedal is awesome. I haven't messed around with it too much outside of getting the sound I wanted from it but its a very good pedal with a lot of gain but also retains my guitars clarity and doesn't the tone of my Gibson too much. My settings may change in a few days when I change the pick ups etc though.
the Filter knob is very effecting, I have it set just past noon which thickens up my distortion just a touch. I have the level around 3 oclock, could go a fair bit higher but I don't overly want to. I have the distortion maxed out but it also has a few good sound at 3 o clock and I'm sure anywhere else on the dial will sound great.
The construction is extremely good, a nice very thick aluminium enclosure, I'm pretty shure I could run this over in a car and it will still work. A nice weight to it too, fels very well built and the circuit inside is a mix of pcb and hardwired parts, like the switch, jacks and power inlet and the 9volt battey clip.
All in all a very good pedal and worth every penny. Its also silent, no hum etc of clicks from the switch.
its even good at 1 as a light OD
No tried that but then again I use my Digitech CM-2 for that. Also with my boost on just set for a slight boost with the bass boosted a bit and treble cut a bit it makes a killer fuzz. I know some people say this can get quite fuzzy but I don;t find it hugely so unless I have the filter maxed out
its pretty fuzzy for a distortion at full gain, like in an actual "2 transistor fuzz" sense of the word fuzz, not in the big muff "I am an over the top distortion pedal that people with a less than rudimentary understanding of guitar circuits and the instrument in general insist on calling a fuzz" sense of the word... no one has any respect for precision in language anymore and it leaves people confused on topics as diverse as guitar tones and civil rights.
Pure nastiness. In the best way possible
I'm a big fan of 80's sounding guitars. I like a nice bright, crisp distortion. What I love about this pedal is the filter option. If the tone is too bright, I can bring in a little more low end. You can turn it into a fuzz if you want, but I leave that to my fuzz pedal. This pedal, combined with the Seymour Duncan JB I put into my bridge, makes for a tight, raunchy, crunchy distortion that reminds me of a harder Joe Perry tone. And the pedal is an absolute tank.
Maybe the ultimate distortion
I always thought it was sort of weird that ProCo never made any pedals that weren't RAT variations, but it makes sense now that I have one: you've pretty much made the ultimate distortion, so what's the need in doing anything else?
I've owned a Boss OS-2 and an EHX Big Muff Nano and, for some reason or another, found them lacking as distortions. I'd go to what felt like excruciating lengths to tweak the knobs and never find a setting I was completely happy with. Even though I'd advise against cutting too much high-end, it's stunningly easy to find good tones with a RAT. It also rewards knob-tweaking in ways that I felt the previous pedals didn't: it works as a drive but you can also max out the distortion to get a wonderfully vicious fuzz. I'm not at the point in my gear collecting where I buy different versions of the same pedal, but I could definitely see myself doing that with the RAT.
smooth distortion
I got this as soon as it came out in 1988, its been used in the studio, and live many many times, I may use something else for a different sound....but nothing because it sounds better, this is it, the "if I had one pedal"
Great Dist Pedal with a huge range
I love this pedal. It has a very lineal Distortion, a huge range and nice options with the tone knob. I don't like the DC plug and it's kind of hard to make it fit in my pedalboard considering the big screws it has. Reliable and built to last forever.
I personally don't like the filter knob.
This pedal is a fantastic pedal in my opinion, but I don't like the filter. I can see why people use it though, since the pedal can get very fuzzy. Most people want the distorted sound that this pedal is famous for, but if you turn the distortion up so that it's past 10 o'clock, you have to use the filter knob in order to keep it from getting fuzzy, which causes the pedal to lose some of its awesome bass end.
TC Nova Drive. Distortion section is the classic rat modified with a baxandall treble and bass tone network, plus it has full preset recall and 3 routing modes with the tubescreamer-style OD side not to mention being MIDI controllable.
Everything You Think it Is
Used by many for a good reason; the gritty, expressive cousin of the Boss DS-1 board, it will surprise you with how many tones it has within it.
Great Pedal
The ProCo Rat 2 is just a great pedal- it works as described and I have no issues with it.
3y
over 3 years ago
edited over 2 years ago
80's/90's sound!
If you love rock guitar sound from 80's and 90's, you'll love this pedal! It gives you the same vibe, while it adds the same colour to your sound. Crispy, rich, not too noisy. With the FILTER knob you can clean up the brightness of the sound, and turn it into a Fuzz machine... I like it, but I'm giving 4 stars because I wish it could have another knob to control the tone. I need an EQ in front of it to make it sound the way I like it. Some people add an overdrive before the RAT, but I tried and it changed too much.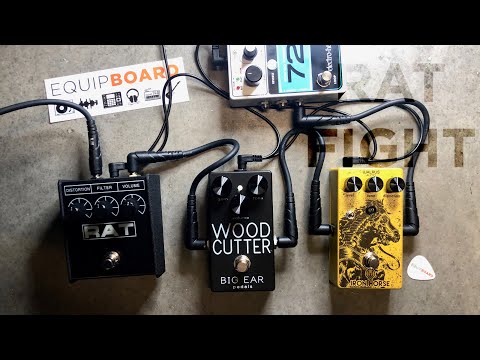 RAT clone distortion pedal comparison - ProCo RAT 2 vs. BIG EAR WOODCUTTER vs. Walrus Iron Horse V2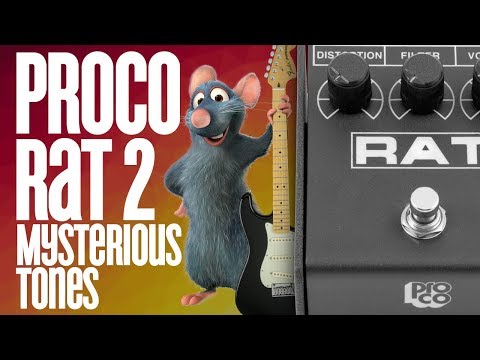 How To Get CRAZY Distortion With The ProCo Rat 2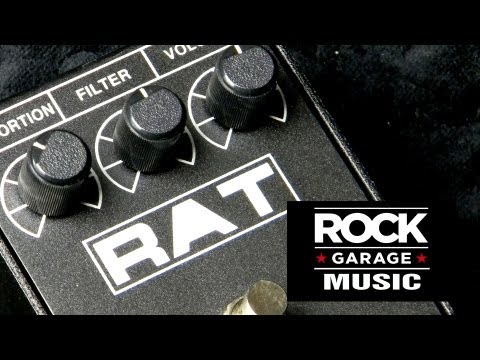 ProCo Rat 2 Distortion Pedal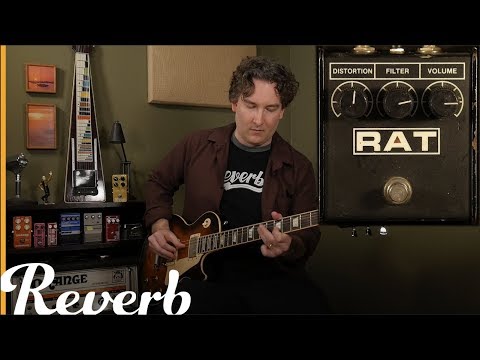 1988 ProCo Rat 2: Andy's Vintage Picks | Reverb Tone Report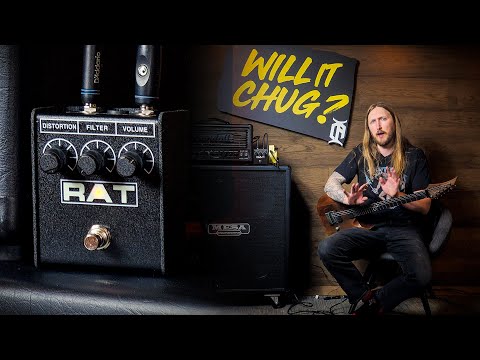 WILL IT CHUG? - RAT DISTORTION
Description
The RAT2 covers all the bases: distortion, sustain, fuzz, overdrive - from the sweet raunchy to the grinding raunchy to the raunchy raunchy, RAT2 lets you pick yer poison! Has glow in the dark controls for distortion amount, filter cutoff and volume level.
Specifications
Distortion ranging from a mellow twin to a raging English stack
Extra punch in rhythm work and makes solos cut through with authority
Glow-in-the-dark luminescent control graphics
LED status indicator
No-tools battery compartment