A compact, 25-note mini USB/MIDI keyboard bundled with award-winning software featuring 5000 classic synth sounds.
Arturia's MiniLab USB Controller was designed to marry the style you love with the hands-on control and portability you need to t... read more
CHECK PRICE ON
For a 16 encoder controller you wont find better for the price.
This is a bargin of a midi controller it comes with analog lab software which is worth the price of the hardware alone. Minilab has 16 control encoders that are sturdy and durable and it also comes with a midi control center so that you can control all your vsts and midi equipment. The mini keys on it feel sturdy and offer a synth action iam not to keen on the pitch bend and modulation sliders I'd prefer analog rotary wheels but for the price I expect you can't complain. I paid £67 for mine you wont find a such a comprehensive controller at this price that delivers anywhere else I dont think. Well worth the money.
great midi controller and multiple softsynth bit of kit
The mini lab is the white bit off kit with keys in the middle off the desk it has16 encoders on it that can be used to control others vsts and midi equipment and comes with analog lab software which has to be downloaded from arturia site. The software comes with 12 analog editable synths like the moog modular, oberheim sem etc. These synths sound great the only pain is the oberheim matrix 12 synth it consumes over 76 % of your pc cpu. I ran this on a 3.67 ghz windows 7 pc as a plugin. All the remaining 11 synths consume only 3 to 15% cpu power so arturia need to sort the matrix 12 cpu consumption out in a update maybe. Overall the minilab controller works great a good bit of kit.
I love it.
It's small, but it does its job professionally.
Good
Good to be able to use with the minilab suite. Laking responsively when it comes to live performing and controller assignments
So convenient
If you use a DAW its the quickest and simplest way to quickly put music together.
MIDI Keyboard that you can fit in your backpack to carry everywhere you go.
. USB Cable (check) . Laptop (check) . Minilab (check)
With the Minilab and any other Arturia MIDI Keyboard. You can't go wrong. With the Minilab you can take it wherever you go and jam on the spot wether you're at home or on the road.
Pretty neat
This is the first controller I actually bought and even tho it has some flaws I really like it. The small keys are a perfect fit for me, the ribbon pitch and mod wheels are surprisingly accurate. The knobs feel a bit a wobbly and they get loose over time. Definitely recommended for smaller home setups and on-the-go jams.
the best of Arturia for cheap
how to have a quick and cheap look to Arturia technology with a simple machine....
Ayy Lmao
Pretty good for beginners. Highly portable and plenty of feature. The pads are also a plus.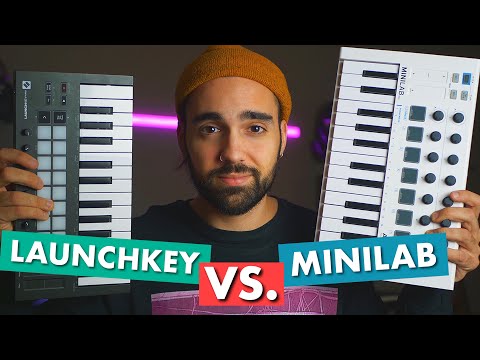 Arturia Minilab MK2 vs. Novation Launchkey Mini MK3 | WHICH SHOULD YOU BUY?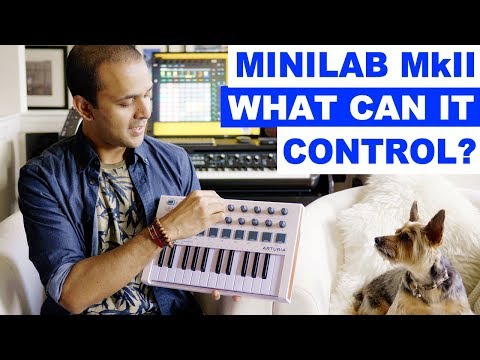 Arturia Minilab MkII - Control Virtual Instruments! And Analog Lab!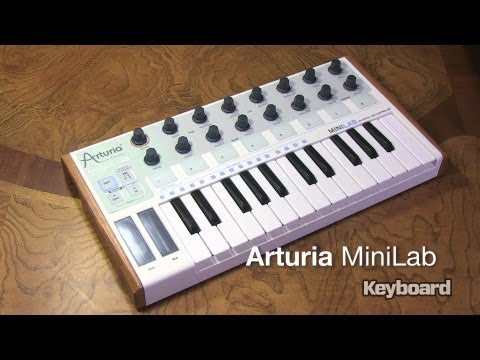 Arturia MiniLab Hands-On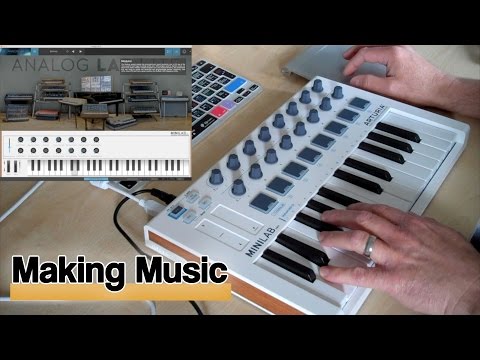 Arturia MiniLab Mk II - full review (including Analog Lab Lite)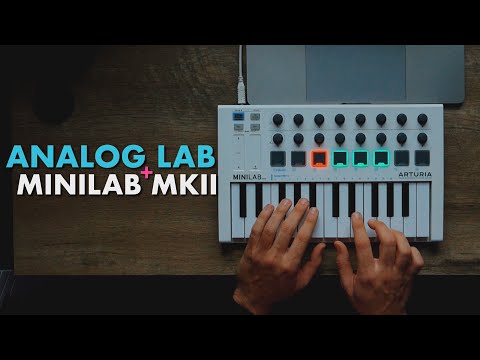 Making A Beat with the Arturia Minilab MKII & Analog Lab
Description
A compact, 25-note mini USB/MIDI keyboard bundled with award-winning software featuring 5000 classic synth sounds.
Arturia's MiniLab USB Controller was designed to marry the style you love with the hands-on control and portability you need to take your studio wherever you are inspired. Made for the on-the-go musician or the performer with a limited working space, the MiniLab gives you a great depth of features in a package that is portable, stylish, and sturdy.
Control Freak
MiniLab features 25 velocity-sensitive mini-keys alongside Aruturia's special pitch and modulation touch controls, giving you maximum expression and playability in a highly portable package. 16 encoders makes sure you have everything you need to program or perform wherever life takes you. Two banks of 8 backlit performance pads, for 16 total, can easily be assigned as pads, MIDI CC buttons or Program change switches. The recessed full-sized MIDI jack will keep your connection safe and out of the way. Add to all this, a sustain pedal input jack and you have the premiere mobile keyboard solution.
Thanks for the memories
All of this control is further expanded by having direct access to 8 user presets. MiniLab offers Arturia's free MIDI Control Center software which lets you map parameters in a simple and easy way directly from your computer. Those presets are then stored in the hardware for instant recall.
Power, Style and Sound
The power of the features and visual styling are obvious, but Arturia gave the MiniLab their award-winning Analog Laboratory 2.0 software so that it sounds good too. This extremely powerful software synthesizer solution with over 5000 classic synthesizer sounds from Arturia's premier vintage analog recreations at your fingertips. All presets in Analog Lab 2.0 have been carefully selected from the Arturia Classic Synths: Mini V, Modular V, CS-80 V, ARP2600 V, Jupiter-8V, Prophet 5, Prophet VS, Oberheim SEM V and Wurlitzer V. These TAE powered sounds offer unparalleled audio quality. Analog Lab will take your sound and workflow to a new level. And it adapts to your MiniLab interface, providing you with an easy 1:1 user experience.
More than just a sound library
Analog Lab offers the ability to do fast and simple editing and customizing of your presets but it doesn't stop there; owners of the original individual synthesizer software products or the V Collection can open an Analog Lab sound and edit it in the original software, save it and then add it to their library. Arturia's new Multi mode allows you to create amazing layers and splits as well as warping and twisting your sounds with 15 high-quality effects.
Compatibility Notice: OS X 10.11 El Capitan (release date 9/30/15)
As with all major operating system updates, it is vital to check the compatibility of your hardware and software before upgrading your system. For new computer owners, it' highly advised to check with manufacturers on when they expect their products to be fully compatible with the latest operating system.
Specifications
Number of keys: 25
Action:Synth
Key size:Full
Velocity sensitive:Yes
Aftertouch:Yes
Key type:Piano-style
Connectivity
USB MIDI:Yes
8-Pin MIDI: No
Pedal input(s): 1
iOS compatibility:Not applicable
Audio I/O:Not applicable
Other:Not applicable
Controls
Knobs: 16
Faders: 0
Drum pads: 8
Buttons/switches:9
Pitch wheel:Yes
Mod wheel:Yes
DAW transport:No
Onboard Features
Edit mode:Yes
Auto mapping:Yes
Number of presets:8
Display: No
Bundled Software: Yes
Arpeggiator:Not applicable
Other
Width: Info not available
Height:Info not available
Depth: Info not available
Weight:Info not available.
USB power:Yes
Power adapter:Sold separately