Launchkey 25 is a 25-note keyboard controller with up to 50 physical controls including 16 velocity-sensitive multi-color trigger-pads. As well as enabling hands-on controller of your DAW's mixer, instruments and effects, Launchkey is an integrate... read more
CHECK PRICE ON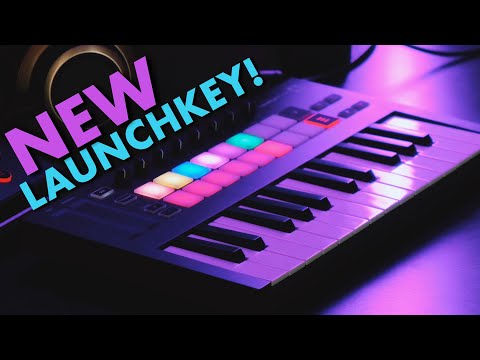 BEST NEW MIDI CONTROLLER | Novation Launchkey Mini MKIII Overview
Description
Launchkey 25 is a 25-note keyboard controller with up to 50 physical controls including 16 velocity-sensitive multi-color trigger-pads. As well as enabling hands-on controller of your DAW's mixer, instruments and effects, Launchkey is an integrated software/hardware instrument. The control surface has been designed to work tightly alongside two intuitive apps for iPad: the Launckey app and the Launchpad app - plus the powerful V-Station synth plug-in for Mac and Windows.
CREATE
Not just a controller keyboard - fully integrated instrument for Mac, PC & iPad
Launchkey includes an entire suite of software for iPad, Mac and PC including a brand new stand-alone synth app, a Launchpad app for triggering and improvising with loops, and the powerful V-Station and Bass Station soft synths for Mac and PC - not to mention Ableton Live Lite and a huge Loopmasters sample pack.
CONTROL
'InControl' technology instantly maps to all major DAWs and music software
Launchkey is a full-scale DAW controller for all major digital audio workstations, bringing mixer, transport and direct plug-in control to Ableton Live, FL Studio, Pro Tools, Reason, Logic, Cubase and more. With nine faders, up to nine buttons, eight rotary knobs and transport controls, you're in complete control with Launchkey.
LAUNCH
16 velocity-sensitive multi-color launch pads - trigger loops and play drums
16 dual-color-backlit velocity-sensing Launchpad panels can be used to play drums, or trigger clips and scenes without having to go near the computer. Whatever software you use, the 16 launch pads are perfect for sketching out beats or playing in drum lines. If you use grid-based software such as Ableton Live or FL Studio, the launch pads will put loop control right at your fingertips.
PLAY
Professional synth-styled keyboard (with over 50 hardware controls)
The velocity-sensitive synth-style keyboard mechanism is accompanied by pitch and mod wheels and octave track up/down buttons. It recreates the feel of classic synth keyboards with precision, so playing styles can be reflected by the software as accurately as possible.
SOFTWARE
Launchkey comes with a suite of synth and Launchpad apps for iPad as well as the powerful Novation V-Station synth plug-in for Mac and PC - and more…?