49-key MIDI controller with NKS technology for superior plug-in integration.
The KOMPLETE KONTROL S-Series combines smart, elegantly designed keyboards with advanced control software to form a f... read more
A NEWER VERSION EXISTS:
CHECK PRICE ON
49-key MIDI controller with NKS technology for superior plug-in integration.
The KOMPLETE KONTROL S-Series combines smart, elegantly designed keyboards with advanced control software to form a fully integrated centerpiece for studio and stage – matchless control over all your software instruments from one award-winning keyboard. The KOMPLETE KONTROL software is constantly evolving, and the latest software update is the biggest yet. It introduces Native Kontrol Standard® (NKS) – a new plug-in format which unlocks KOMPLETE KONTROL so that third-party instruments can access the Light Guide, Smart Play features, and more – with all instrument parameters intelligently mapped. VST support opens the gates to your entire software instrument library.
Introducing Native Kontrol Standard®
KOMPLETE KONTROL continues its evolution with Native Kontrol Standard® (NKS). NKS is Native Instruments' extended plug-in format that opens up the KOMPLETE KONTROL system.
It allows VST and KONTAKT instrument developers to integrate their plug-ins with KOMPLETE KONTROL and MASCHINE at the same deep level as KOMPLETE Instruments. This means that even instruments not built by NI can be fully integrated in the KOMPLETE KONTROL and MASCHINE browsers, with instrument parameters intelligently mapped straight out of the box. NKS instruments can access the Light Guide, Smart Play features, and the full creative potential of KOMPLETE KONTROL. And what's more, the NKS version of an instrument will be a free update for existing owners.
Unified Browsing with KOMPLETE KONTROL
Dig deep into thousands of sounds with ease, thanks to the unified browsing workflow of KOMPLETE KONTROL – limitless inspiration in a single plug-in. Search for sounds across all KOMPLETE Instruments using musical tags and keywords. Just press the Browse button, turn the push encoder to select your instrument, choose a sound, and go. The keyboard and all its features remain fully functional even when in Browse mode – never stop performing.
Automatic Parameter Mapping
Native Map® technology guarantees you don't need to worry about mapping KOMPLETE Instrument parameters ever again. Each KOMPLETE Instrument was mapped in-house by Native Instruments' sound designers. All essential parameter names and values load instantly on the Clear View display, and are intuitively grouped into pages. The result: You see exactly what you're editing directly on the hardware, whether it's EQ in kHz or the exact frequency of a filter cutoff – without any setup time.
Expert Guidance
Use the Light Guide to identify drum cells, key switches, phrases, and more at a glance – play every KOMPLETE Instrument in full color. In scale mode, notes in the scale light up on the keyboard, with the root lit even brighter – perfect if you aren't a trained keyboard player. In chord or arpeggiator mode, all triggered notes light up when you press a key, so you always know exactly what's happening.
Performance Features
Multi-purpose Touchstrips
Deliver dynamic performances with two ultra-sensitive touch strips. They can mimic the behavior of pitch and mod wheels, and physical objects like springs and bouncing balls for interesting modulation curves. Or create instant shifts with different stepped settings.
Arpeggiator
KOMPLETE KONTROL's arpeggiator turns one note into a full musical performance. The eight controller knobs manage parameters such as direction, rate, rhythm, patterns, and variations. Best of all, the output of the arpeggiator can be recorded as individual MIDI notes for post-performance editing.
Scales
The integrated scale mapping features give you instant access to a world of melody. See notes of the currently selected scale lit on the Light Guide, and set virtually any musical scale to the white keys. It will even re-map 'wrong' notes so you're always in tune.
Chords
Activate chord mode and create a rich harmonic performance by playing single keys. Map chords simply by selecting mode and inversion, or by loading up a chord set – ready-to-play progressions to inspire and augment your own compositions.
Advanced MIDI Capabilities
Record the output of KOMPLETE KONTROL's Smart Play features directly into a DAW for further tweaking. Send MIDI to hardware synths and access software instruments and external gear from one controller – a great way to use the arpeggiator. Use the Controller Editor to adjust touch strip behavior, configure keyboard splits with Light Guide visual feedback, and create custom templates. You can even use the keyboard in standalone mode to control your favorite hardware – in the studio or on stage.
Save On KOMPLETE Software!
If you are purchasing, or already own an S-Series keyboard, you qualify for special pricing on KOMPLETE 10 and KOMPLETE 10 ULTIMATE. Unlock the full potential of your S-Series keyboard by combining it with the worldwide industry-standard instrument and effect suites for production, performance, and sound design. These two collections of advanced software instruments and effects not only give you a wealth of sound to choose from – they also fire up your imagination. And KOMPLETE KONTROL S-Series keyboards open up their full potential.
Click here for the KOMPLETE 10 Crossgrade, or the KOMPLETE 10 ULTIMATE Crossgrade and start saving on the world of KOMPLETE today!
Number of keys: 49
Action: Semi-weighted
Key size: Full
Velocity sensitive: Yes
Aftertouch: Yes
Key type: Piano-style
Connectivity
USB MIDI: Yes
8-Pin MIDI: In/Out
Sustain input: Yes
Expression input: Yes
iOS compatibility: No
Audio I/O: No
Other: None
Controls
Knobs: 8
Faders: 0
Drum pads: 0
Buttons/switches: 0
Pitch wheel: Yes
Mod wheel: Yes
DAW transport: Yes
Onboard Features
Edit mode: Yes
Auto mapping: Yes
Number of presets: None
Display: Backlight LCD
Bundled Software: KOMPLETE Elements
Arpeggiator: Yes
Scales: Yes
Chords: Yes
Light guide: Yes
Other
Width: 32.9"
Height: 3.4"
Depth: 10.8"
Weight: 12.2 lb.
USB power: Yes
Power adapter: Included
SOLD BY
AVAILABILITY
REVIEWS
PRICE
* Product prices and availability are updated by Equipboard every 24hrs and are subject to change. Equipboard may receive compensation for purchases made at participating retailers linked on this site. This compensation does not affect what products or prices are displayed, or the order of prices listed. Learn more here.
Reviews
Trusted musician and artist reviews for Native Instruments Komplete Kontrol S49 Keyboard Controller
4.5
Based on 11 Reviews
Magic
With complete 10 it's a really simple to create your melodies!
Amazing!
Still learning but this thing is amazing!! Fantastic with Logic X and also amazing with the Maschine 2.2 update that allows machine and the Komplete Kontrol to work together!!
Amazing Keyboard
I love this board and how it integrates so seamlessly with both the NI software and the DAW,
+++
Superb keyboard with excellent resources, worth the price.
Great midi keyboard
Great keys and a dream to use with Komplete.
Love this keyboard!!
My only issue is that I didn't get the full 88 key version! I love this keyboard and it's features! I just wish the keys were more weighted!!
Fantastic Keyboard
Does what it does. The improved version of this are the S Series with more features and screens.
Great extra addition to the Maschine
Contrary to the Maschine Jam, this is a great addition to the Maschine Studio when it comes to music production and live performances. It lets you browse through banks with ease while playing melodies, and is perfectly integrated with all of the NI-software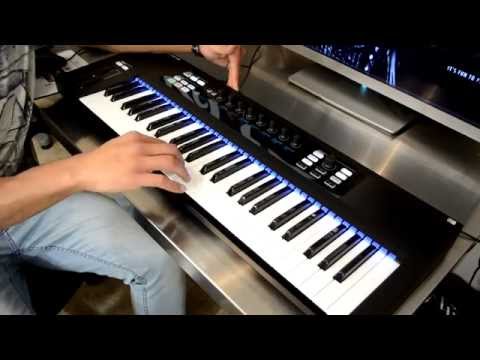 Native Instruments Komplete Kontrol S49 & Komplete Ultimate Review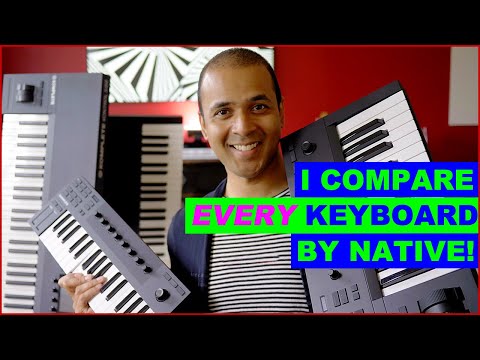 M32 vs A25 vs S49 vs S88 - Native Instruments keyboards compared!
Popular MIDI Keyboard Controllers