M-Audio Keystation 88 MKII Mastering Keyboard
Step into computer-based music creation and performance with the Keystation 88 keyboard controller from M-Audio. Keystation 88 is a simple, powerful MIDI controller designed for sequencing music and playing virtual instruments on your Mac or PC. I... read more
CHECK PRICE ON
Reviews
Trusted musician and artist reviews for M-Audio Keystation 88 MKII Mastering Keyboard
4.5
Based on 4 Reviews
Great master keyboard
This is a full 88 key controller with a synth action feel with the cosmetics off a piano. You can control your DAW an change patchs with the controls on this it doesn't feel cheap and flimsy also it feels like quality to the touch well worth the money gets the job done.
GREAT Controller
This is a good cheep full size controller!
Solid
Keys goes pretty natural as feeling. In rest does all the job you need it to do as a midi controller. It's nice you can fit it under your monitor on a desk so it's much easier when goffing around in your DAW.
nice keys /noce weight / can be used with ableton live 9
volume fader (stick) should have a better design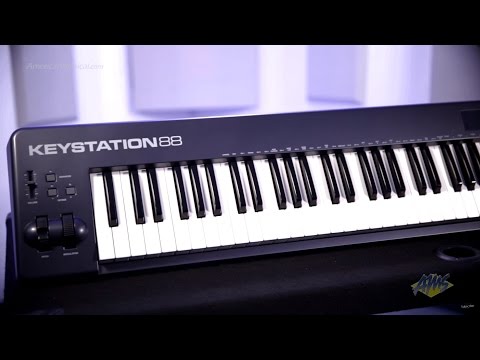 M Audio Keystation 88 USB MIDI Controller Keyboard - M Audio Keystation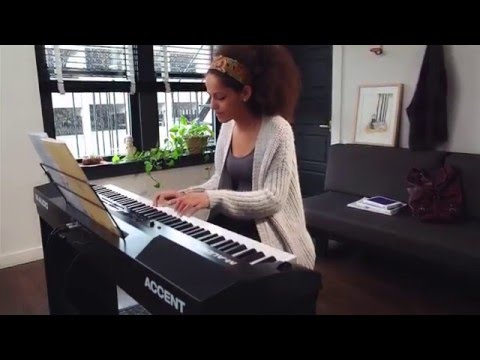 M-Audio || Accent Piano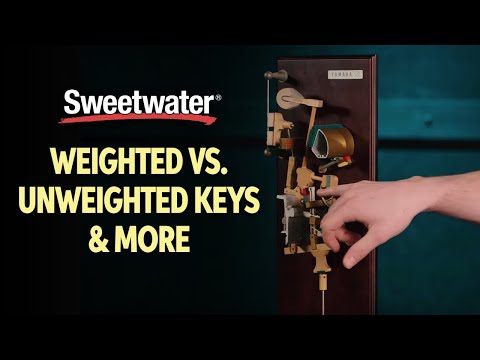 Weighted vs Unweighted Keys & More 🎹 | Keyboard Lesson
Description
Step into computer-based music creation and performance with the Keystation 88 keyboard controller from M-Audio. Keystation 88 is a simple, powerful MIDI controller designed for sequencing music and playing virtual instruments on your Mac or PC. It features 88 full-size velocity-sensitive keys and a series of controls that expand the range of playable notes, expressive capabilities, and enhance your recording workflow. Use the octave range buttons; pitch-bend and modulation wheels; and transport and directional controls to play, perform, and record with your music software without using a mouse or trackpad. Keystation 88 also includes a 1/4" (6.3mm) sustain pedal input that lets you use an external control pedal, such as the SP2 (sold separately), for genuine piano sustain.
Pure Player Experience
Lightweight and durable, Keystation 88 is perfect for traveling musicians who want to take command of music software during live performances or producers who wish to add an intuitive MIDI controller with a natural feeling keybed to their studio. For an easy-to-use and portable setup, Keystation 88 is USB-powered, class-compliant, and supports USB-MIDI connectivity. Plus, Keystation 88 supports iOS connectivity with the Apple iPad Camera Connection Kit (sold separately), enabling you to perform and compose with audio apps on your iPad and other iOS devices.
SONiVOX Eighty-Eight Ensemble
Bundled with Keystation 88 is a premium virtual instrument from SONiVOX. SONiVOX's Eighty-Eight Ensemble is a world-class piano instrument that authentically captures a 9-foot CD327 Steinway piano. Meticulously recorded and expertly sampled, Eighty-Eight Ensemble provides every producer and performer the opportunity to infuse their compositions, recordings, and performances with the breathtaking realism of a world-class grand piano. Use the combination patches to layer strings, synth pads, and choral pads with the high-fidelity piano samples and create evolving, lush soundscapes and textures.
Ableton Live Lite
Also included with Keystation 88 is Ableton Live Lite - one of the most popular performance and production programs available in the world. A powerful music creation tool, Ableton Live Lite enables musicians and producers to spontaneously compose, record, remix, improvise, and edit musical ideas in a fluid audio/MIDI environment. Explore sonic possibilities in real time whether on stage or in the studio. When you are satisfied with your work, Ableton Live Lite lets you save it or mix it down.
88-note keyboard controller with a natural feel.