Mobile recording is at an all-time high and you need an audio interface that can maintain optimal performance at any moment when inspiration strikes. The Focusrite Scarlett 2i2 is the right tool for the job. With two award-winning Focusrite preamp... read more
CHECK PRICE ON
Reviews
Trusted musician and artist reviews for Focusrite Scarlett 2i2 USB Audio Interface
4.5
Based on 138 Reviews
Really great for the price!
When I was looking for audio interfaces, many reviews directed me towards this one in particular. I am satisfied with what this little thing can do especially for the price! I record all my instrument and my Mic's straight into it, the recordings come out really clean. The only minor problem for me is that I have to disconnect and connect the USB every time I close my laptop for it to work properly, it might just be my Laptop again just a minor detail.
Scarlett 2i2
The Scarlett series by Focusrite is exceptionally popular and not without reason! These interface are all easy to use, they offer professional audio quality and seamless compatibility with Windows as well as Mac laptops and computers. This Scarlett 2i2 is a 'starter model', but its quality is equal to that of more extensive versions. The 24-bit/96kHz digital audio resolution guarantees a wide dynamic range and crystal-clear audio quality. Thanks to the stable quick drivers, a low latency is ensured - perfect for use with virtual instruments and other high-speed audio applications.
Cheap and cool! It has very good AD/DA converter, and a good quality microphone amplifier. Stylish, and RED! :D
Professional studio performance at home
Used this for basically all my recordings at home, so easy to use, uncompromising performance for such a tiny unit. Recommended for just anyone, even a pro should use one of these if 2 inputs is good enough.
Excellent Audio Interface for Starters
This may not be as high tech or advanced as other sound cards out there, but it's the perfect card for starts. It comes with 2 XLR ports and 48V Phantom Power, along with headphone and studio monitor support. Great if you're just starting, but if you're looking for something more expansive, this may not be the best choice.
Great usb interdface
It's cheap and great quality. Sturdy aluminium build and simple user friendly controls. This model has only 2 inputs so if you're planning on recording more than a simple song by yourself or with a friend aim for more inputs.
Pleasing
Dont get me wrong, Im super happy with my purchase of the Focusrite 2i2 and the sound quality of its recording and playback are great but as it goes, as soon as you find use for 2 inputs, you need 3 and then 4 and so on. So overall, groovy product but very 'Beginner'.
on the other hand its really good for a quick 2 mic overdub at your house if you are a veteran who mostly works in commercial studios
Perfect Setup for Budget Musicians
I want to make it clear that I am in no way an expert when it comes to recording gear. That should help illustrate the intuitive nature of the 2i2 because I was able to pick it up with a minimal learning curve. I bought this interface after extensive homework and encouragement from the equipboard forum contributors. Focusrite really has something decent going for them with their compact interfaces. The main benefit to the 2i2 is that it is easy to use. If you know how to plug in a USB cable, press record in Garageband (or whatever DAW), and can work a volume knob you are well on your way to recording quality tracks in no time. The gain controls are insanely easy to use with a simple red/green, bad/good clip-indicating light around each knob. I was worried about the mic preamps but those fears for unfounded. Every mic that I tried sounded excellent through the 2i2. I bought the 2i2 because I wanted to record individual tracks and I didn't see the need for more inputs. I was also on a budget. If you want to upgrade to more in the future then simply put your 2i2 on a local classified listing and watch the texts/calls roll in.
Great First Interface
I think this is a great interface for beginners. It's my first and only interface and I bought it at the recommendation of a friend and am happy with it. It only has 2 inputs but I don't think that's a problem at all since I don't have the means or need to have more than 2 inputs.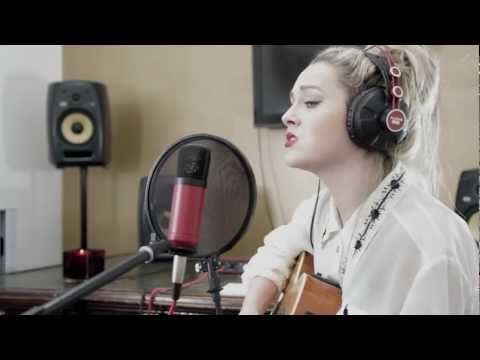 Focusrite // Scarlett Studio Bundle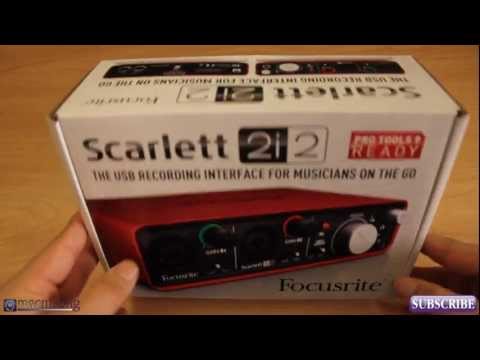 Scarlett 2i2 Unboxing / Review - Focusrite Audio Interface - Setup / Overview
Description
Mobile recording is at an all-time high and you need an audio interface that can maintain optimal performance at any moment when inspiration strikes. The Focusrite Scarlett 2i2 is the right tool for the job. With two award-winning Focusrite preamps packed into a compact, anodized aluminum uni-body chassis, the Scarlett 2i2 not only produces professional quality sound but also looks great doing it.
For more than 25 years, Focusrite has designed some of the most popular microphone preamps in the industry. This experience has been used to create the transparent, low-noise and low-distortion preamp found in the Scarlett 2i2. Plenty of available headroom makes it suitable for moving coil, condenser and ribbon microphones regardless of the source. Phantom power is provided for mics that need it.
High Quality Mic Preamps
Scarlett 2i2 features two high quality award-winning Focusrite mic pres. With more than 25 years of experience in designing analogue equipment, Focusrite produce the best mic preamps in the industry. The preamps found in the Scarlett 2i2 are no exception to this, and share the same design as those found in our flagship interfaces: Saffire PRO 40 and Liquid Saffire 56.
Excellent Digital Performance
With 24-bit resolution at sample rates of up to 96 KHz, the digital conversion in the Scarlett 2i2 is of very high quality meaning that every note and every subtle detail is captured with great clarity.
Rugged Metal Unibody CaseThe anodized aluminum uni-body chassis ensures that your Scarlett 2i2 can withstand the harsh environment of the road. It also makes Scarlett 2i2 the most beautiful interface around.
Truly Portable InterfaceScarlett 2i2 is very light and compact making it easy to fit in a laptop bag. It's also bus powered meaning that you don't need an additional power supply. Simply plug in to your computer and hit record!
Included Software - DAW and Effects
Inside the box you'll find Ableton Live Lite 8, as well as Focusrite's Scarlett plug-in suite. Compatible with all major DAWs, Scarlett plug-in suite provides EQ, compression, gate, and reverb - essential tools for polishing your mix.
Unique LED Gain HalosThe gain halos that surround the gain knob for each input provide an easy way to know that the signal you're recording is the right level. It will show green when the signal is at a good level (above -24dBFS). If it turns to red, you know that the signal is too loud and is therefore clipping - if this happens, simply reduce the gain until the halo returns to green.
Direct Monitor FunctionFlick the direct monitor switch on the front panel of your 2i2 and you will hear what you're recording through your speakers or headphones, without the signal having to go through your computer. This avoids the possibility of latency, which can be distracting when recording.
Mac OSX Lion Ready
Scarlett 2i2 has been fully tested with Mac OSX 10.7, Lion. So you can rest assured that your brand new Mac and Scarlett 2i2 will run together perfectly.
Note: Includes the Focusrite Red 2 and Red 3 Plug-In Suite (AAX/AU/VST) upon registration of interface. Accurately modeled on the classic Red 2 EQ and Red 3 Compressor, the Red plug-ins let you exploit the sound of the hardware originals, conveniently from within Pro Tools (10 and above) and other audio software.
Specifications
Two natural-sounding Scarlett mic preamps with plenty of even gain
Two newly designed instrument inputs, designed for seriously hot hottest pick-ups
Class-leading conversion and sample rates up to 192kHz / 24 bit
One headphones output with gain control
Super-low latency* for using your plug-ins in real time without the need for DSP
Connect professional studio monitors using two 1/4 inch balanced jack outputs
Compact and tough enough to take anywhere
Powered by USB so you don't need to carry a power cable
Includes Pro Tools | First Focusrite Creative Pack and Ableton Live Lite
All the additional software and loops you need to start recording