Demeter TRM-1 Tremulator Tremolo Pedal
A hybrid of vintage sound and state-of-the-art quality, the Demeter Tremulator is designed for years of trouble-free operation.Designed to emulate the classic Fender tremolo effect (or vibrato as it is often referred to), the Tremulator features "... read more
CHECK PRICE ON
Reviews
Trusted musician and artist reviews for Demeter TRM-1 Tremulator Tremolo Pedal
5.0
Based on 2 Reviews
An amazing pedal!
I have tried a hundred different trem pedals and this one is by far the closest match to a tube driven amp's tremolo. The tremulator was built to mimic the gorgeous tremolo (vibrato) of a vintage blackface Fender amp. It sounds smooth and lush at almost any setting. It has a much smoother and dare I say musical quality missing on most tremolos, even one's on an amp. Personally, I enjoy it more than the tremolo on silverface Fenders and even the Supro Jupiter's. Only real blackface Fender and Vox AC tremolo sound as pleasing to my ear. There is a slight volume boost when engaged to compensate for the ''soft'' nature of the effect. The switching is silent. If it's good enough for Ry Cooder, it's good enough for anybody!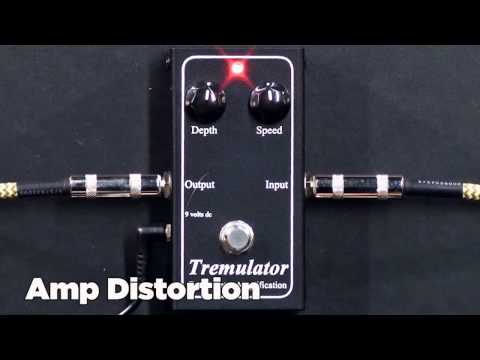 Demeter Tremulator Tremolo Guitar Pedal Review - GearUP on TMNtv !
Description
A hybrid of vintage sound and state-of-the-art quality, the Demeter Tremulator is designed for years of trouble-free operation.Designed to emulate the classic Fender tremolo effect (or vibrato as it is often referred to), the Tremulator features "lopsided" amplitude modulation with a rounded off traingular modulant waveform. Suffice it to say, the Tremulator sounds like the classic effect found on many vintage amps, but with less noise and hum and a greater range of speeds and depths.