Recommend Related Items & Pairings
This is where you can recommend to readers an alternative - or gear that goes with - GM Labs DX9 MIDI Drawbar Controller. What gear sounds similar, is less expensive, higher-end or boutique, etc.?
ADD YOUR RECOMMENDATION
Reviews
Trusted musician and artist reviews for GM Labs DX9 MIDI Drawbar Controller
5.0
Based on 1 Review
Best MIDI Organ Controller on the Market
Keyboard Controllers are great but usually can be lacking in control for an organ plug-in. You need "Drawbars", all "9" of them, and they need to be useful for controlling on-the-fly in real-time! Many of us have tried our fare with like, say, ...a Korg Nano-Controller or an actual keyboard controller with sliders, but most of the time they only come with 8 sliders (not 9), and those sliders were designed with controlling DAW faders in mind (not organ drawbars), ...AND you gotta MAP them.
So then ....enter GM Labs, an off-shoot project from GSi - Genuine Soundware Inc.'s Guido Scognamiglio. His first offering a few years ago was the D9U MIDI Organ Controller which is a basic "nine organ drawbars" MIDI controller. However, the latest and best offering is the D9X, a full organ MIDI controller with 9 drawbars plus an assortment of knobs and buttons to control other parameters such as Volume, Treble, Bass, Reverb, Percussion, Vibrato/Chorus, Rotary Speaker, and switching bewteen "Upper/Lower/Pedal" manuals. The physical controls are automatically "mapped" to the virtual controls for GSi's VB3 II Organ plug-in, but can be mapped to the controls for any brand/model of organ plug-in, ...or it can be used to control the parameters of any other "non"-organ plug-in (like pianos, electric pianos, synths).
To be honest, they are not inexpensive. However, the quality is superior (great feel on the organ drawbars) and they do offer the controller as a fully assembled unit or as an unassembled electronics kit (approx. $100 less). If you elect to assemble it from a kit, be prepared to do some basic components' soldering, ...however, the Arduino chip that runs it is already fully programmed (but is still fully customizable if you so choose).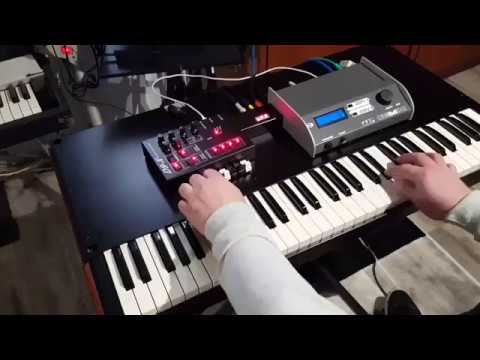 GMLAB DIY Arduino Projects in action
Popular MIDI Keyboard Controllers