Mogami Gold High-Definition Neutrik 1/4" Straight Instrument Cable
Mogami Gold High-Definition represents the gold standard in instrument cables. Virtually every major recording facility in the world is wired with Mogami cable. Mogami is famous for unmatched accuracy, extremely low noise, and remarkable flexibili... read more
CHECK PRICE ON
AS FEATURED IN
Reviews
Trusted musician and artist reviews for Mogami Gold High-Definition Neutrik 1/4" Straight Instrument Cable
5.0
Based on 10 Reviews
Great cable.
I had one of these. It must have been pretty good because someone snatched it while I was packing up after a bar gig in MD along with one of my homebrews. Has a tendency to tangle as you prance around. Fine on cramped stages with limited prancing space hence why I took it to a bar gig.
Quality does matter when it comes to tone.
I switched to these Mogami cables when I caught wind that Monster was discontinuing its lifetime warranty on their products. Though Mogami charges a pretty penny for their product, they're quality pieces. There is a clear difference in sound between these cables and the cables that I was once playing. And if these cables break, they carry the lifetime warranty that Monster once carried. If you care about your tone, pick up Mogami cables.
Help and advice.
Where can I buy this cable via internet i Europe?
Best cables period
They are expensive but if you have expensive gear you need expensive cables. I own 3 12' cables and I also own 3 6" patch cables for my pedal board. Will not buy anything else since I've used these.
Quality for professional work
a favorite brand for great quality connection cables in my eyes. first of all because the have really good construction on there heads and can't be broken easy. gold plated head giving you smooth and clear sound.
It's all about signal flow, and these are the cables you want your signal flowing through
So clear, so clean, so crisp and pristine. If you really want your tone to get through and you want to eliminate cable noise, this is what you get. Not the first piece of gear to buy if you are building your rig, but this is the icing on the cake once you have a setup you like.
The best cables.
Almost exclusively Mogami cables in my set-up. Only the best!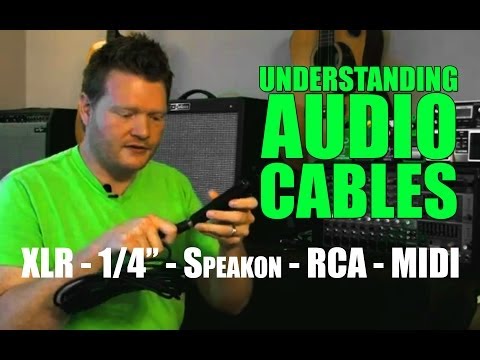 Understanding Audio Cables: 1/4"vs XLR vs Speakon vs RCA vs MIDI
Description
Mogami Gold High-Definition represents the gold standard in instrument cables. Virtually every major recording facility in the world is wired with Mogami cable. Mogami is famous for unmatched accuracy, extremely low noise, and remarkable flexibility. Top engineers rave about the amazing clarity and silent background they get with Mogami cable. If accuracy in reproduction is your goal, Mogami Gold is the audio cable for you.
Popular Instrument Cables