Crunchy pick attack, scooped mids, and just the right amount of saturation are what this pickup is all about. Dime wanted his signature humbucker to have a thick crunch that sags just a little when you really lay into it. Combine that with a full,... read more
CHECK PRICE ON
Reviews
Trusted musician and artist reviews for Seymour Duncan SH-13 Dimebucker
5.0
Based on 3 Reviews
Great Rock and Metal Pickup!
I love this Pickup, so beefy and tone packed, I use it most of my ML guitars.
One of the 2 pickups on Charlie.EXE's Flying V Custom
This has been on his guitar for quite a long while and it still lasts ever since his father installed it
I got this for the bridge of my DimeBolt
I didn't want a Bill Lawrence for my Dime so I put this pickup in the bridge to complement the Pearly Gates I had put in the neck position. I know, I still need a OG Floyd Rose for the DimeBolt.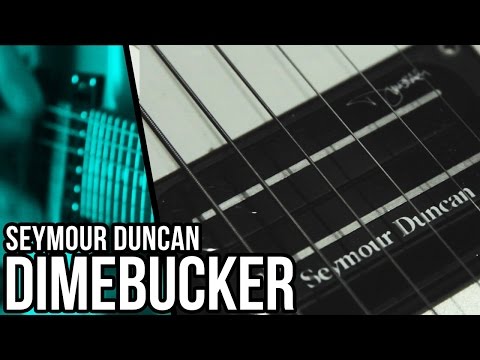 Seymour Duncan Dimebucker SH-13 - Metal | Pete Cottrell
Description
Crunchy pick attack, scooped mids, and just the right amount of saturation are what this pickup is all about. Dime wanted his signature humbucker to have a thick crunch that sags just a little when you really lay into it. Combine that with a full, tight, low end response, a ceramic magnet, with dual stainless steel blades, and you have the Dimebucker. Huge and straight from the brain of the late great Darrell Abbot. In a 2004 interview Dimebag described the tone of the Dimebucker, "Its very saturated not to the point where its overly fuzzy but it has a smooth and crunchy distortion tone. It will give you some extra gain, but it wont go so far that your sound breaks up and is going crazy. You get that warm tone with the distortion mixed in and it has the low end thats kicking you in the butt while the top end is cutting your face off in the right way, but not ripping your face off. If you ever listen to a Pantera record, that's what you'll hear through this pickup". Combine with a 59 Model (bridge) in the neck position for the setup that Darrell himself used, or get our Dimebag Set for neck and bridge. Hand built in Santa Barbara, CA, the Dimebucker uses a ceramic bar magnet, dual stainless steel blades, 4-conductor lead wire for multiple wiring options, and is vacuum wax potted for squeal-free performance.